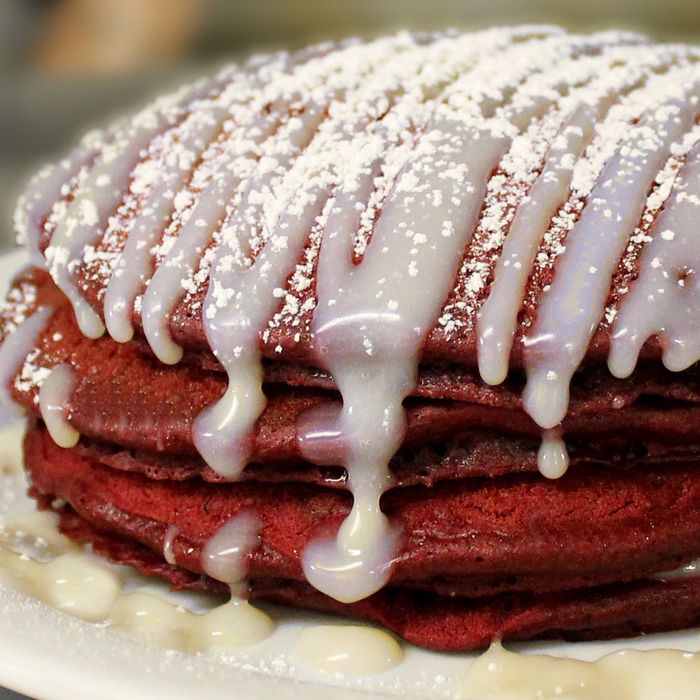 Red velvet pancakes at Cinnamon's at the Ilikai Hotel in Honolulu.
Photo: Taysialani Gaspar-Boyett/Courtesy of Cinnamon's
More than a decade ago, a confab of Hawaii-based chefs gathered to formally announce their commitment to using locally grown products. They called it Hawaii Regional Cuisine (also known as Pacific Rim cuisine in the early years) and a symbiotic relationship between chef and producers was born. Today Oahu is teeming with farm-to-table fare, though it's true — many locals still have a place in their hearts for Spam. Here, we asked an organic farmer, an agricultural director, a wholesale fish distributor, a goat-dairy manager, and a chef to share their favorite breakfast, lunch, and dinner spots in and around Honolulu.
Taylor Kellerman, director of diversified agriculture and land stewardship at Kualoa Ranch, a 4,000-acre private nature reserve with farm tours
Breakfast
"ChadLou's Coffee Roasters is a perfect blend of funky, classy, and homey. It has a really great vibe with a recycled wood interior, retro tile work, and large windows letting in lots of natural light. What always consumes me when I walk through the door is the smell of freshly roasted coffee from the beautiful roasting equipment located in the room behind the counter. They have all of the specialty drinks that you would expect from a quality coffee shop like lattes, mochas, and cappuccinos, but my favorite has to be the Manulele Distillers roast. They take yellow Caturra beans grown on Maui, and age them in rum barrels previously used to make Kohana agricole rum. It results in a terrific earthy-oak overtone. They also sell their house-roasted coffees by the bag, using beans sourced locally in Hawaii as well as in Guatemala and Panama. [Food-wise], they are known for their scratch-made waffles, but my favorite thing to order is the frittata with feta, tomato, spinach, and mushroom."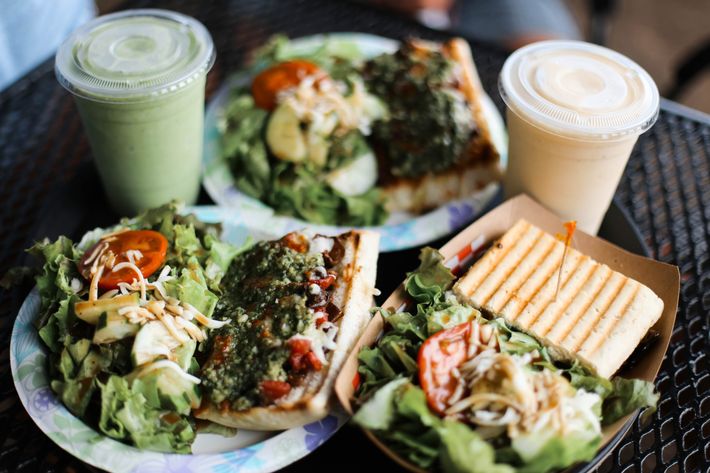 Lunch
"Kahuku Farms is a family-run operation going back three generations; as a way to diversify, they opened the Farm Café. It's located off Kamehameha Highway on the way to the North Shore, about an hour's drive from Honolulu. When you walk up to the two-window counter and place your order, you will find yourself surrounded by farm-fresh produce like papaya, eggplant, banana, dragon fruit, and acai, plus honey, liliko'i dressings, and chocolate sourced from the surrounding fields. The café has open-air seating with tables and benches tucked away under tents, all with an incredible view of the farm. They use their crops to create sandwiches, pizzas, soups, and salads, homemade ice cream, and farm-fresh smoothies made with banana and haupia. My favorite is the 'farm pizza': eggplant and tomato turned into an amazing bruschetta and topped with mozzarella and a mac-nut basil pesto. They also offer a tractor-ride farm tour; it's family-friendly and gives you an up-close look at the different crops they grow."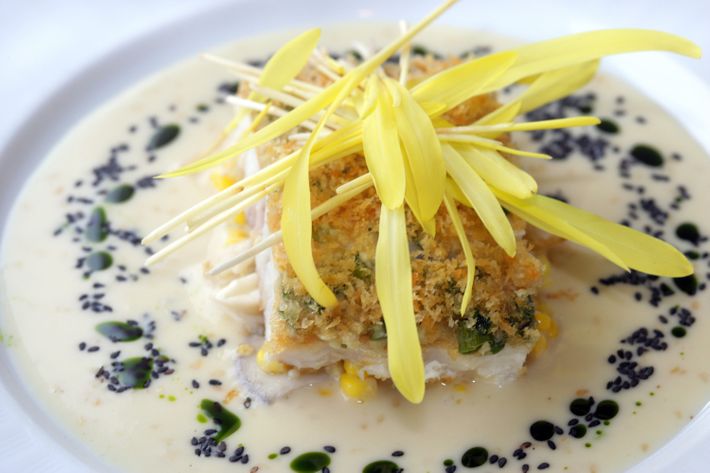 Dinner
"Alan Wong's restaurant is a higher price point, but the creativity and complexity of his dishes and the professionalism of the staff make it a must for foodies. A longtime champion of local agriculture, Alan has been a forerunner of the Hawaiian regional-cuisine movement, which borrows from the many ethnic influences we have here — Native Hawaiian, Chinese, Japanese, Filipino, Portuguese, and Korean. Dishes like the Keahole lobster tail with truffle black pepper sauce or Kauai porterhouse with roasted Hamakua mushrooms are no-brainers. Local spins like the chopped ahi sashimi and avocado salsa stack and ginger-crusted onaga (long-tail red snapper) speak to me, too. But my favorite by far is 'da bag.' When it arrives table-side, it looks like an elaborate, old-school popcorn bag, but once you cut open the outer layer of tinfoil, you are overwhelmed by this wonderful aroma of the savory clam, kalua pig, and mushrooms perfectly steamed in their own juices."
Derrik Parker, co-manager at MA'O Organic Farms, an organic fruit-and-vegetable farm in Waianae offering educational programming for youth, families, and the community
Breakfast
"My ideal day would start off with breakfast at Cinnamon's at the Ilikai Hotel, near the Ala Moana mall. Their buttermilk pancakes are arguably the best on the island; the red-velvet recipe is so moist, the pancakes melt in your mouth. They're also known for their varieties of eggs Benedict; my favorite is the kalua pork eggs Benedict. If you go on a weekend, you'll have to wait 30 minutes to an hour; but during the week, that time is usually cut in half."
Lunch
"Moku Kitchen is one of the few places that has as much good food as they do beer. I'll go for the local beers first, either Pineapple Mana Wheat from Maui Brewing Co. or the Waimanalo Farmhouse Ale from Aloha Beer Company. Their kale salad seems as if it was massaged because it's so tender and their house dressing makes it difficult to put down your fork. As for their duck tacos — fair warning there is a nice little bite because of the jalapeños, but if you can handle that, you're going to enjoy a burst of flavor. And because Moku is located in Kakaako, the birthplace of the Pow! Wow! movement, the walls are covered in vibrant graffiti art."
Dinner
"Town is my number-one restaurant. I'll usually start with the ahi tartare. The risotto cake that the ahi sits on is so flavorful. Next, I'll order the polenta made with local grain; the buttery flavor is just right. For the main dish, I'm usually torn between beef ragu with house-made noodles or the steak with arugula. Cool fact: When Barack Obama was still in office, the First Lady visited our farm and told me personally that steak and arugula was one of her favorite dishes."
Emma Bello, owner and manager of Sweet Land Farm in Waialua, the island's only certified goat dairy
Breakfast
"When I'm in Kaimuki, my go-to eatery has to be Koko Head Cafe. They're open daily from 7 a.m. to 2:30 p.m., serving breakfast and lunch like udon, congee with Portuguese sausage, and other Pan-Asian eats. The atmosphere is bustling and friendly and the décor has old pictures and an old wooden surfboard. The wait to get a table can take 30 minutes, but it's so worth it. Oh, and the ricotta pancakes with black-pepper maple syrup? Yum."
Lunch
"My favorite sandwich and veggie shop is Kaimuki Superette, one of Chef Ed Kenney's restaurants. It's casual and welcoming, and the food is simple but well-seasoned: grilled vegetables like tomato and eggplant, or a salad with pickled radish. They always use local ingredients and organic produce when possible, and they smoke their own pork. The food arrives at your table on a half-sheet pan, cafeteria-style. It's my go-to 'healthy for your body' restaurant."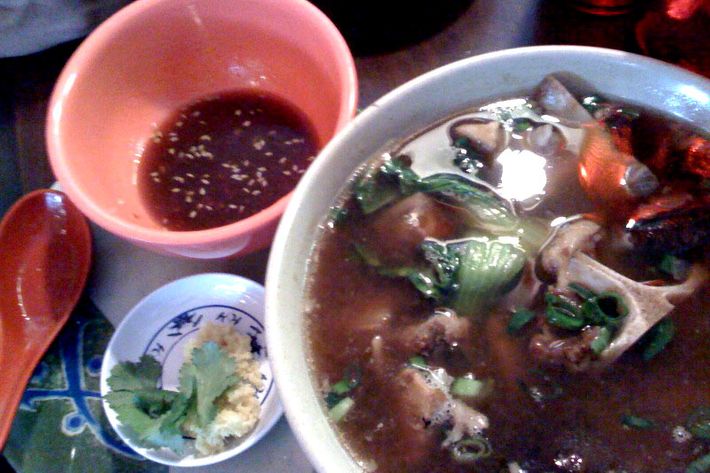 Dinner
"A favorite local stop is the restaurant in the Aiea Bowl bowling alley. This place is booming with energy! The restaurant overlooks the lanes and it's a great place to eat, drink, and bowl with friends. Their number-one seller has to be the oxtail soup; it sells out way too fast. Or just grab some desserts, like carrot cake or the creamy, cinnamon-spicy, to-die-for Pumpkin Crunch."
Tim Campbell Jr., sales representative at Fresh Island Fish, a wholesale fish distributor
Breakfast
"Moke's Bread and Breakfast in Kailua is great because you can bring a bottle of Champagne and make your own mimosas. I usually go on Sundays, when it's the most crowded; any later than 10 a.m. and you'll wait at least 30 minutes for a table. Order the lilikoi pancakes."
Lunch
"I'd recommend Uncle's Fish Market & Grill on Pier 38 — it's where the fish auction is located, along with dozens of fishing vessels. They serve every type of Hawaiian fish you can think of: ono (wahoo), ahi, mahi. The onaga (red snapper) is made with a lobster-mushroom sauce and the garlic ahi is their most well-known dish. Both are served with white or brown rice, salad, or fries. I go with the fries and ask for them to be 'extra toasted.'"
Dinner
"Have dinner at Duke's, right in the heart of Waikiki. They serve everything from fish sandwiches to quesadillas. For something on the lighter side, the chicken quesadilla is my first choice. The long, wooden bar is just steps from the beach and they have live music every Sunday afternoon."
Peter Merriman, chef and restaurateur of Merriman's Hawaii Restaurants
Breakfast
"I enjoy going to Highway Inn. It's unpretentious and you haven't tried truly local food until you've had their loco moco [a hamburger patty over rice with eggs and gravy]."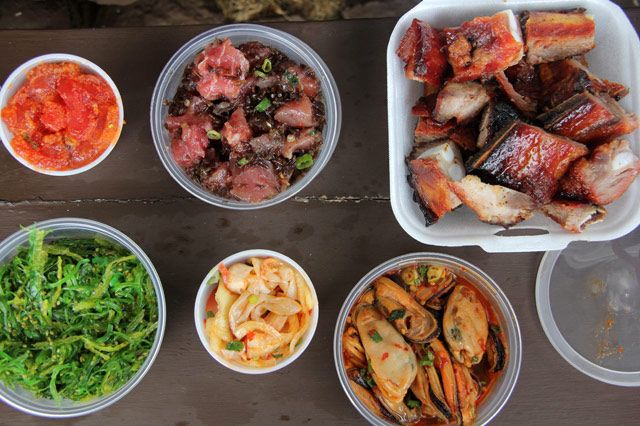 Lunch
"The take-out lunch at Alicia's Market is the cornerstone of 'local food.' There are no tables and it's located in a rougher part of town, but they allow you to build your own meal. In doing so, you get multiple experiences on the plate: Puerto Rican pasteles, Chinese char siu, kalua pig, poke. I like the lau lau [traditional pork wrapped in taro or luau leaf] with a little poi on the side."
Dinner
"Anything that Gooch [a.k.a. Chef Mark Noguchi of the Pili group] is doing is great, and he's always moving around. I have tasted his pa'i'ai [taro] dishes served crispy with simple salsas and salads, as well as his pork luau stew with olena pickles. Gooch has a unique way of connecting traditional Hawaiian ingredients in contemporary dishes and still maintaining a strong sense of plate and place."