Don't go searching for grub in all the wrong places.
Photo: Starcevic/Getty Images
The history-soaked Forbidden City and Tiananmen Square, peaceful Lama Temple and the Temple of Heaven, and 798 Art Zone are all must-sees for tourists. But that inevitably means they're surrounded by some less-than-stellar food options. Here's how the locals avoid the tourist traps while still dining deliciously close to Beijing's bucket-list sites.
Where to eat near the Forbidden City and Tiananmen Square
Veggie balls and snacks: Huguosi Xiaochi Dian
"They serve classic Beijing snacks such as mian cha: congee made from millet spiced with sesame sauce, salt, and pepper. They also have yang za tang, a Chinese-style chorba [stew], and wan dou huang, pea flour cake. They have many stores but this location near Hepingmen subway station is different because it offers a full range of soya-mixed meat such as beef, whole chicken, and duck clavicle. The best of the best, though, is their deep-fried carrot balls, freshly made on-site. The queue in front of their take-out window tells you that this place is popular with both Chinese tourists and local residents."
—Zhou Yi, founder of Body Memory Clinic jewelry, based near Tiananmen Square
Spectacular noodles: Siji Minfu Zha Jiang Mian
"Zha jiang mian, soya bean paste noodle, is a signature dish of Beijing. I'm a local, and if you asked me which restaurant can compete with mom's noodles, Siji Minfu would be the answer. It's in a tiny hutong with a loud, crowded environment. Their noodles and bean paste are perfectly balanced, especially when served with a clove of raw garlic. They have small dishes available too, such as ma tofu: fried insoluble residues you get left over in the process of making soy milk, spiced with soybean sauce and spicy pepper oil. Try the zha guan chang fried sausage, too." —Zhou Yi
Hubei-style home cooking: Jing Yi Restaurant
"Jing Yi is a Hubei province-style restaurant that improves on traditional Hubei cuisine, which is spicy and heavy. It's on the corner of Liulichang West Street and the interior design is simple, featuring an ink painting with mountain elements. The owner is a young man who is passionate about turning his hometown cuisine into a modern home-cooking style. The fish roe fried tofu is a must-try, and their sweet rice wine marries well with the spicy food." —Zhou Yi
Where to eat near 798 Art Zone
Hipster hangout: Fodder Factory
"Fodder Factory's branches are the ultimate in hipster cool. With their retro radio décor and industrial-chic setting, they capture the essence of the two art districts they are nestled in. The original branch opened in Caochangdi, where the famous Chinese artist Ai Weiwei has his studio. After developing a loyal following, Fodder Factory opened a second branch at the north end of the 798 Art Zone. Go-to dishes include their san bei ji — three cup chicken — which is a popular dish from Taiwan featuring tender chicken braised in a mixture of soy sauce, rice wine, and sesame oil. Their shuang wei gu, or double mushroom dish, is a house specialty and they also do a great roumo qiezi: braised eggplant with minced pork. Book a table in advance, as there is almost always a wait list. If the weather is nice, ask for an outside table." —Kristen Lum, food blogger
Homely Guanxi noodles: Si Xi Rice Noodle
"They have Guanxi province-style noodles made with rice, and the venue is a really sweet and homely. Much of the food is spicy and a little bit smelly, but lots of Chinese dishes are smelly and taste great. Their hong shao rou [braised pork belly] noodles are really good, with fantastic meat that tastes a bit sweet, and they have drinks such as hua sheng lu, or peanut milk. A meal there usually costs under 50 yuan ($7.85), and the venue is a five- to ten-minute walk from the UCCA." —Yang Zi, curator at Ullens Center for Contemporary Art in the 798 Art Zone
East meets West: Timezone 8
"This restaurant was started by Texan Robert Bernell, a founding father of 798 Art Zone, before it became a hot spot for creative artists and world-class galleries. Originally a bookstore that happened to serve coffee, Timezone 8 expanded into a full-blown, Western-style restaurant and bar and then took it up another notch by adding a sushi bar and Japanese menu in collaboration with Hatsune, the Californian-Japanese restaurant famed in Beijing and Shanghai. This is pretty much the only place here where you can order a Green Detoxer smoothie with kale, spinach, green apple, and pear juice; a Red Dinosaur sushi roll made with spicy tuna; and a cheesecake. Whether you're in the mood for Western or Japanese food, Timezone 8 is consistent in quality and taste." —Kristen Lum
Spicy Sichuan: Wan Xiaoguan
"In 798 Art Zone, restaurants are often expensive but not good. This one is great. The food is spicy and traditional — it's a classic Sichuan province-style restaurant. They have all kinds of food and they keep making new dishes, plus the price is good: 80 to 100 yuan [$12.50 to $15.70] per person. Try the fish and the frog." —Yang Zi
Where to eat near Lama Temple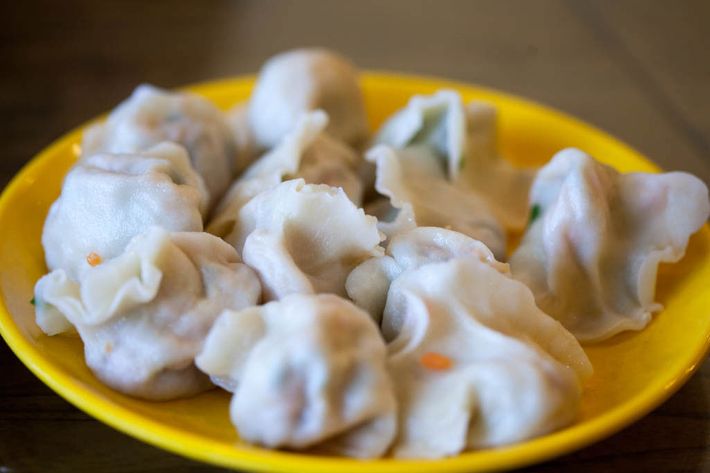 Double dumplings: Xian Lao Man
"This is a hutong favorite that I always send friends to — a true Beijing experience, with handmade dumplings. They often have 'peasant-style' fillings including carrot or egg and garlic chives; traditionally, poverty struck meat off the menu. But they also have lamb and classic pork with cabbage. Generously douse your dumplings in northern black sorghum vinegar and ask for pickled garlic cloves, which turn blue due to a natural chemical reaction with the vinegar's acid."
—Lillian Chou, food stylist, writer, and former food editor of Time Out Beijing
Hearty Yunnan-style food: Aimo Town
"This two-story restaurant with a spacious balcony is a hidden gem — find it by turning right just as you enter the 46 Fangjia Hutong courtyard and walking to the end of the path. It's vibrant and colorful, with walls covered with photos of Yunnan, a province in southwest China bordering Laos and Myanmar. China's most ethnically and culturally diverse province, Yunnan's cuisine features zesty and refreshing flavors using mint, lime, lemongrass, basil, and chilies. It's a far stretch from what many Westerners normally associate with Chinese food. A good place for a dinner date or casual group dinner, Aimo Town is popular among locals and foreigners alike and is a great choice for visitors curious to sample the unique flavors of Yunnan in an authentic hutong neighborhood. Menu hits include barbecue-grilled whole fish and crispy red beans. Wash down with a Dali beer, which is reminiscent of a sparkling apple cider." —Kristen Lum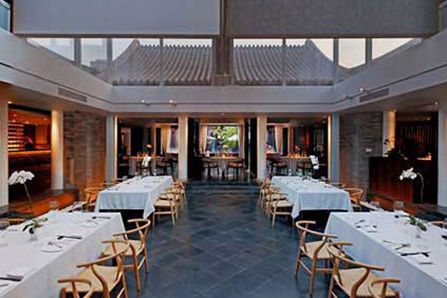 High-end vegetarian: King's Joy
"This may be a vegetarian restaurant, but make no mistake: King's Joy is in the business of haute cuisine. Located opposite Lama Temple — in China, vegetarianism is largely for Buddhists — this elegant and spacious restaurant provides a fine dining experience with exquisitely crafted vegetarian cuisine. The small portions are 'wow'-worthy, even if they aren't the most filling. And yes, that includes 'fake meat' such as 'smoked duck' that's actually made of tofu and tastes like the real thing. We've sent visiting chefs here who have been floored by what goes into creating these dishes." —Jenny Jing, manager at specialist tour operator Bespoke Beijing
Where to eat near Temple of Heaven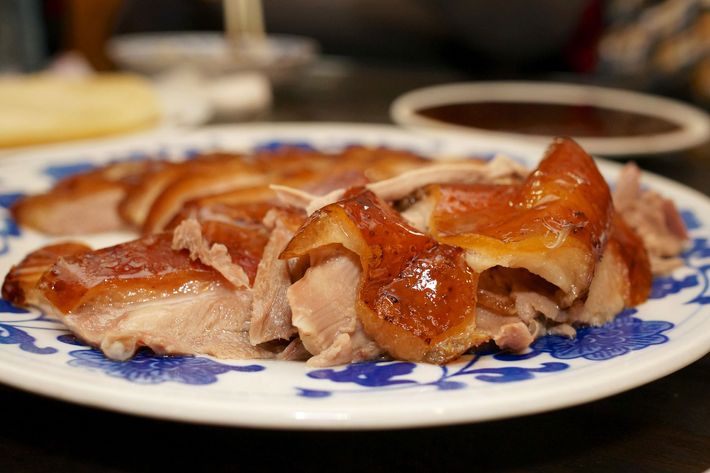 Backstreet bird: Liqun Roast Duck Restaurant
"Located about a mile north of the Temple of Heaven, this is the perfect stop if you're heading up to the Forbidden City. It's all about atmosphere: the dingy walls evoke feelings of gritty authenticity. You'll be captivated when you see their hanging birds, and get hit by the mouth-watering scent of wood-fire roasted duck. Owner Zhang Liqun is a kind, hardworking man who earned his stripes at Quanjude, the original state-owned duck powerhouse. Here, he has turned his home into a restaurant. He used to blow into his ducks with his mouth to separate their skin from the rest of the body; the difficult technical process is now done with air compressors. Some visitors are miffed by the surcharge for drinking water, and Zhang's English-speaking daughter can seem gruff at times, but the ducks are superb and come served with house sauce plus cucumber and leek slivers. Opt for the carcass to be fried, so you can pick at the crispy bits." —Lillian Chou
Perfect pork: Meizhou Dongpo
"You'll work up an appetite walking through the Temple of Heaven's magnificent park and shopping at Hongqiao Pearl Market across the street. With few great eating options within walking distance of these, my go-to place is this fine example of Chinese fast food done well. The brand started with a husband-and-wife chef team from Meizhou in Sichuan province, who worked in Beijing and then branched out on their own. Meizhou is where China's famous poet Su Dongpo was born. Dongpo pork, named in his honor, is usually a cube of braised tender pork belly served with a Shanghai bok choy cluster in a neat clay pot. This restaurant has this dish as well as other favorites, including a decent dan dan mian — one of Sichuan's famous street noodle dishes. Meizhou Dongpo has dining rooms scattered across Beijing in varied levels of finery, and even swanky branches in Los Angeles. This branch has a small menu and small prices, making it easy to try stuff with little risk. Good, fast service and tables with handy self-serve drawers full of cutlery help you keep moving."
—Lillian Chou