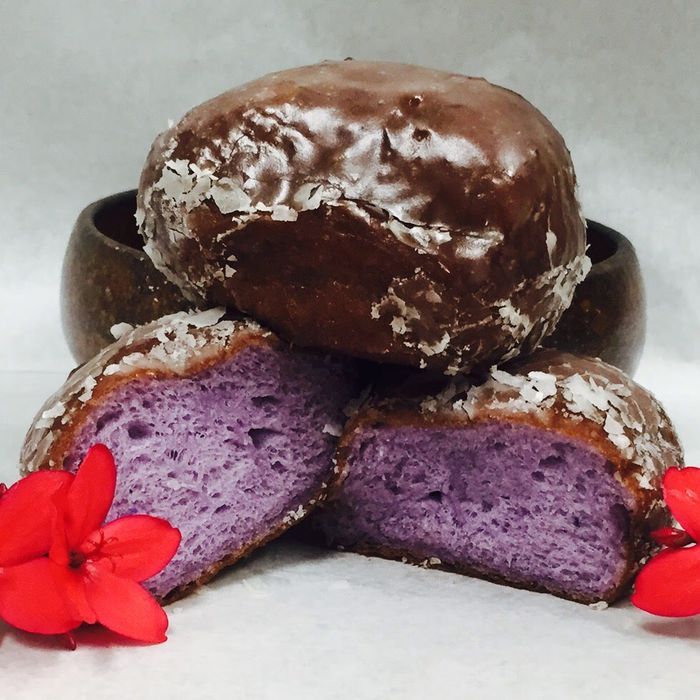 Glazed poi donuts at Kamehameha Bakery in Honolulu.
Photo: Courtesy of Kamehameha Bakery
We hope you packed your stretchy pants, because the desserts on Oahu are ridiculously delicious. To help us assemble the ultimate sweet treat tear sheet, we turned to Heather Newton, culinary director at wholesale gelato and sorbetto company La Gelateria, and Jo Seuk, pastry chef at The Modern Honolulu hotel in Waikiki.
For donuts, go to…
Liliha Bakery
"The poi [mashed taro] mochi donuts are some of the best I've ever had. It was the perfect combination of chewy, light, and airy, and not very oily, considering it's fried. The miniature poi mochi balls are adorably arranged and fused into a larger ring, making it even more fun to bite into." —Jo Seuk
Kamehameha Bakery
"Their poi donuts are one of my favorite donuts on the island. They're fried and then rolled in sugar, so they have a wonderfully crisp exterior and cloud-like texture; they're not overly sweet or bready. The poi also makes them moist and gives them a beautiful purple color." —Heather Newton
For Japanese-style cheesecake, go to…
Uncle Tetsu
"Cheesecake is my favorite and Uncle Tetsu takes it to another dimension. It's fluffy and airy with just a wisp of cream cheese — as if an angel food cake and a cheesecake birthed a child of heavenly goodness. I love it plain but the coffee flavor is amazing as well. It cuts smooth, melts in your mouth, and goes well with macerated strawberries."  —Heather Newton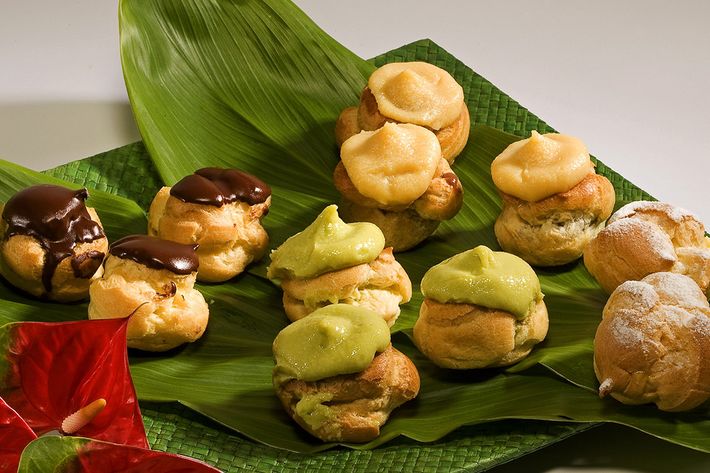 For cream puffs, go to…
Liliha Bakery
"I know everyone says Liliha's coco puffs are the best, but my favorite are the green tea choux. The salty creme puff is a prime vessel for the smooth green tea pastry cream and delicious Hawaiian chantilly topping, made with evaporated milk, butter, sugar, eggs, and dessicated macadamia nuts for texture. They may even add matcha powder to it. It packs an 'oh my god' punch in a wonderful bite-size dessert." —Heather Newton
For haupia, go to…
Ted's Bakery
"The best haupia [a traditional coconut milk-based Hawaiian dessert] that I've tasted is the haupia chocolate pie at Ted's on the North Shore. The pie satisfies with the silky textures of the haupia and chocolate cream, plus a flaky pie crust." —Jo Seuk
For lilikoi, go to…
MW Restaurant
"This upscale restaurant is owned by a husband-and-wife duo; he is the executive chef and she is the pastry chef. The tropical creamsicle brûlée was the highlight of my meal there. Refreshing lilikoi [passion fruit] sorbet is layered with a smooth custard, burnt sugar, tapioca, and house made gummies, giving you the perfect combination of sweet, tart, smooth, crunchy, and chewy." —Jo Seuk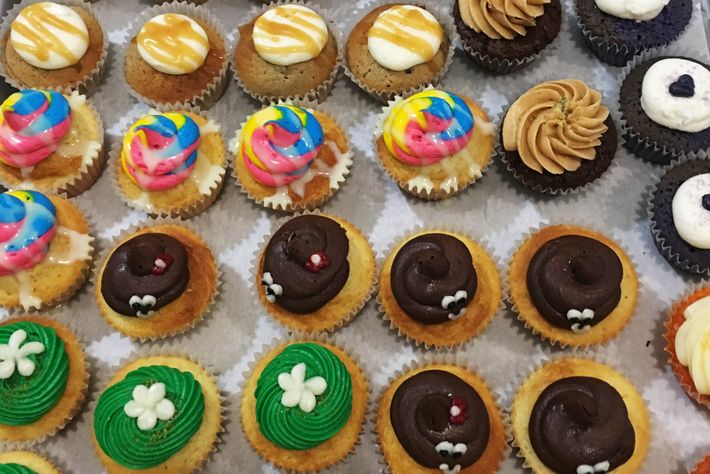 For cupcakes, go to…
Hokulani Bakeshop
"They use real butter and sugar and 100 percent real fruit purées, and hand scoop and decorate their cupcakes early every morning. There are staple flavors like vanilla buttercream and red velvet, plus local flavors like lilikoi and guava. But my absolute favorite is the Okinawan sweet potato with cream-cheese icing. The cupcakes are so fluffy and moist, with such a delicate texture and crumb, I could eat half a dozen alone."  —Heather Newton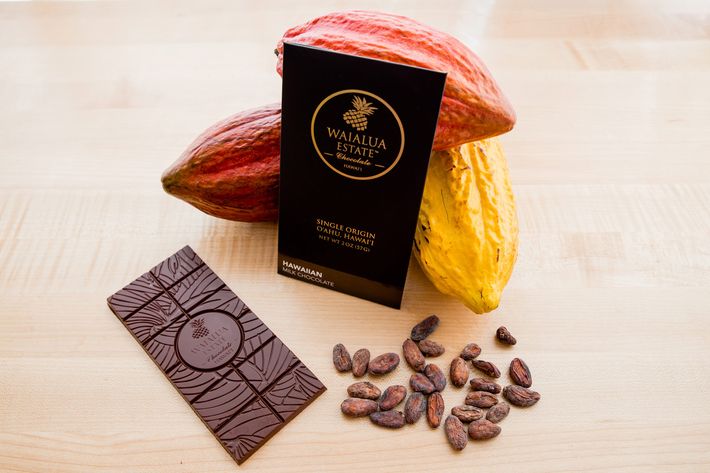 For chocolate, go to…
Waialua Estate
"Waialua makes deliciously smooth, small-batch dark chocolate bars, and they're not as bitter as you'd think a 70-percent cacao bar would taste. I used their chocolate while testing out my S'mores milk chocolate cremeux bar at Stripsteak Waikiki." —Heather Newton
For malasadas, go to…
Leonard's Bakery
"These malasadas — Portuguese donuts without the hole — are legendary. My friend said they're like 'biting into a cloud,' and I completely agree. There are many flavors (plain, chocolate, haupia, cinnamon-sugar, and li hing [dried salty plum]), but my favorite is the custard malasada, which is fried and filled to order." —Jo Seuk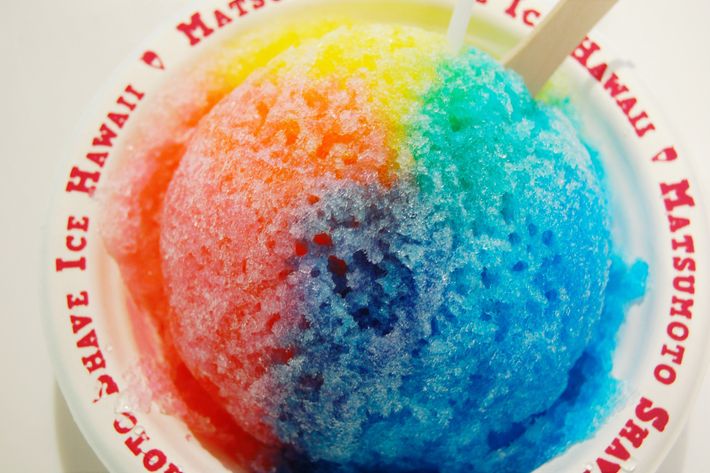 For shave ice, go to…
Matsumoto's Shave Ice
"This shop in Haleiwa has a multitude of flavors and combinations. My favorites are lilikoi, watermelon, and li-hing, which is a salty dried plum treat. Haleiwa itself reminds me of my hometown in Julian, California, with mom-and-pop shops and single two-lane road running through town. Very country." —Heather Newton
For a takeout buffet of desserts, go to…
Diamond Head Market & Grill
"This is one of my favorite neighborhood eateries. It has a take-out restaurant with lots of local favorites, such as the loco moco and a teriyaki burger plate, as well as an indoor market with tons of freshly made, pre-packaged meals. For dessert, you pick from an array of delicious butter mochi, chocolate banana peanut-butter pie, Okinawan sweet-potato haupia squares, and blueberry cream-cheese scones and take it to go or sit down to eat at one of the picnic tables outside the building." —Jo Seuk