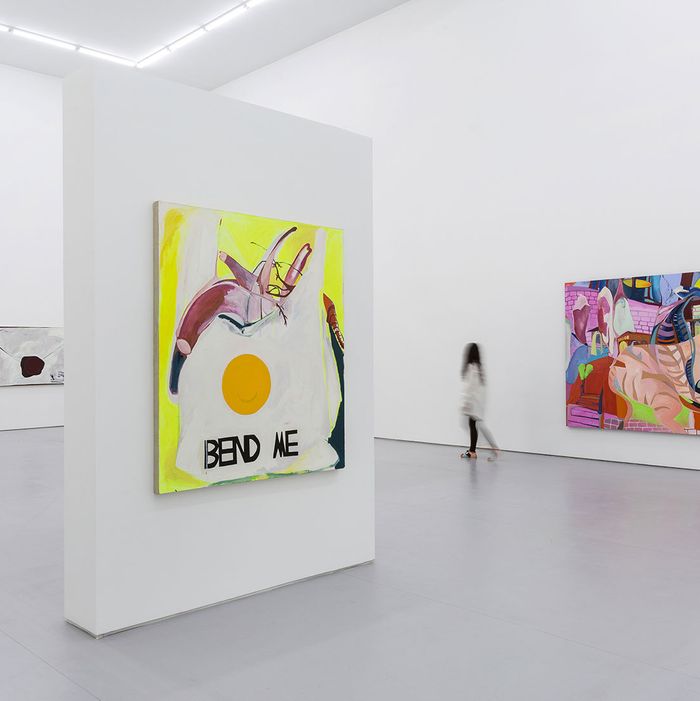 White Space Beijing.
Photo: Courtesy of Zhang Zipiao and White Space Beijing
798 Art Zone, in northeast Beijing, is the lively color-splattered heart of the capital's arts scene. The area took root shortly after the turn of the millennium, building up in and around former military factories. Galleries such as the Ullens Center for Contemporary Art (UCCA) and Pace Beijing showcase both local and international artists, with the likes of Yoko Ono and David Hockney among the recent names to exhibit there. After you've spent a day exploring the Zone, check out these other, more unexpected art destinations throughout Beijing, as recommended by artistically inclined locals.
Awe-inspiring art oasis: Red Gate Gallery
"As a gallery, this place is world-class — on a level with any in Paris or New York. To get there, you have to drive outside central Beijing to the leafy Shunyi area. There are faceless buildings next to the gallery, but when you walk inside, it's incredible and huge. Beyond the exhibitions, the highlight is the architecture in the garden area. It's like a labyrinth: lots of bricks with a feel that's Beijing but kind of London, too, with a pond with huge stones, swans, and turtles. It's worth going there to just get lost in the maze." —Matjaz Tancic, photographer
Gallery-filled art village: Caochangdi
"Caochangdi used to be where hay was stocked for the empire's horses, hence the name, which means 'place for hay.' Now it's a suburban village just north of 798 Art Zone, with a lot of small galleries. White Space promotes young, up-and-coming artists. Ink Studio combines traditional Chinese calligraphy with modern design. Taikang Space focuses on artistic beauty hidden in historical documents. They did a photography and video exhibition about Henry Norman Bethune and another about Hu Die, a.k.a. Butterfly Wu, the most popular Chinese actress from the 1920s and 1930s. C-Space always has an excellent showcase of young artists, and Telescope hosts more experimental projects." —Yang Zi, curator at the UCCA
Contemporary cool: Wyoming Project
"What's interesting about Wyoming Project is its magical change of atmosphere according to the themes of its exhibitions. It is currently holding a photography exhibition of Elizabeth Price, running until May 28, 2018, and to highlight the effects of the works they changed the color of the walls to light yellow, created contrast with the lighting, and added seats for watching a video. The founders, writer and curator Li Bowen and artist Sun Shi, know what's best for a space. They're open to all kinds of contemporary art media, such as videos, installations, and paintings." —Zhang Yuling, art director of KWM Art Center
Dalí-stuffed mall: Parkview Green
"It's next to Beijing's central business district and is not just a shopping mall, but a lifestyle complex with shops, offices, a boutique hotel, and more than 500 pieces of art, including original sculptures by Salvador Dalí. It feels nice and relaxing walking around the mall." —Ding Hao, artist
Hutong experimentation: Salt Projects
"Salt Projects was initiated by critic Fu Yuan and curator Liya Han in 2016 and is a hutong art space no more than 17 square meters [183 feet] in size. It has a big 'window wall' so viewers are able to see inside, even from across the street. I went there recently for Xiaoshi Vivian's solo performance Green Belt; viewers had to gather outside the window. Vivian personified a plant from a green belt, mimicking the interaction between an artificial plant, its neighborhood, and artificial society. I recommend that people go to Salt Projects when there are events and performances, to feel the sense of presence. The place combines hutong atmosphere with art, which is unique and interesting." —Zhang Yuling
Contemporary art entry point: Today Art Museum
"When it was established in 2002, this place became the first nonprofit, nongovernmental art museum in China, and today it contributes heavily to the country's contemporary art scene. It helps make contemporary art accessible, with exhibitions, seminars, workshops, family events, and performances; you don't have to be an artist to appreciate this place. Although it's a nonprofit, its construction, design, and operation standards follow international art galleries' standards strictly." —Ding Hao
Art students' haven: Central Academy of Fine Arts
"It's a leading art education institute in China: a palace of art and a dreamland for art students. The university museum, CAFA Art Museum, is an important gallery for traditional Chinese ink painting as well as a venue to showcase students' exhibitions. Year 2018 is the 100th anniversary of CAFA, and to mark this the venue is hosting is a grand exhibition of the work of Xu Beihong, once president of CAFA and the first traditional Chinese painter to combine Western-style painting skills with Chinese ink painting." —Ding Hao
Secret spaces: DRC No.12 and The Bunker
"Because of artist Peng Xiaoyang's experience, he attracts top artists into Beijing's arts circle and has set up independent art spaces such as DRC No.12 and the Bunker, inviting talented artists such as Zhang Peili and Zhang Pei to them. DRC No.12 is inside Sanlitun's Diplomatic Residence Compound building, while the Bunker is an underground space in the Duan Qirui Former Government Building that holds exhibitions for both up-and-coming and experienced artists. It's a good choice for people who want a darker and quieter environment. You need to make an appointment to both to get access." —Zhang Yuling