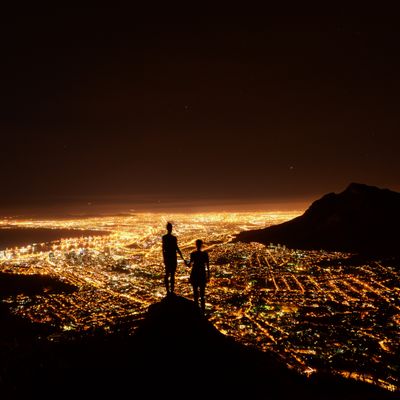 Lions Head in Cape Town, South Africa.
Photo: Getty Images/iStockphoto
A night out in Cape Town means different things to different people — some hit the beach, take a hike, or catch an outdoor movie; others might swing past a gallery opening and then drop by one of the chic cocktail lounges popping up all over the Central Business District. We checked in with three plugged-in locals to see what their ultimate weekend itinerary looks like.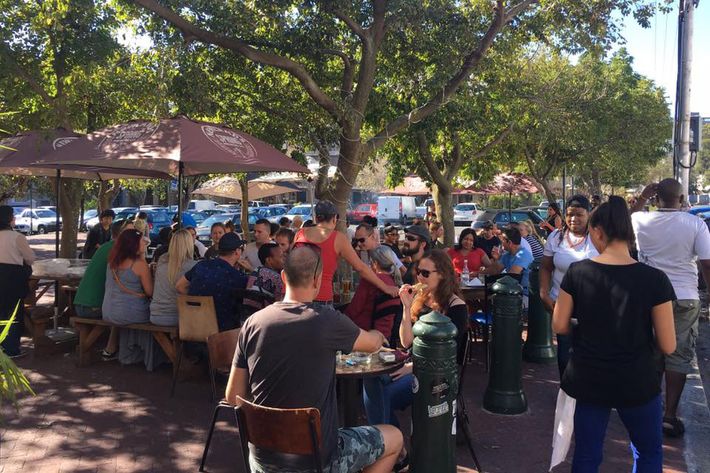 Peter Milk B Lebese, head bartender at Botanical Bar
"Normally I'm behind my bar on Saturday, slinging the drinks, having a good time, and getting our guests socially lubricated. But if I found myself off, I'd start off at Roxy's. I try to get there at a quarter to 4 because I know they have their R10 [$0.83] beer special until 6 p.m. The bar is run by a family who has made relationships with internationals and locals through their travel and studies — and so it's just like a local bar with internationals, businessmen/women, bartenders, students, and travelers, just the best mix of people.
From then on, I'd need to leave because — hey, 6 o'clock has come and I need to find me, and finding me is in a martini glass at the Gin Bar. If you find a brother called Kenan J. Tatt — he's the bar manager — he's got you right. But you don't want to linger there too long because there are places that are louder and more fun.
I need a stopover by the Chief H [Heinrich Koen]; his place is called The House of H. It's this really cool restaurant which used to be a parking lot, and he has built around it and kept the parking lot floors with the parking lanes. House of H is not set like a standard restaurant — they have tables placed around like picnic style meets herb garden, with plants like mushrooms and mints grown there (sort of a tattoo-bar style, just more spacious and with better lighting with some really good food). Sit wherever you can find room and if ever there's the brisket sandwich, please do not look past it. It's smoked daily, but they only have a certain amount. But what's lovely is you order downstairs and he's got a hush-hush rooftop bar in his building. That's where you find yourself eating his meal and touching the stars.
[Next] I move on to House of Machines — they just opened one in Los Angeles this year, but in Cape Town on Shortmarket Street you get my boy, my brother, my friend Rudi De Vos. He'll sling you a naughty classic, but in a dive-bar style. That's when my blood gets hot and I find myself at Harringtons for good cocktails, good '80s R&B, and somehow I find the brothers and sisters from the industry for a good twist and wiggle. I'm not too complicated, I like it simple. Good laughs, good smiles, good drinks, and the music just gets us going."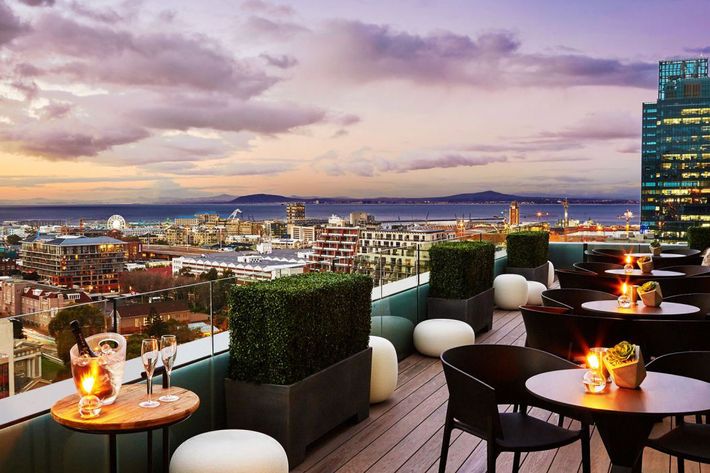 Zoë Brown, TV presenter and radio host
"My ideal Saturday night would start off with sundowners with my girlfriends at the new 14 Stories Rooftop Bar at the SunSquare Hotel. We always enjoy the bubbles and the beautiful sunset. If you love night hikes, then hiking Lion's Head during a full moon is super fun. I personally prefer to hike it a few days before the full moon or a few days after to avoid the crowds. Pack a picnic basket — I like to grab a French loaf, cheese platter, fresh-fruit platter, and mini chocolate mousse cups at Woolworths — and enjoy the sunset with one of the best lookout points the Mother City has to offer. If the weather is unpredictable, a safe and always enjoyable spot is the Mojo Market in Sea Point. It's open till late and I've seen live acts like JazzCats and Majozi in the evenings. You can choose from delicious flatbreads and deep-fried macaroni, Mexican, Asian, or seafood dishes, including poke bowls. I try something new every time I go. The best restaurant for a girl's night out is Asoka on Kloof Street; it's one of those places where you go for dinner but stay for drinks. Their Asian fusion tapas are perfect for sharing — my go-to tapas are the beef short ribs, truffle polenta chips, goat's cheese croquettes, and grilled calamari — and they have a big cocktail list. There's a D.J. playing house music that gets the atmosphere going and, as the evening progresses, a mini dance floor erupts as tables and chairs are pushed aside."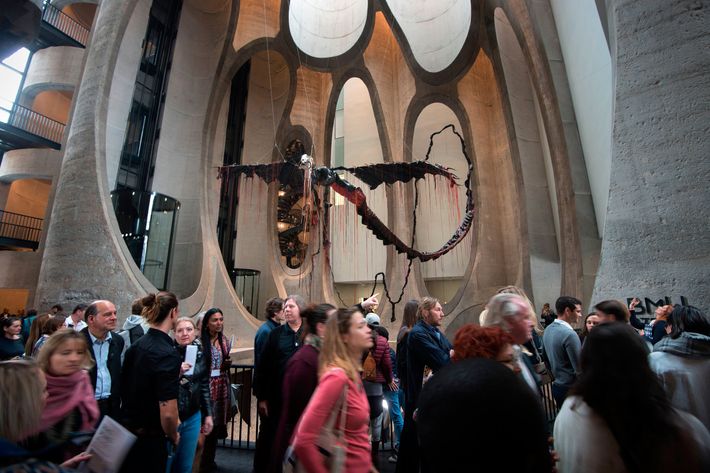 Aubrey Ngcungama, director at Vula Afrika, a bespoke representation agency focusing on the African continent
"Cape Town is in love with Thursdays; that's the official start of our weekends in the Mother of all cities. Especially on the first Thursday of every month — this is our take on a true Saturday night out. Start your evening with a visit to the Zeitz Museum of Contemporary Art Africa. Here you'll enjoy works by Africa's very best artists, curated in one of the continent's most iconic buildings, at the heart of the V&A Waterfront. Above the museum is the fashionable Silo Hotel, which perhaps commands one of the greatest vistas anywhere in the world. Sip on a glass of one of our world-class sparkling wines and see 360-degree views across the Atlantic Ocean and Table Mountain from the rooftop bar. A short drive away is the culinary epicenter of the country. Buzzing through Bree Street, where the foodies and hipsters mingle, you'll take a turn into Shortmarket Street and find the now-legendary Shortmarket Club. Here, the foodies congregate to see and be seen. Superstar chefs Luke Dale-Roberts and Wesley Randles ensure a memorable culinary experience, with a touch of fun in a true Cape Town setting. Springbok and cauliflower are given equal status on the plate. Afterward, wander through Loop Street and enjoy the colorful scenes of the arty set discussing the latest trends on canvas, while the sounds of African music mixed with hip-hop and jazz fill the air. A must-visit for the night is the St. George's Mall: This pedestrian-only street is turned into a buzzy market for one night only; sample a cocktail or two, enjoy local sweet treats, and don't be surprised if you bump into the Mayor of Cape Town dancing into the night with locals."