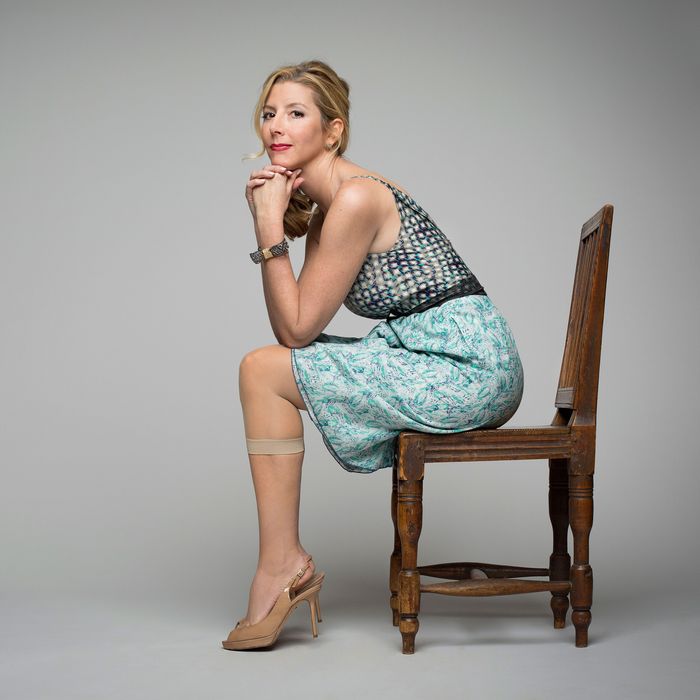 Photo: Mike McGregor/Contour by Getty Images
In 1998, having failed the LSAT twice, Sara Blakely was a 27-year-old Florida State graduate selling fax machines door-to-door in Clearwater, Florida. Blakely was good at her job — Danka, the company she worked for, promoted her to national sales trainer at 25 — but she wasn't exactly passionate about hawking clunky office equipment in subtropical heat. "I woke up one day and thought, 'I'm in the wrong movie, call the director! What happened? This is not my life,'" Blakely, now 45, recalls. "So I wrote down on a piece of paper the things that I was good at, and one of them was sales. I just started thinking about that, and I ended up writing down in my journal, 'I want to invent a product that I can sell to millions of people that will make them feel good.'"
At the time, Blakely owned some cream slacks she'd never worn because she didn't have any underwear that wouldn't show through the light fabric. One night, eager to premiere the pants at a party, she had a revelation. Blakely grabbed a pair of the pantyhose she was required to wear for work — she'd never liked how the seamed toes looked in her sandals, but she did appreciate what the control-top did for her butt — cut off the feet, and put them on under the pants. Though the edges of the hastily altered tights rolled up her legs all night, she was pretty sure that the smoothed-out, lineless look she'd achieved was something that, with some perfecting, other women would happily pay for.
The company that resulted from that idea, Spanx, now offers more than 200 shapewear and other products. Its annual sales have been estimated at $400 million, making Blakely, who retains 100 percent ownership of the business, the youngest self-made female billionaire in the United States. But while the brilliance of Spanx now seems obvious to anyone who's ever wanted to immediately look, say, 10 percent better in a cocktail dress (and doesn't mind the occasional feeling of suffocation), it took Blakely two years to get anyone to see the value of her idea. For the most part, she was on her own.
"I didn't realize that selling fax machines door-to-door was really laying the groundwork for me to be able to be an inventor and create a product that had never been done before and bring it to market, because doing something like that requires hearing the word 'no' a lot," Blakely says. "The cold-calling to sell fax machines was an amazing training ground for hearing 'no.' I just learned that there's a formula, you have to go through a certain number of 'no's to get to a 'yes,' so don't let it discourage you."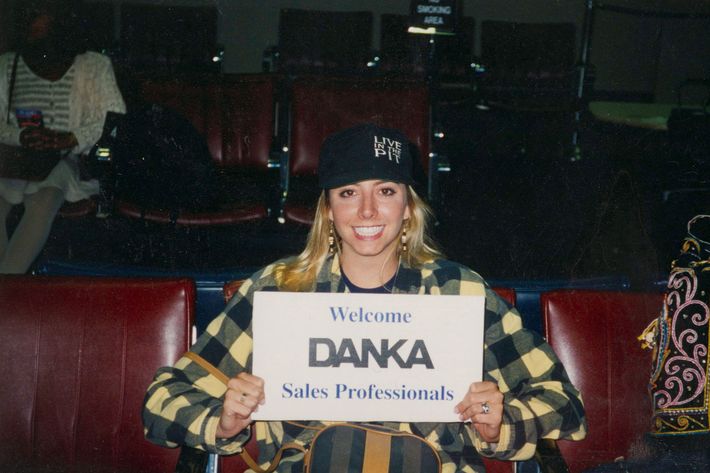 With no design background or knowledge of how to start a business, Blakely began spending her nights and weekends doing research, going to fabric stores, assembling and testing prototypes, and even writing much of her own patent (she eventually gave a lawyer $750 of her $5,000 savings to hammer out some of the finer points). At first, she didn't tell anyone she knew what she was working on. "No one told me to do this, but intuitively, I just felt I should keep my idea to myself and not seek validation from friends and family. By doing that, I didn't invite ego into the process early on. I didn't have to spend time defending or explaining my idea — I was just doing it," she says. "I think that ideas are really vulnerable in their infancy."
Blakely's instincts turned out to be correct — her friends and family were, at best, doubtful of the Spanx concept. "When I chose to tell everybody, I was a year into the process. And I did hear things that, if I had heard them the first day I had the idea, I may have just stopped and would probably still be selling fax machines today," she says. She remembers being asked, "Sweetie, if it's such a good idea, why hasn't somebody else done it?" Others warned, "Even if this is a good idea, you're gonna spend your savings on it and the big guys will just knock you off six months later and you'll be done."
Blakely admits that she was rattled by the skepticism. "I think anybody who's doing something or creating something has a lot of inner dialogue about it already. So, there were bouts of serious self-doubt and conversations that I would have with myself, like, 'Is this really a crazy idea? What am I doing?'" But, she explains, "Because of all the time equity I'd already put into it, I wasn't gonna turn back."
The response Blakely got from the people necessary to turn her idea into a reality wasn't encouraging, either. After learning that most of America's hosiery is manufactured in North Carolina, she spent a week in the state cold-calling and showed up at factory doors hoping to find someone willing to produce a product based on her prototype. The mills were all owned and operated by men, and none seemed to understand Blakely's pitch.
"It made me, as a consumer who had never thought about who was making my undergarments, abundantly clear on why they had been so uncomfortable," says Blakely, who was shocked to find that tights were tested on mannequins instead of living, breathing, sweat-producing, skin-and-fat-having women. "It actually energized me even more. Because once I saw how little attention was being paid to how we felt in the garments, I kind of became a crusader in my desire to really show the industry that we could make things so much better for women with just a little bit of extra love and care and attention."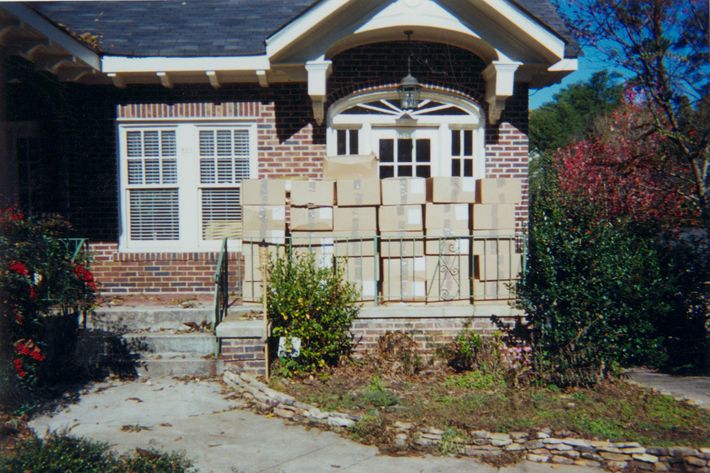 But she still needed help getting to a place from which she could transform the industry — and she wasn't receiving it. At one point, feeling particularly frustrated by what seemed like endless rejection, Blakely says, "I said to the universe, 'I just need a sign — give me a sign of whether I'm supposed to continue this idea or not,' because I was so at my wits end." Then, a couple of weeks later, "I flipped on Oprah. She had cut the feet out of her pantyhose that day and lifted up her pant leg to show that she had done that to create a homemade version of my product! And I was like, not only is that the most clear sign ever, but it came from someone who meant so much to me in my life anyway. I had visualized that I was going to be on The Oprah Winfrey Show since I was in college, but I didn't know what we'd be talking about. So it was just the whole, wide, full circle. Okay, the universe is speaking really clearly. I've go to keep going."
A little while after her seemingly unsuccessful trip to North Carolina, Blakely received a call from the head of one of the manufacturers she'd visited. He said he'd be willing to produce a batch of what are now known as Spanx Original Footless Body-Shaping Pantyhose. "He admitted to me that the only reason he did it was that he had three daughters," says Blakely. "I don't know if he felt sorry for me, but he said he ran the idea by his daughters and they said, 'Dad, it's a really interesting idea, you actually should give this girl a chance.'"
With the shapewear made and the distinctive red packaging designed, Blakely started looking for somewhere to sell her footless pantyhose. In 2000, she managed to find a Dallas-based Neiman Marcus buyer who agreed to a short meeting. "She wasn't getting it at first," says Blakely, who sensed that she might be about to lose a major chance. "So I stopped the meeting and asked her to come to the bathroom with me, and I showed her my own before and after in the white pants. Then she said, 'Oh, I get it! It's brilliant. I'll take it in seven stores.' It wasn't until I did my own visual that I think it really clicked and registered for her."
Blakely says the buyer's decision to put Spanx in a handful of Neiman Marcus stores was her nascent company's first "defining moment." The second came a few months later, when Oprah Winfrey herself featured them — and Blakely — on her annual, mania-inducing "Favorite Things" episode. (One of Winfrey's stylists passed a pair on to his boss after finding them in a box Blakely had sent in.) The Oprah spot led to 20,000 orders on the first day alone. "It was very surreal," Blakely says. "I finally got to fill in the blanks of what we were talking about." It was only then that she quit selling fax machines.
The next year, Blakely appeared on QVC with Spanx's second-ever product, the Power Panty. "It was a shaper short that had no leg band on it, which no one had ever done before. We just sold so many of them on QVC, and we had women calling in who were giving testimonials because they'd already tried them at Bloomingdale's and different stores. I just remember coming off the air and thinking, 'Oh my god, I'm not a one-hit wonder, I'm actually a company.'"
Asked if there was anyone to whom she ever felt the need to say "I told you so," Blakely says, "There were a lot of ex-boyfriends who dumped me, who I wanted to have my Pretty Woman moment with, to say, 'Big mistake, huge!' But I think my success did that for me.'"