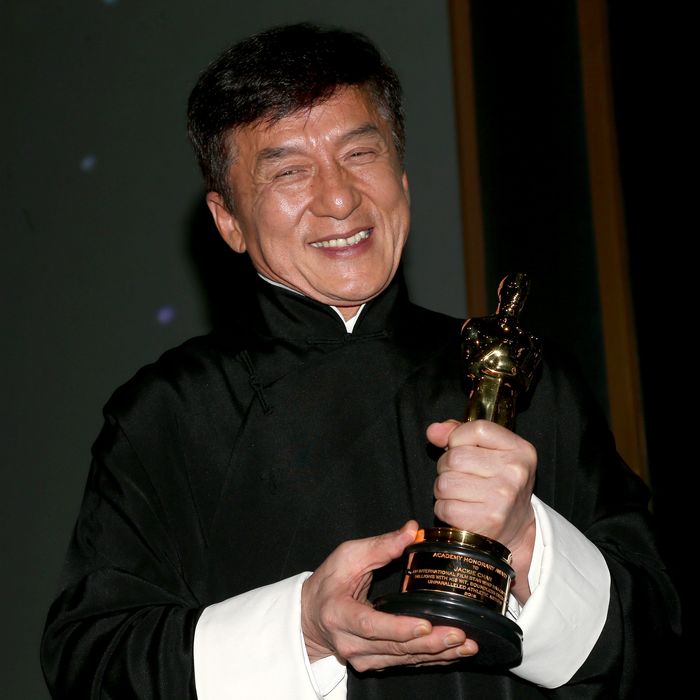 About time.
Photo: Frederick M. Brown/Getty Images
Jackie Chan appeared in his first movie when he was just five years old. Fifty-seven years and more than 200 films later, Chan is now the second highest-paid actor on earth. Yet as all the accolades piled up and the money poured in, one honor — Hollywood's highest — has always remained elusive. Kung fu comedies just aren't Oscar material, no matter how many billions of fans and dollars they bring in.

That all changed on Sunday night, as Chan took the stage at the annual Governor's Awards in Los Angeles to accept an honorary Oscar for his lifetime in movies. That means Chan has now officially beaten Tom Cruise and Johnny Depp to a golden lady, which might just be the Academy residually overcompensating for The Artist.

In his acceptance speech, Chan admitted he's been after an Oscar for more than 23 years, ever since he first saw Sylvester Stallone's statuette.
"I touched it, kissed it, smelled it," Chan mugged. "I believe it still has my fingerprints on it … Then I talked to myself, 'I really want one.'"
In a toast, Tom Hanks congratulated the action-comedy giant who "puts the Chan into Chan-tastic," and acknowledged that the kind of films Chan makes have been "historically underrepresented at the Oscars." His Rush Hour co-star Chris Tucker presented the award, calling his friend a "living legend."
Chan was one of four entertainers to win honorary Oscars at the event. Fellow honorees included film editor Anne Coates, casting director Lynn Stalmaster, and documentary filmmaker Frederick Wiseman.
"Standing here is a dream," said Chan, who famously performs all of his own stunts. "After 56 years in the film industry, making more than 200 films, breaking so many bones, finally this is mine."