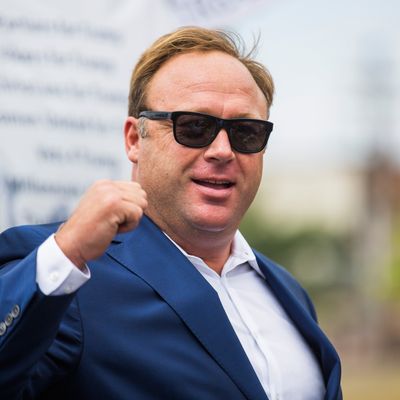 Photo: Brooks Kraft/Getty Images
This week, for the first time in his life, Alex Jones proudly stands with the United States government.
In one of the more dizzying examples of the new normal to emerge from the orange smog of Trump's America, the radio host's conspiracy-addled media empire has in the last 48 hours recalibrated its editorial mission, turning its attention to "violent" anti-government protesters, "butt-hurt" dissenters, and the unpatriotic masses besieging the president-elect's home. His reporters now mock those who call for secession and revolution, with no apparent signs of whiplash.
In case you didn't recognize him, Jones is the same paranoid wingnut carnival barker who said Hillary Clinton and Barack Obama smell like sulfur and must be demons; who believes John Podesta's leaked emails prove Clinton's team performed satanic rituals; who has claimed that virtually every major act of terrorism committed on American soil since the Oklahoma City bombing was orchestrated by the U.S. government (including the Sandy Hook elementary school shooting, the Orlando nightclub massacre, and, especially, 9/11); who has dedicated his 20-year career to fighting the New World Order, an evil organization that includes many government officials and politicians, progressive billionaire George Soros, the Illuminati, and the Rothschild and Rockefeller families; and who, when interviewing Trump a year ago, told the next president that what he was doing was "George Washington level" back when every other media outlet was still treating the reality star like a harmless troll.
For the uninitiated, browsing Infowars can feel like tripping through the door of a Porta Potti into an alternate dimension.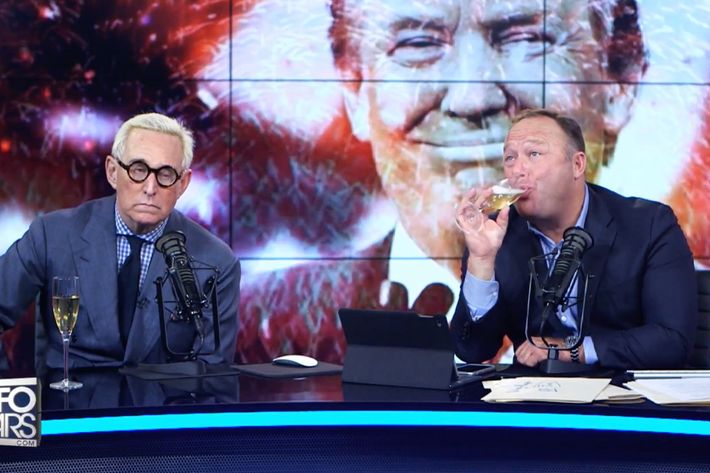 During the course of his 52-hour election marathon, broadcast live from Infowars' central command in Austin, Texas, Jones deployed his crackpot team of pundits and reporters — Paul Joseph Watson, Kurt Nimmo, Joe Biggs, David Knight, Darrin McBreen, Lee Ann McAdoo, Margaret Howell, Rob Dew, and Owen Shroyer — to provide relief during the rare moments he wasn't actually on-air. With Trump surrogate Roger Stone, the GOP's most flamboyant oppo man, at his side, Jones took every opportunity to boast about the multi-million-dollar operation he's built over the last ten years, which now has a bigger audience than CNN's, he says, based on the number of radio stations he's on and the amount of people who watch his stream through social media, YouTube, and infowars.com.

"It's not about a pissing contest. It's about recognizing their day is over. They're a joke. They've destroyed themselves," he declared, encouraging people to follow his stream. "That's what it's all about: animating the contest of liberty; building our own muscles."
Jones and his team had been repeating the same message for months — that alternative media has invaded the mainstream media's territory, and that the old guard has lost all credibility. A September Gallup poll certainly appeared to bolster that claim, showing trust in mass media at an all-time low, a trend no doubt abetted by Trump's constant efforts to discredit journalists. Indeed, traffic to sites like Infowars and Drudge Report doubled over the last year, according to Quantcast, while their alt-right demon baby, Breitbart News, saw growth that surpassed all other political news sites. (Its chairman, Stephen Bannon, who came on as Trump's campaign manager in August, is now rumored to be on the short list for chief of staff.) But it wasn't until Tuesday night that all the huffing and puffing started to carry the weight of vindication.
As the polls closed, even Jones couldn't believe his revolutionary champion had actually defeated the globalist technocrats. Minutes after railing on about Hillary Clinton stealing the election, he got the news about Florida.
"So is this the first time my gut's wrong?" he asked Stone. "Because they're saying Trump's going to win. Will they claim the Russians did this tomorrow?"
As the reality set in, a watery-eyed Jones clenched his fist in the air, overcome with emotion. "Wait a minute. Wait a minute. Are we — Americanism versus globalism — are we actually, probably right now seeing a Trump victory?"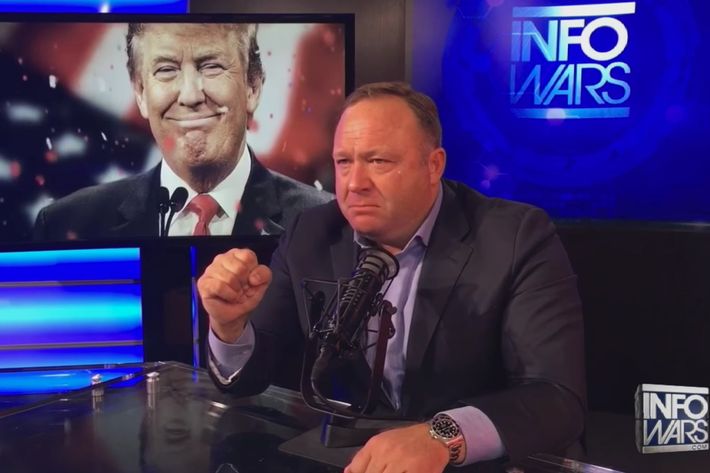 The more definitive Trump's upset became, the more Jones relished his moment:
It's better ecstasy than bagging the prom queen. I'm not bragging. I'm just saying that from the time I was a sophomore and I got the prom queen every year — it's 10 times better. It's, like, so ethereal. I cannot believe that Trump's tuned in to reality. He loves America. His sons love America. They're retweeting our stuff every day. We're in sync. It's fun and we're doing it and I feel the spirit rising. This is so cool. Cut taxes. Make us wealthy. Bring people together. This is like the rediscovery of America.
For a brief second, as he waited for Trump to deliver his speech, his euphoria gave way to his default — paranoia. "Declare victory before she launches a nuclear war!" he cried. But it soon passed.
In the wee hours of Wednesday morning, Jones asked Stone to take his hand and invited all his Infowarriors to crowd around his desk. They drank Champagne, and he told them he loved them. Finally, after sending them home, he sat alone at his desk and delivered his closing remarks.
"I already know my life's purpose has been completed," he said. "I will continue on. But for now, I realize, I have won."
Then Jones stood up, unbuttoned his jacket, and went home.