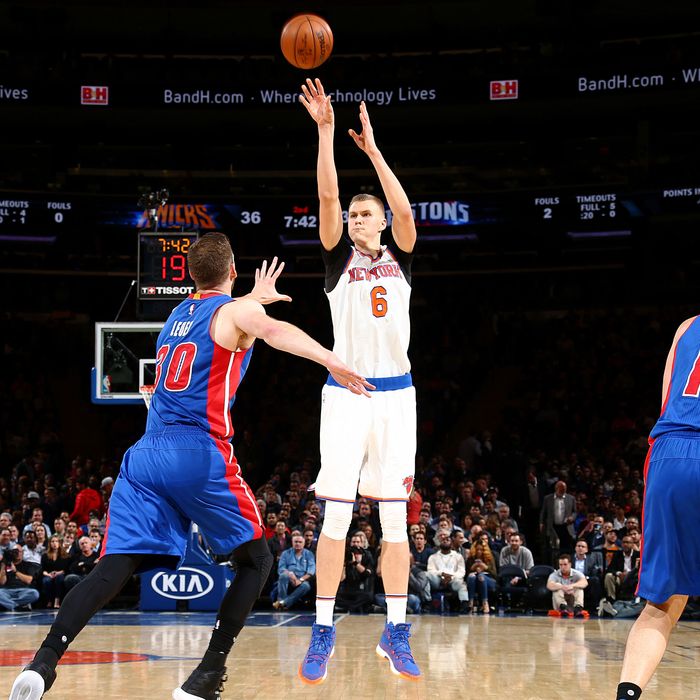 Photo: Nathaniel S. Butler/NBAE/Getty Images
After Knicks forward Kristaps Porzingis buried a three late in the fourth quarter of last night's game against the Pistons, giving him a career-high 35 points, the crowd at Madison Square Garden erupted into a drumbeat of "M-V-P! M-V-P! M-V-P!" He's come a long way from the boos that greeted him on draft night 17 months ago.
Hell, he's come a long way in the last two weeks. The last time the Knicks played the Pistons, on November 1 in Detroit, Porzingis was benched for the final nine minutes of the fourth quarter due to defensive lapses. The Knicks lost 89-102. There would be no such benching on Wednesday, a night when Porzingis showed off the vast skill set that led Kevin Durant to call him a "unicorn" earlier this year. He hit the glass, knocked down three triples, showed off advanced post moves and handled the ball in way guys his size just aren't supposed to. In the midst of it all, he ran the floor to throw down an alley-oop dunk and followed it by a stare-down that's already inspiring memes.
There's little doubt that a star has emerged at the Garden and it's happened earlier than many expected. That it's happening at all wasn't expected by the many naysayers who ripped the Knicks for taking the little-known Porzingis with the fourth overall pick in the 2015 NBA Draft. Among the early doubters were the booing fans at Barclays Center, Carmelo Anthony (who was unhappy with the pick), and NBA pundits who reflexively called him soft becuase he's from Europe.
The doubters already knew they were wrong before last night. Porzingis proved that he belongs in the NBA last season. But what's becoming clear this season is that the youngest player on the Knicks, a team with a former MVP and a former scoring champ, is its most exciting. And not just becuase he's a unique basketball talent. The kid is a star who, despite his European roots, is already showing signs of being a real New Yorker. Just read his lips.