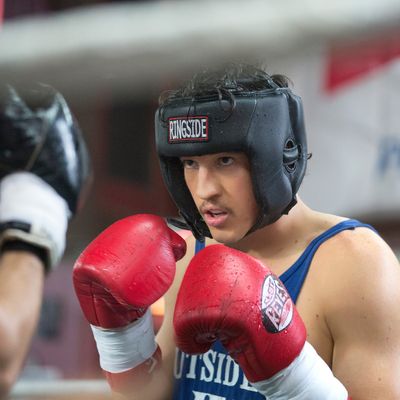 Actor Miles Teller as Vinny Paz in Bleed for This.
Photo: Seacia Pavao/Open Road Films
On November 14, 1991, after breaking his neck two days earlier in a near-fatal car accident, 28-year-old boxer Vinny Paz sat before a group of reporters and promised a full recovery.
The world-champion fighter was wearing a "halo" with four metal screws drilled into his forehead to support the breastplate and steel rod stabilizing his spine. Doctors had told Paz his career was over, and that any false move could mean paralysis. But Paz was undeterred.
"I am going to box again," he said. "You don't understand what kind of man I am."
A lifelong boxer from a close-knit Italian family — the Pazienas — in Cranston, Rhode Island, Paz was the kind of man who oozed determination and lived by a simple philosophy: win, fight, or die. He never married — because, as he says, a warrior can't be tied down — and he genuinely believed he was the greatest boxer on the planet. Although the boxing world often dismissed him, he had knack for proving the naysayers wrong, winning a total of five world championships over a career that spanned more than 20 years.
Born a fighter, Paz modeled himself after Muhammad Ali, starting at the age of 5. "He was my hero," he says. "He was great in the ring. I loved that he never went down and he never got knocked out." As a boy, he boxed neighborhood kids in his basement and trained at a local gym. Then he saw Rocky. "I was hooked," he says. "I woke up the next morning, drank the eggs, went jogging — I did the whole nine yards, and I got my ass kicked in my first fight."

In fact, Paz broke his nose more than 100 times during his career, but, as he'll tell you proudly, he never got knocked out. In the early years, he wasn't taken seriously until he won the Lightweight World Championship in 1987, at age 25, defeating Greg Haugen. But by 1991, following a string of losses, promoters had started counting him out, and there were rumors he might retire.
"I'm just too young, and just too good," he told reporters at the time. "I have too much to offer." He assured them that "The Pazmanian Devil" would be back.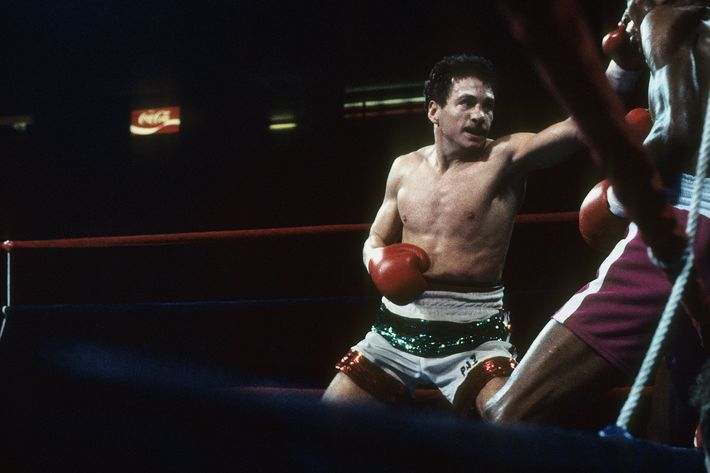 That year, Paz connected with Kevin Rooney, a trainer who worked with Mike Tyson, and returned to the ring at a heavier weight class. Within months, he had won his second title, the World Light Middleweight Championship, beating Gilbert Delé in 12 rounds. But just a few weeks later, after finishing a training day in the gym, Paz got in the crash that broke his neck.
"I wasn't taking no for an answer, and I wasn't letting anybody stop me," he thought to himself, after hearing the grim diagnosis. "I didn't know I would be okay, but I was like, 'Let's do this, Paz Man.' Its not going to be easy, it is going to be different, and things worked out for me, luckily enough. I came through."
In a display of pure will, Paz started working out again just days after he got home from the hospital. And after 13 months of grueling rehab, he was back in the ring defeating Luis Santana and on his way to winning three more world titles.

Paz always thought his life would make a great movie, and this week, at age 53, he got to see that long-shot wish fulfilled, too.
Bleed for This, a feature film from director Ben Younger based on Paz's story, hit theaters Friday. Billed as "the most unlikely comeback in sports history," it stars actor-of-the-moment Miles Teller as Paz.
"I just thought, wow, someone is going to make a movie out of this, this is crazy," Paz says. "I thought Tom Cruise was going to play me, and Miles Teller is just as good, if not better."
Teller, who was posing for pictures with Paz at the film's New York premiere last week, returned the compliment. "To still say, when he was facing paralysis, 'I know what I am meant to do, even if every doctor is telling me it is impossible.' I really connected to that, him against the world, perseverance and the will to overcome things," said Teller.
And as Teller pointed out, the only guy who wasn't surprised by Paz's success was Paz.

"Vinny always knew he was going to do it," Teller said. "The guy doesn't know words like quit or give up. There is a line in the movie where someone says, 'You don't know how to give up,' and he says, 'No, I do know how to give up, what is scary is that it is easy.' I think for people who are going to accomplish great things, it is a very isolating journey, and if you are going to do something that has never been done, you can't look to anyone for reference, you just have to kind of go within yourself, and that is what Vinny did."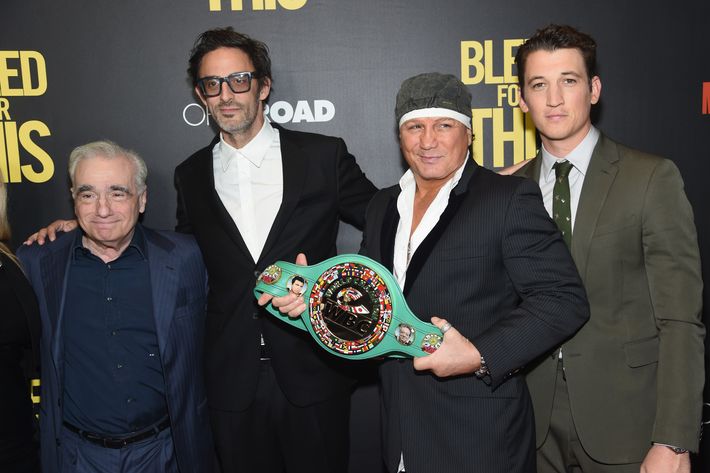 "We get talked out of our dreams by people, and he never did," said co-star Aaron Eckhart, who plays trainer Kevin Rooney in the film. "He broke his neck, had a halo on his head, and five days later, he's in the gym, and he wins the title three more times. If I had his drive, I would be further along in life."
Now retired — and seemingly enjoying every minute of his Hollywood victory lap — Paz insists that what he did was really not that hard.
"Everybody can do it, but not everybody wants to do it," he says. "I wanted to do it bad. Most people can get things done, it's just how bad you want it."