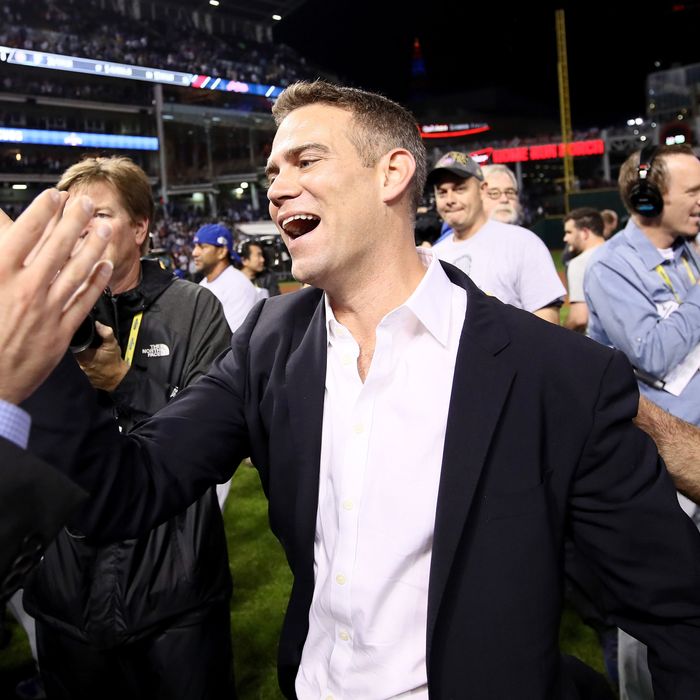 Theo Epstein reacts after the Cubs took the Indians 8-7 in game seven Wednesday night.
Photo: Ezra Shaw/Getty Images
No matter what Cubs President of Baseball Operations Theo Epstein does for the rest of his career, he'll be known in the baseball world as the breaker of curses. That was probably true as of October 2004, when his Red Sox won Boston's first World Series in 86 years, breaking the "Curse of the Bambino." But after last night, when his Cubs ended a 108-year World Series drought of their own and broke the "Curse of the Billy Goat," Epstein's will forever be known as the man who remorselessly — indeed, almost magically — turns curses into an organizational asset.
That's a bit silly though, because curses don't exist. What do exist are baseball teams the spend decades losing due to futility or bad luck and fans who concoct stories to explain that losing. Epstein's skill is simple. He makes baseball teams good.
"I don't believe in curses," Epstein said in his introductory press conference at Wrigley Field five years ago. He believed that he could turn things around in Chicago the same way he did in Boston. But the challenge would be different with the Cubs. The Red Sox team he inherited in 2002 had just won 92 games thanks in part to Manny Ramirez and Pedro Martinez, the American League's best hitter and pitcher, respectively. Epstein built on that foundation by finding value where others saw none, with players such as David Ortiz, Kevin Millar, and Bronson Arroyo. He added elite pitchers in Curt Schilling and Keith Foulke and cut bait on the fading superstar Nomar Garciaparra. Two years after Epstein was hired, the Red Sox won it all.
The Cubs required a different approach. When Epstein was hired the team had just lost 91 games and they were about to get even worse. That was by design. Dismal seasons in 2012 and 2013 led to top picks in the MLB draft and resulted in Kris Bryant and Kyle Schwarber, both key parts of the World Series win. Meanwhile, he pulled off trades that look lopsided in hindsight. Cy Young winner Jake Arrieta and reliever Pedro Strop were acquired from the Orioles for middling starter Scott Feldman and racist catcher Steve Clevenger. First baseman Anthony Rizzo was exchanged for perennial disappointment Andrew Cashner. NL ERA leader Kyle Hendricks came over for a 35-year-old Ryan Dempster.
As the team piled up losses and hoarded talent, Epstein and GM Jed Hoyer executed a change in organizational philosophy that seems rather obvious — hitters would be encouraged to get on base. But for a team that was once run by Dusty Baker, who had a strong distaste for walks, this was a heavy lift. All the while, fans saw little of this internal transformation and a terrible on-field product. After Epstein's first two years in Chicago, the team had a 127-192 record and patience was wearing thin in Wrigleyville. "There are days are great frustration and days of great hope," Epstein said in the winter of 2013. "We just have to stay the course on where we're going."
The team took a small step forward in 2014, but Epstein's plan really started to come together last season. It began with the hiring of Joe Maddon, a manager known as a motivator with an affinity for new ideas. With a gaggle of young players, the teams exceeded expectations in 2015, winning 97 games but ultimately falling to the Mets in the NLCS.
As the 2016 season arrived, expectations for the Cubs were suddenly high. Epstein, who hadn't made much of a splash in free agency since coming to Chicago, save the signing of former Red Sox lefty Jon Lester, brought four impact free agents to Wrigley. After spending years building the team through the draft, trades, and international singing, it was finally time to spend. Epstein committed $280 million to Jason Heyward, Ben Zobrist, John Lackey, and Dexter Fowler, shoring up his outfield and adding another reliable arm to an already deep rotation. The team won 103 games in the regular season, the most in baseball, and the World Series.
It's worth noting that if a few balls bounce a different ways, this piece isn't being written. For as well constructed as the Cubs were, they still needed seven games and extra innings to beat the Indians in the World Series. But that's the nature of the playoffs in baseball, a game where teams are built to succeed over 162 games, not in a seven game series. Even the best teams need some luck.
The credit Epstein deserves is not so much for the Cubs winning the World Series, which has been described as a total crapshoot, but for building a team that made it to November. And he deserves even more credit for ensuring that this team will continue competing for championships. Remember, in Boston Epstein didn't just put together a team that broke a curse in 2004, he followed it up with a home-grown roster that won the World Series again in 2007. This Cubs team seems primed to follow that same path. Perhaps Epstein's legacy is less as the curse breaker than a dynasty builder.