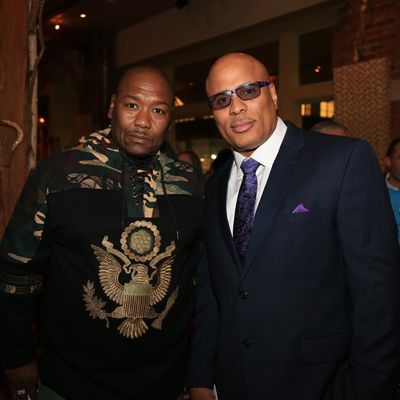 Derrick Hamilton and Shabaka Shakur in front of their new bar and restaurant, Brownstone, in Brooklyn.
Photo: Innocence Project/Mattedesign
A little after 5 p.m. on Friday in Dumbo, Brooklyn, the expectant staff at the bar and restaurant Brownstone are preparing for their opening-night rush. Derrick Hamilton, the co-owner along with his friend Shabaka Shakur, appears collected, under the circumstances, as he doles out marching orders. Dressed in fresh denim and a winter sweater, Hamilton heads back into the kitchen for a brief talk with his servers, directs others on the placement of tables, and tells the DJ where to park his equipment. He's never been in charge of a restaurant before. In fact, he never thought this day would come.
"When I met Shakur we were young kids," Hamilton says. "And we had more on our minds than visions of a restaurant."
What they had on their minds was survival. Shakur and Hamilton met in prison, serving time for murders that neither of them had committed, victims of the faulty police work of notorious Brooklyn detective Louis Scarcella. They became part of a group of self-taught lawyers who called themselves "the actual innocence team," dedicated to fighting for their freedom — and won. Hamilton was convicted of murder in 1991, spent 20 years in prison, and was released in 2011, before being officially exonerated in 2015. Shakur did a 27-year stretch and was released in 2015 when a judge ordered a retrial of his case and the Brooklyn district attorney moved to dismiss his indictment.
Sitting in a booth at the far end of his new restaurant, Hamilton says the law gave him something to focus on in jail. "The law library was my safe haven, the one place I knew I could go to have some peace and solace," he says, in between fielding an onslaught of questions from staff. "Even when I was in solitary confinement, what got me through were those law books, those two law books a day."
Eventually, Hamilton became, as The New Yorker put it, "one of the most skilled jailhouse lawyers in the country."
His release in 2011 marked the beginning of a new fight for Hamilton — to clear his name. He was still on parole, still a murderer in the eyes of the law. "I was super stressed out, my anxiety was at its highest, because I was free, but I was going through the process of being exonerated." After decades in jail, he had no more time to waste. His exoneration by Brooklyn district attorney Ken Thompson came after a four-year battle. "It was the most rewarding moment of my life," he says, to finally hear "that everything you were arguing about for 20-something years is true, and the last regime just fucked you over."
Hamilton also won a $3.75 million settlement from the state. And though he can't buy back the time he lost, he says, "It gives me a cushion, where I can decide what I do with my time." It also helps him be a better advocate for others who were unjustly imprisoned. "I can now put my own money behind some of these cases I believe in."
At 6 p.m. on the dot, the music kicks in, and the long bar fills up with bass-heavy '90s R&B and Brownstone's first official patrons. Hamilton is met by a continual torrent of friends and well-wishers. We head down to the basement to chat by the freezer.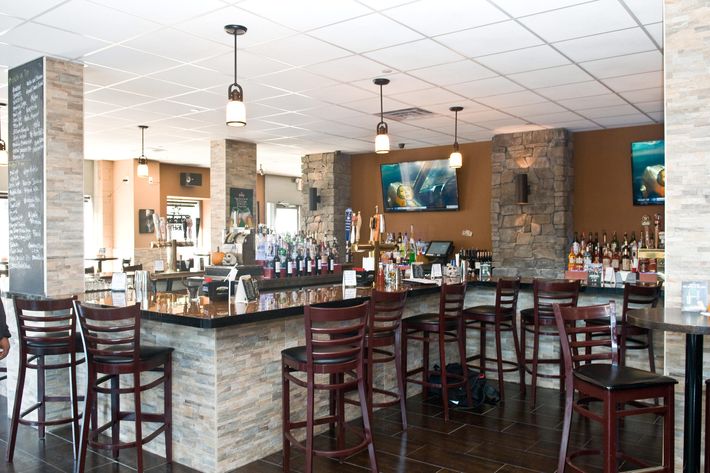 "Tonight is rewarding, to be here, to be a partner with one of my actual innocence teammates," he says, reflecting on how far he's come. "Every day, we can walk in this door and work together on something, bring jobs to our community, make sure people come out and have a nice time." But his thoughts, even on this night of personal victory, quickly go back to those suffering and struggling in prison for crimes they didn't commit. "Because I personally have been vindicated doesn't relieve the fact that the system is broken. I haven't won until we get the changes that we need."
Back upstairs, the place is packed, with black-clad waiters squeezing plates of wings and fries through the throng. Behind the bar, Shabaka Shakur is surveying the scene in white-leather-trimmed sunglasses.
"Putting together this bar and having this grand opening like what's happening today is spectacular." Shakur says. "One of the goals was to show people that we weren't liabilities, we were assets. We could survive out here, do legitimate work, and thrive."
Still, the triumph is bittersweet. "Nothing can compensate you for three decades of your life," he says. "There are people I will never see again. My mother died before I came home. She never got to see me exonerated. When she died, I was still a convict for these murders." And by the time he got home in 2015, Shakur says, his father was suffering from dementia. "He couldn't even recognize that I was home."
Adjustment has been a challenge in other ways as well. "A lot of things had changed. New York City had changed," Shakur said. "A lot of places I remember are no longer there. The projects I grew up in were torn down and condos were built." He also had to get accustomed to the omnipresence of cell phones and computers.
Like his partner Hamilton, he is dedicated to working on behalf of the unjustly incarcerated. Although his case was thrown out by the district attorney, he hasn't received the satisfaction from the law he wants. "I really don't feel vindicated because the system — or the people who represent the system, the district attorney's office — have never acknowledged that I'm innocent."
Shakur looks out toward the glossy bar, across the tables packed with smiling bargoers, friends, and well-wishers sharing in his success. "People who were supportive, who were active in helping me get out, I haven't let them down. And I continue to do positive things," he says. "They see it now."