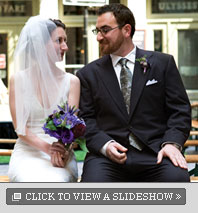 Michelle Flax & Loren R. Spielman
Stone Street and Bayard's Events & Catering
June 22, 2008
The day after the 2003 blackout, Michelle and Loren ran into each other at the intersection of Eastern Parkway and Plaza Street East. The two hadn't seen each other since high school. "Back then, we weren't interested in each other," Michelle explains. Loren jokes: "She thought I smelled, which I probably did." Ten years later, though, something had changed. As they caught up on the Park Slope corner, they discovered that they lived on the same block. A friendship quickly developed, but it wasn't until after Loren joined Michelle's volleyball team that their relationship turned romantic. Almost four years later, he asked her to be his wife while they were picnicking in Prospect Park. They had their ceremony in downtown Manhattan, on Stone Street, in front of over a hundred friends and family members—and a few curious onlookers.
THE DETAILS
---
Bride's Gown:
Mona Atwa
Bride's Veil:
Bridal Veil Falls
Groom's Suit:
Saint Laurie Merchant Tailors
Caterer (In-House):
Bayard's Events & Catering
Cake:
Financier Patisserie
Flowers:
Fleurs
Ceremony & Cocktail Hour Music:
Alicia Jo Rabins and Annette Ezekiel Kogan
Reception Music:
D.J. Shakey
Officiant:
Rabbi Daniel Bronstein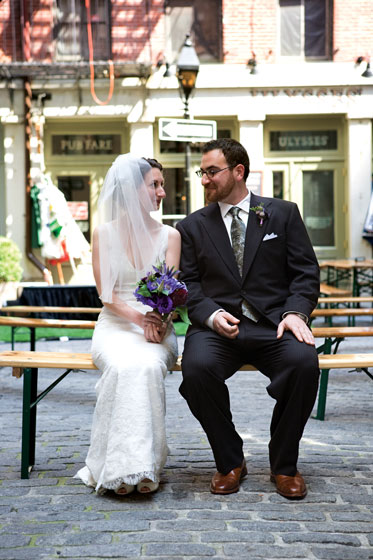 Michelle Flax
& Loren R. Spielman "We had planned to start the ceremony at 5:30 p.m. At 5:10, people were running around saying, "If we don't begin right now, we're not going to make it! It's going to pour!'"
"We had an amazing buffet; we played our iPod at low-volume during dinner to keep the old people happy. We recited Birkat Hamazon (Grace After Meals) from keepsake prayer booklets."
"The wind was blowing; it got dark. But the weather held out until the exact moment when Loren stepped on the glass. Then the sky opened up, and it started to pour. Everybody ran down the street together in the rain."
"As native New Yorkers, we had always envisioned having our ceremony in the street. We had a traditional Jewish wedding, but we made certain rituals more egalitarian. We both spoke during the ring ceremony, and we also added a clause in our ketubah saying that we were entering the partnership as two equals."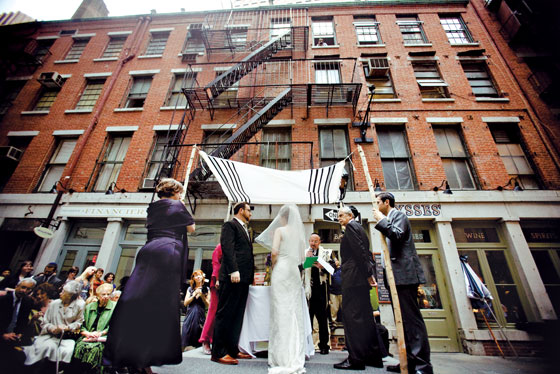 "We didn't want people stuck in their seats for hours. Bayard's has three floors; each was large enough for our 165 guests. We liked the idea of having a progression: cocktails on the first floor, dinner on the second, dancing at the top. At a Jewish wedding, there's always some raucous dancing. My mom loves to dance."
"Our D.J. did a great job of handling me"I'm a bit of a music snob. I made her a disc of Jewish music"a lot from Frank London who does klezmer with brass"and sixties Jamaican ska. She took songs from that and played similar stuff she'd found on her own that people got really into."