1960sRita & John Modica
VFW Hall, Brooklyn
November 29, 1969
The Meeting
Rita: God, it was so long ago! We met at a dance.
John: I was 14 years old. I was from the other side of Atlantic Avenue—they called it South Brooklyn back then—and Rita was from the Heights. People who lived in the Heights were a certain class, and we were another. The first day my now-mother-in-law saw me walking across the street to pick up her daughter, she started yelling, "You're not going out with my daughter! You're a gangster!" So when Rita came down to our social club with a couple of girls from the Heights, it was considered very taboo. But I asked her to dance, and that was it. We just never left each other's side after that.
The Proposal
R: It happened at Woodstock. We were so young and naïve—we just thought everything would be flowers and beautiful. John turned to me and said, "We should always do this." And I said, "Yes."
J: Our parents weren't crazy about it at first; we were 19. We never set a date until I got that letter for Vietnam. Then everything happened really quickly, because my parents thought I was a goner.
The Wedding
J: My mom orchestrated the whole thing, or else Rita and I would have been married by some guru in Woodstock. We were trying to appease our parents, but it ended up being quite an event.
R: The wedding was very big. We invited probably 200 people, but it was more like 300 because so many crashed.
J: We had a band, and in the late sixties to watch your parents and their friends get drunk and dance to the Rolling Stones and the Doors, as opposed to Frank Sinatra, was quite something. My mom got the VFW for a minimal donation, and we put it all together ourselves. We even hand-delivered the invitations … though if you didn't get one, that was cool too.
R: I actually wanted to leave early. The Rolling Stones were playing that night and I wanted to see the concert, so I packed jeans and sneakers in a suitcase and brought it along to the reception. When I went to open the suitcase, all my clothes were gone. My mother had hidden them so I wouldn't go.
1970sEllen & Bill Porcaro
Saint Frances de Chantal, the Bronx
August 11, 1973
The Meeting
Ellen: It was August 14, 1970. August is a big month for us. We met in August, we married in August, and my first daughter was born in August. We met at a bar called the Hollow Leg.
Bill: It was a dive, or as my brother used to call it, "a bucket of blood," because when you went there you could pretty much anticipate having a fight.
B: At the end of the night, I walked her back to her car and asked for her number, and she says, "It's in the book." And I was like, "Oh, wow, okay." I think I sealed the deal when I was able to spell her maiden name, Gaughan, correctly. I called her up the next day and was like, "You wanna go to the beach?"
E: He said, "I'll pick you up at 9." And I said, "Can you come later? I'll get skin cancer." I'm Irish, and he's Italian.
B: Imagine asking this redheaded, blue-eyed, fair-skinned woman to the beach.
The Proposal
E: I had been on a school trip to Central Park, and I noticed the horse-drawn carriages and thought to myself, What a beautiful way to get engaged. But I never said a word to him.
B: We went to dinner at a pasta place in the East Village, where it was five dollars for a meal with free wine. Then we went to Central Park and got a buggy. I proposed to her in the buggy.
E: He picked a driver who looked like my father.
The Wedding
B: It was a hot day …
E: My dress had long sleeves with points and a detached train, and the veil was lace mantilla. You get the dress in April and forget how hot it is in August. The bridesmaids wore white hats, the best man wore a pink shirt, and everything was ruffled! That fashion was short-lived.
B: The reception was in Queens, at Villa Bianca on Northern Boulevard, which still exists. We had a live band, and it got pretty wild.
E: Our first song was "Colour My World," by Chicago. Bill was very into music, and when we had just started dating he made me listen to it. So whenever we heard it, even if we were fighting, that was our song.
1980sCheryl Donegan & Kenneth Goldsmith
New York Academy of Art
April 30, 1989
The Meeting
Cheryl: We both went to art school and he was auditing a class I was in. I had just broken up with a boyfriend and was heartbroken. I remember asking my girlfriend, "Who's that guy?" And she was like, "Oh, stay away from him. He's a real jerk." That was basically all I needed to hear. I was like, "Interesting!" And then we started dating.
The Proposal
Kenneth: We went to our friend's show in the East Village, when the gallery scene was still happening there, and then walked to Soho to go to a favorite artist's restaurant, La Jumelle, which is no longer there. I was going to propose to her very romantically, but we got there and the restaurant had been seized for tax purposes—there was this big red sign posted on it. I didn't know what to do, and I sort of panicked, so I just stood in front of a dumpster and flipped open the ring box and popped the question right there on Grand Street!
C: In front of a huge pile of garbage.
K: A real New York moment.
The Wedding
C: We had it at the New York Academy of Art, which was in a loft building on Lafayette Street. They had all these plaster casts everywhere, and we had this really weird wedding cake with monkeys made out of marzipan climbing up it. I got my wedding dress at a thrift store. I thought my mother would be so happy, but when I called to tell her I bought it at a thrift store with Kenny, she started to cry. She was so bummed. She thought I was going to get something new. Both of our parents had huge guest lists of people they wanted to invite because there hadn't been a wedding in either of our families in, like, twenty years, so ours was a big deal. There were, like, 200 people at the wedding and then artists just showed up …
K: … All sorts of cross-dressers and God only knows who else.
C: My mom is a really good singer so she sang, but the band … We had this insane band that was actually in The Godfather.
K: It was a Sicilian wedding band that used to play at the feasts of San Gennaro. We lived on the Lower East Side at the time, so we used to walk through the feast and see these little old men playing trombones. So we asked them, "Do you do weddings?" And they said, "Of course!" So they came and played tarantellas, and the bandleader's wife was a terrible opera singer, and she got up and started belting out arias. The whole thing was like a Fellini film.
C: It really was.
K: It was wonderful.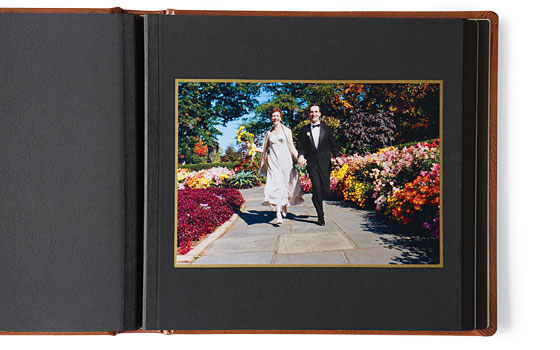 1990sGordon Bakoulis & Alan Ruben
Central Park
October 26, 1996
The Meeting
Alan: We both run competitively. Back in the early nineties, Gordon was always the first woman in all the local races.
Gordon: The first time I really noted your presence was in a half-marathon in 1993. You passed me late in the race and you looked great! You said "Way to go" or something like that. We didn't really get together until early 1994. It was February 14, Valentine's Day.
A: Gordon's birthday.
G: But you didn't know that.
A: And it didn't quite click that it was Valentine's Day; that might have prevented me from asking.
The Proposal
A: We went on this really nice trip to New Zealand in November '95. When I came back, I noticed people's reactions. They didn't say it out loud, but it was like, "Oh, so you didn't get engaged?"
G: Yeah, one or two people mentioned that to me at work.
A: Then in February we flew out to South Carolina for the Olympic trials that Gordon had been training for. On the plane back to New York I proposed, just out of the blue.
G: You did propose, but I really raised the subject, I was like, "Well, now that [the trials] are out of the way, why don't we get married?" Then Alan said, "Well, should we get married?" And I said, "Yes, let's do it." And we sat back and looked at each other, and we were like, "Oh, I guess we just got engaged. Wow."
The Wedding
G: We got married outside in the Conservatory Gardens. We were really lucky. It was a perfect day, absolutely crystal-clear skies, not a cloud in sight.
A: There were official invites, but we asked anyone we knew from running to come along, too, so those people showed up in their track suits. And we had the reception at Josie's restaurant, at 74th and Amsterdam Avenue. Our priorities were our friends and family.
G: And to feel comfortable.
A: And to not make it too big.
G: But meaningful! It really felt like we were giving our lives to each other. The people we cared most about in the world were there as witnesses and participants.