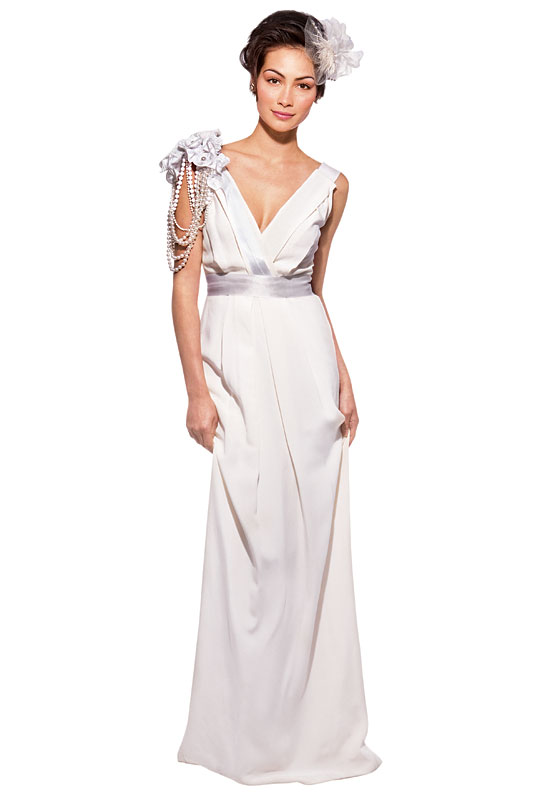 The Gown:
J.Crew washed crêpe Aveline dress, $750 at J.Crew Bridal, 769 Madison Ave., at 66th St.; 212-824-2500.
LOOK #1: Simple Elegance
Cassandra Quinn, manager and stylist at wedding atelier Lovely, wanted to create a look that was "both dramatic and effortless but still edgy." Ruben Colon, hairstylist for Sally Hershberger Downtown, complemented her work with a "sultry, romantic" updo. Christian Zamora, makeup artist for Courtney Akai Lash Boutique, finished things off with a glowy blend of pink and peach blushes from Kevyn Aucoin.
LOOK #2: Modern Drama
Charlotte Pinson, assistant manager at West Village boutique Albertine, mixed new and vintage pieces to craft a style that was "regal and glamorous, yet still delicate." Colon used hot rollers to give the side-swept finger waves some height, and Zamora rounded everything out with a smoky blend of black, grayish-lavender, and bone-colored Shu Uemura eyeshadow.
Look #3: Vintage Bohemia
"We wanted to play with tradition: a vintage necklace and clutch, a stunning cocktail ring to signify something blue, and a new beaded cover-up," explains Elizabeth Byrne, retail director of Lower East Side boutique Foley + Corinna. Colon fashioned a natural windblown hairstyle befitting a "barefoot bride at a beach-destination wedding," and Zamora tied it all together with a dusting of MAC bronzer on the nose, chin, forehead, and cheeks.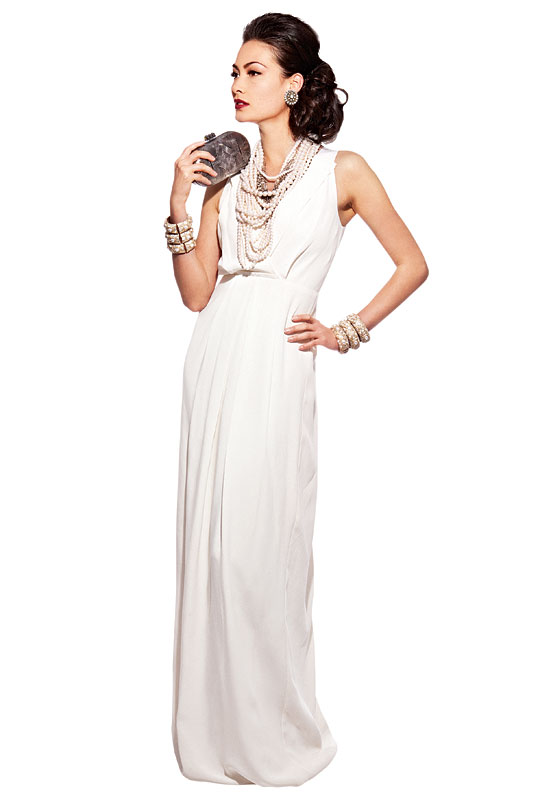 LOOK #4: Retro Glamour
Blaire Rabenhorst, stylist for Rent the Runway's newly launched bridal microsite, was angling for "modern Marie Antoinette" when piling on the baubles. "More is more in my eyes," she says. "You remember an overstylized look, especially in photos." Colon and Zamora drafted equally memorable hair and makeup—the former back-combing the roots and pulling the hair into a "glitzy and severe" side-swept updo, the latter emphasizing the eyes with a Dior brow pencil and MAC faux lashes.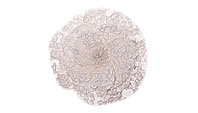 Get the Look
Where to buy what you see.Untamed Petals silk-organza wild dahlia headpiece, $245, and netted feather-flower headpiece with crystal detail, $225; Cassandra Quinn Made By Hand heart cameo earrings, $45, and pearl shoulder piece, $375; Ivy & Aster organza shoulder piece, $55; Lovely satin sash, $75, all at Lovely, 313 W. 4th St., nr. 12th St.; 212-924-2050. Sally Hershberger Downtown, 425 W. 14th St., nr. Ninth Ave., second fl.; 212-206-8700. Courtney Akai Lash Boutique, 501 Fifth Ave., nr. 42nd St., Ste. 1211; 212-867-8469.

Photo: Danny Kim
Get the LookWhere to buy what you see.
Albertine silk bolero, $298; Madame Fortuna pearl-collar necklace with Japanese glass beads and antique enamel buckle, $365, all at Albertine, 13 Christopher St., nr. Gay St.; 212-924-8515.

Photo: Danny Kim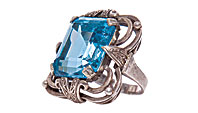 Get the Look
Where to buy what you see.Foley + Corinna sequined chiffon cover-up, $590; vintage butterfly necklace, $195; vintage rhinestone ring, $175; vintage beaded clutch, $195, all at Foley + Corinna, 114 Stanton St., nr. Essex St.; 212-529-2338.

Photo: Danny Kim
Get the Look
Where to buy what you see.Badgley Mischka Egyptian sundial earrings, $20; R.J. Graziano multistrand faux-pearl necklaces, $15 each; Rachel Leigh crystal-fringe necklace, $25; Ciner crystal-encrusted bracelets, $65 each; Judith Leiber dreamweaver clutch, $150, all at Rent the Runway, renttherunway.com.

Photo: Danny Kim