The Gown: Selia Yang Anika Organza dress, $2,950 at Selia Yang, 71 Franklin St., at Broadway; 212-941-9073.

LOOK #1: Greenhouse Glamour
Nicole Sewall, merchandise manager at BHLDN, a weddings-themed spinoff of Anthropologie, wanted to create a look that was "organic, romantic, and effortless." Hairstylist Jennifer Brent complemented the floral neck pieces with a loose chignon, which she set with Kérastase hair spray. Makeup artist Christan Burran polished things off with a wash of shimmery brown Make Up For Ever eye shadow and Primitive's all-natural lip gloss in "sexy bridal color" Ibiza.
LOOK #2: Backwoods Bohemian
Molly Guy, co-creator and director of new boutique Stone Fox Bride, describes her ideal customer as "a love child who dwells in a dried-grass yurt at the misty basin of the Big Sur mountain range." Guy brought her vision to life with a handmade flower headpiece, a Madonna-esque veil, and earthy raw-stone rings. Brent center-parted the bride's "ethereal goddess waves," and Burran skipped the foundation and instead applied Simply Divine Botanicals lightweight Creme de Rose moisturizer.
LOOK #3: Chelsea Minimalist
Louise Sturcken, manager of L.A. import Creatures of Comfort, describes this gutsy getup as "futuristic Frida: strong, fluid, and painterly." Inspired by the clean lines of the silk trench, Burran crafted a "modern pale face" with a matte nude lipstick and sheer eyeshadow; Brent then enhanced the streamlined look by texturizing the model's thick braid using Bumble and Bumble Surf Spray.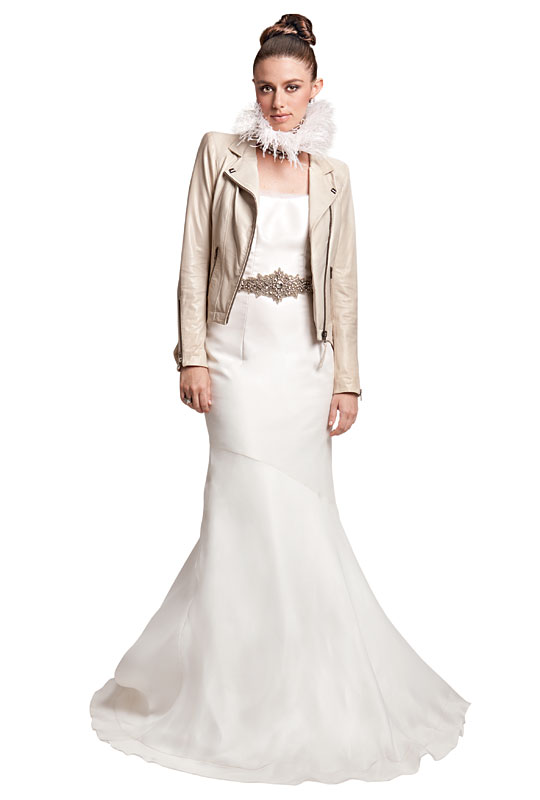 LOOK #4: Uptown Theatrical
"I definitely envisioned a badass bride," says Claudia Hanlin, owner of the Wedding Library, a boutique planning firm located on the Upper East Side. To channel that rock-and-roll vibe, Burran smoked out the model's eyes with ample mascara and Make Up For Ever's Aqua Liner. Next, Brent swept the model's hair into a slick topknot and secured it with Phyto Pro Sculpting Gel 8—the ideal updo to show off her feathery collar.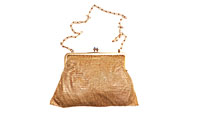 Get the Look
Where to buy what you see
#1: Paris by Debra Moreland crystal-and-enamel headpiece, $620; Atelier Mae Climbing Rose lariat and Perennial lariat, both $320; Azaara Butterfly brooch, $100, Honeybee brooch, $88, and Resplendent brooch, $100; Quilaree Projected Luminescence grosgrain sash, $180; 1910 antique brass-mesh handbag, $480; all at BHLDN, bhldn.com.
Photo: Danny Kim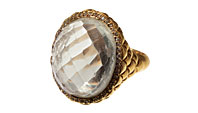 Get the Look
Where to buy what you see
Stone Fox Bride Ivy + Josh veil-and-flower headpiece, $1,600, and beaded raw-silk sash, $350; Molly Guy Carl Edwards raw-diamond engagement ring, $4,500; Kathryn Bentley green amethyst ring with diamonds, $4,000; Anna Sheffield "Not To Be Fucked With"–engraved wedding band, $1,100; all at Stone Fox Bride, 611 Broadway, nr. E. Houston St., Ste. 613B; stonefoxbride.com.
Photo: Danny Kim

Get the Look
Where to buy what you see
Creatures of Comfort silk trench, $259; FAUX/real WorldWideWebWow necklace, $334; both at Creatures of Comfort, 205 Mulberry St., nr. Spring St.; 212-925-1005.
Photo: Danny Kim

Get the Look
Where to buy what you see
Dana & Kim for Dana Michele feather necklace, $350; Untamed Petals belt, $645; both at The Wedding Library, 14 E. 60th St., nr. Madison Ave., Ste. 606; 212-327-0100. Mackage Allegra leather jacket, $790 at Mackage, 123 Mercer St., nr. Prince St.; 212-925-1455. Balenciaga rhinestone earrings, $185 at Barneys New York, 660 Madison Ave., nr. E. 61st St.; 212-826-8900. Aruna Seth Cerise satin shoes, $1,200 at Gabriella NY, 400 W. 14th St., nr. Ninth Ave., Ste. 2A; 212-206-1915.
Photo: Danny Kim