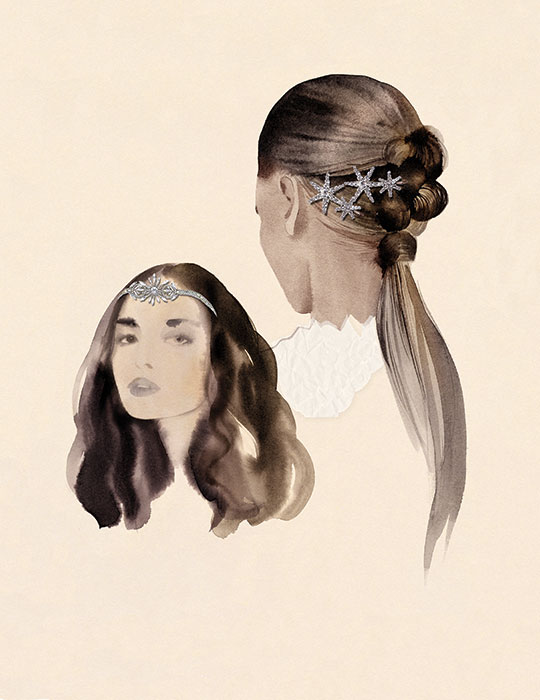 Headbands
Headbands flatter any hair length—pixie crops included—says hairstylist Rebekah Forecast of Sally Hershberger Downtown. She especially likes them paired with half-up locks, which "give natural volume at the crown." Swarovski-crystal continuous band, by Erickson Beamon, $478, at Beyond 7, 623 W. 27th St., at Eleventh Ave.; 646-619-6857.
Bobby Pins
One or two bobbies are sweet, but Forecast maintains that a little cluster is more dramatic. This goes for every hair length, but, as with combs, you have better luck keeping the pins in place if there's a "bend" in the hair (think curls or waves). Double Star bobby pins, by Jennifer Behr, $92 each, at jenniferbehr.com.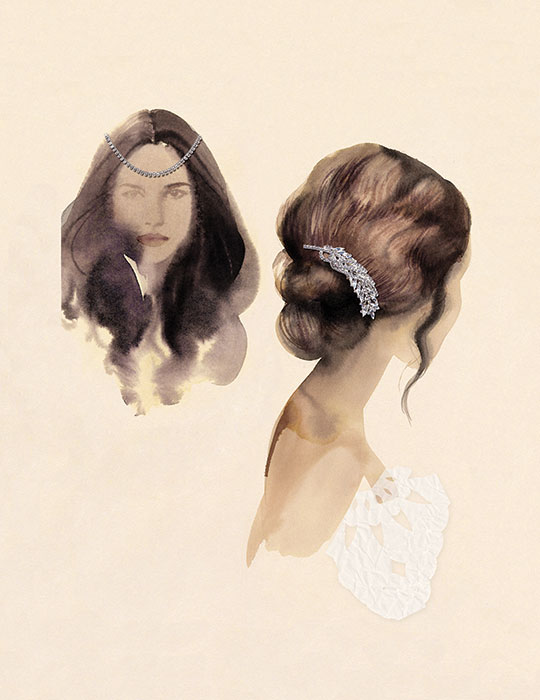 Continuous Bands
You could always place a continuous band over your crown like Daisy Buchanan, or for a less costume-y approach, Forecast suggests wearing it like a headband, which works with both flowy and sleek hairdos and pins easily into pulled-back styles—no texturing required. Angel continuous band, by Dauphines of New York, $88, at Henri Bendel, 712 Fifth Ave., nr. 56th St.; 212-247-1100.
Combs
In addition to looking timeless, a comb is a savvy way to secure a veil or give it extra personality. Since it tends to slip when worn alone, Forecast suggests "creating a shape," like a chignon, and fastening the teeth to its side. Crystal-feather comb, by Jennifer Behr, $365, at Henri Bendel.