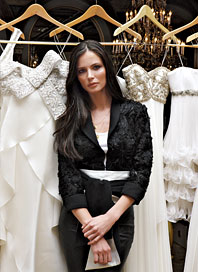 Georgina Chapman of Marchesa
You launched Marchesa's bridal line last summer, six months after you married Harvey Weinstein.
Yes. And Keren Craig, my partner and Marchesa's co-founder, was recently married too.
How did being recent brides affect your designs?
We wanted to design something more in a woman's comfort zone. Though all of our dresses have corsetry, they are less constrained—draped, fluid, Grecian, very romantic.
Who are you designing for?
For the last-minute shopper, the woman who marries on impulse at the registry office, or the bride doing something smaller, off on a beach somewhere. The concept is off-the-rack. We're sold at Bergdorf Goodman, and looks from the capsule collection range from $3,100 to $6,500.
Is there one look that epitomizes the aesthetic?
There's a silk crepe column with a draped bodice … or a silk chiffon goddess gown with an embroidered neckline. Oh, I hate singling out one look; it's like choosing among children.
What did you wear to your own wedding?
I designed a larger, corseted dress for myself, and Christian Louboutin made me a pair of shoes with crystals all over and blue soles—Cinderella shoes.
Wow! Any advice regarding shoes?
Have the length of your gown done after you've chosen them. You don't want your dress to float two inches off the ground. Make sure you can walk in them and in your gown.
How do you feel about veils?
I love them, although I didn't wear one myself. My wedding was at home, so I didn't really want to wear a veil in my house. Instead I wore a lot of diamond hair clips. They were brooches, actually, designed by Lorraine Schwartz.
It's surprising to see how many brides still choose to have bridesmaids dressed all alike. How do you feel about this?
It's cute when the kids are coordinated, but having your adult friends wearing the same thing is, I don't know … I'm not a huge fan. Bridesmaids are never going to upstage the bride. If you've chosen someone to be in your bridal party, she should be a good enough friend that she does not want to upstage you.
Did you endure any dress-related mishaps?
Yes. I didn't finish my dress until about three days before my wedding—I had the flu and was stitching it from my bed. And the tulle came back from India all brown. We had to wash it for hours, but that didn't dissuade me from wearing it.

• The Perfect Dress for Every Budget
• Recent Brides Open Up About Wedding Planning
• The Best Bridal-Gown Boutiques and Shops
• Makeup Professionals Who'll Make You Look Flawless



Rave:
Razzle Dazzle"In winter, diamond clips are beautiful if you're not wearing a veil. In summer, I'd wear a flower in my hair."
Floral brooch, $75 at Tejani.
212-463-8135; marchesa.com
Brooch photo courtesy of Tejani.