Nam Vo, Bridal Beautician
How important is it for the bride to actually look like herself on her wedding day?
It depends on the individual. Some brides say, "Make me look like a movie star." Others just want to look fresh. In my experience, the one thing brides regret most often is not wearing enough makeup. Photos, especially with indoor lighting, dilute your look.
So pile it on?
No! It has to make an impact in pictures but also look good in person. I try to marry things somewhere in the middle.
How do you know what will work best for each bride?
I tell them to come to the trial wearing their everyday makeup. When they're blank-faced, I don't realize they like tinted mascara or really dark lips. This way, I can focus on elevating their boldest features.
How does a wedding's setting influence the look you create?
For something like a beach wedding, with beautiful outdoor lighting, the makeup should look healthy and bronzed. A black-tie wedding at the Ritz-Carlton, meanwhile, is going to be dark and dramatic. Clients who can afford it will hire me for the whole day, and I'll do one natural "ceremony" look and then intensify it right before the reception, adding contours, smoking up the eyes, glossing the lips, and highlighting the face if they're going to be indoors.
How do you get your work to last all day?
Laura Mercier makes a great translucent pressed setting powder, but if you look tired and need a quick fix, Yves Saint Laurent's Touche Éclat brightening and highlighting pen works well. And of course, there's lip gloss. A lot of the twelve-hour lipsticks tend to be matte and drying, so I would start with a nice liner and stain and just reapply gloss throughout the night.
Any thoughts on the things a bride can fake, like eyelashes and tans?
I love, love, love individual false lashes. I use them in clusters—never in a strip—and form them to your actual eye shape, so it adds strength but doesn't look like a tarantula hanging off your face. I think faux lashes are the number-one thing a bride should wear, though I've also seen Latisse work miracles. If you're going to get a spray tan, never go more than two shades darker than your original tone, or it'll start looking really artificial.
How can a bride prepare in advance for her wedding day?
Skin is everything. Cleanse, moisturize, use an eye cream, and exfoliate. I recommend Natura Bissé stabilizing mask once a week, DermaQuest pumpkin peel, and Shiseido eye cream. The better your skin is, the less makeup you have to wear.
What about facials?
I love Carol Chan at Ling Skincare (12 E. 16th St., nr. Broadway; 212-989-8833). She'll beat the crap out of your face, but it's so worth it. She leaves no pore unturned. You have to get ugly before you can get pretty.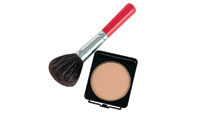 Suggestion:
Lose the Pancake Face
"Shininess isn't a bad thing, especially on the cheeks and in the corner of the eyes. An allover matte face feels old and dated."
917-574-9311; makeupnv.com