Junko Yoshioka, Designer
Do most brides come in knowing exactly what they want?
Usually no, so we'll have her try different styles to get an idea of what looks good. I'll also look at what she likes to wear every day to get a sense of what she's most comfortable in. When a dress is right and she's truly comfortable, I can tell by her smile. She'll walk out of the fitting room and have this energy to her. That's when I know she's really happy.
Is there a particular style that looks great on most bodies?
I always design a modified A-line. To me, it's the most flattering silhouette. It has a great fit through the hips, which many women are extra sensitive about.
Why do you think women gravitate toward the strapless dress so much?
There's something romantic, youthful, and special about it. Girls have dreamt about that particular look since they were children. If you need to cover up in church or synagogue, I like to do a little bolero or shrug to match.
Which style do you wish women would try more often?
The mermaid. The curvier the girl, the better! I often encourage it, and so many brides are pleasantly surprised.
Is there a tasteful way to make a wedding gown sexy?
Yes, by doing a deep, open back. I always pay extra attention to the back of a gown because guests see a lot of it, especially at the altar. A bride should never be vulgar, but every bride should be a touch sexy.
What do women want?
They want less volume, more lace, and light fabrics like chiffon, tulle, and silk gazar. No bride wants to feel heavy. They want the gown to feel natural and comfortable. You have to understand how a bridal gown fits. Most brides have never worn a gown like this before.
How does one of your gowns differ from an off-the-rack dress?
Custom is completely different. We take 17 measurements of the bride and build each dress around her specific shape. Our team of eight seamstresses is incredibly skilled and makes everything right here in NYC. Our gowns fit like a glove. The goal is to make every dress unique, but it needs to stand the test of time.
How do you feel about veils?
Love them. I like a simple, long veil without an edge. It frames the whole gown and creates a feeling and energy that is awesome. It really makes a statement.
What about sleeves?
My European brides get most excited about long sleeves. I think they're beautiful.
Spanx?
I don't encourage, but if you're more confident in them, that's great!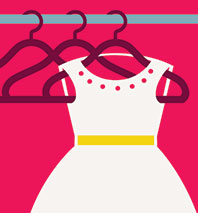 "Try on five different silhouettes, then pick one. Choose a dozen or so gowns in that shape and take it from there."
Photo: Illustration by Gillian Blease
212-206-9302; junkoyoshioka.com