Traditional Cool
Dahrehn Grady, 37, works in finance and lives in Clinton Hill.
Most days Dahrehn wears jeans and a dress shirt. "I aim for stylish but comfortable," he says. His wedding is set for fall 2013.
"This tux is the whole package. It is dressy and will match whatever my fiancée wears. I also feel comfortable, like I'm wearing my favorite jeans."
The pants:
"The satin stripe on these pants makes the tux a classic."
The shoes:
"I'll invest in shoes that fit well and are made to last."
The details:
Ludlow slim tuxedo pant in Italian wool, $265; Ludlow tuxedo jacket with double vent in Italian wool, $525; Thomas Mason for J.Crew Ludlow tuxedo shirt, $168; satin bow tie, $55; satin cumberbund, $75; Pantherella merino dress socks in dark gray, $27; Crockett & Jones Connaught shoes, $550, all at J.Crew Ludlow Shop, 50 Hudson St., at Thomas St.; 212-587-3139.
Luxe Vintage
Doug McMillen, 35, works as a sales executive at the Walt Disney Corporation and lives in Sunnyside.
Doug usually wears a blazer to work, but he'll offset its formality with a pair of Converse. "My look is creative with a European twist," he says. He and his fiancée haven't set a date yet.
"I see our wedding as a grand party. I want to wear something stylish and handsome, but original and personal."
The store:
"Everything here is vintage. It sets me apart from the crowd."
The bow tie:
"This hand-tied bow tie pulls the entire look together."
The shoes:
"These burgundy shoes make the whole outfit pop."
The details:European cotton-velvet jacket from the mid-1970s, $185; cotton Pierre Cardin shirt, $65; pin-striped vest, $55; slim, 1960s slacks, $95; handmade in Italy, Antonio Monti leather shoes, $185; bow tie, $55; cuff links, $25, all at Rue St. Denis, 170 Ave. B, nr. 11th St.; 212-260-3388.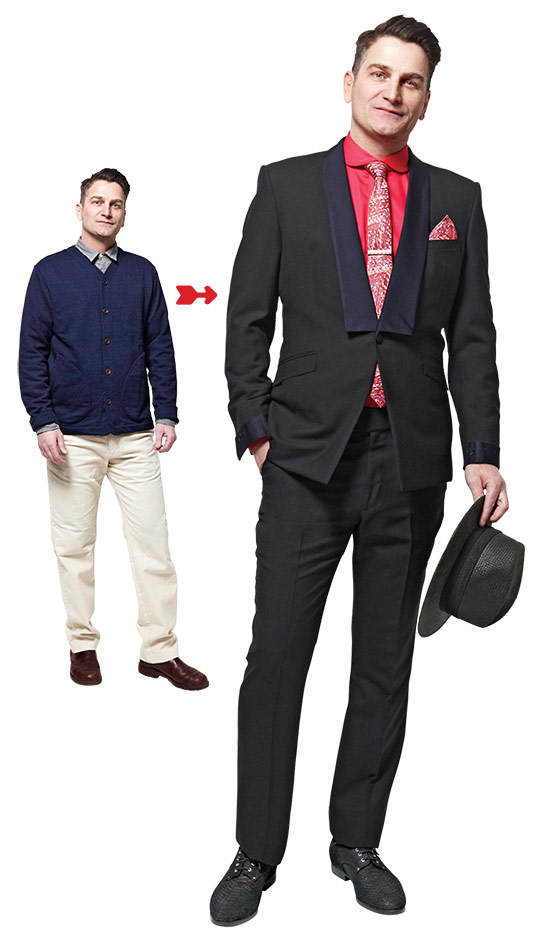 Retro Chic
William Crane, 43, lives in Park Slope and is the regional manager at F.S.C. Barber and Supply.
William's style veers toward "classic Americana." He often wears a T-shirt, jeans, and one of his "favorite machinist's shirts from F.S.C.," he says. "And a pair of comfortable boots." His wedding is this summer in the Catskills.
"I am definitely not a tux kind of guy. This suit has a very rock-and-roll-meets-mod feel that pepped me up."
The tie clip:
"I'm loving this Lego tie clip. It's so unusual."
The handkerchief:
"I'm glad I found a hanky to match the tie. The pink is so cool."
The details:
Handmade military-seam back and Victorian single-vent tuxedo in kid mohair with square-shawl-collar suit and blue stitching, $2,659; penny-collar shirt in Japanese cotton, $288; signature tie, silk-print base with mesh-gauze overlay, $145; Lego tie clip, $25; Bench Made shoes with embossed calf skin and crocodile skin, $550; Reed hat with vintage-1970s details, $358; signature White Chalk pocket square, $80, all at White Chalk, 240 Mulberry St., nr. Prince St.; 212-226-6544.