Hawaii
With Hawaiian Airlines offering daily nonstop flights to Honolulu from New York, it's easier than ever to escape to paradise. Tour the Big Island for a wide variety of sights and rent a four-wheel-drive to tackle the rugged terrain.
Day 1: Kona
From Honolulu, fly into Kona International Airport, and then it's first things first: caffeine. Visit the Kona Coffee Living History Farm to zap the jet lag and learn about the region's coffee pioneers. Then proceed to the sacred Puuhonua o Honaunau National Historical Park to see the Hale o Keawe, a temple once used to house the bones of deified chiefs.
Days 2–3: Kau
53 miles
Use the wonderfully laid-back Leilani Bed & Breakfast (from $89; leilanibedandbreakfast.com) as your base for exploring the island's most remote region. See South Point, Hawaii's southernmost tip, and then stroll along Punaluu Black Sand Beach, a gathering ground for Hawaiian green sea turtles.
Days 4–5: Volcano
53 miles
With more than 300,000 diverse acres primed for exploration, Hawaii Volcanoes National Park is a naturalist's dream. Choose from 150 miles of hiking trails that take you into a rain forest, past petroglyphs and volcanic craters, and through a 500-year-old hardened lava tube. The biggest attractions are the two active volcanoes: Mauna Loa and Kilauea. Keep nature at hand by booking a treetop suite at Skye Peterson's handcrafted Volcano Village treehouse (from $195; volcanotreehouse.net).
Days 6–8: Hilo
30 miles
Take the wild-orchid-lined road north to Hilo and visit dreamy Rainbow Falls in Wailuku River State Park. Have dinner at Hilo Bay Café (hilobaycafe.com), then forgo a hotel in favor of an impeccably outfitted estate rental at the gloriously lush and secluded Falls at Reed's Island (from $295; reedsisland.com).
Day 9: Honokaa
49 miles
Once in sugarcane country, admire the blooms at the Hawaii Tropical Botanical Garden, then stop by the postcard-perfect Akaka Falls, one of the most famous waterfalls in the state, and take in the awe-inspiring panorama from the Waipio Valley Lookout. End your day at the charming one-suite Waipio Rim B&B ($200; waipiorim.com).
Day 10: Waimea
22 miles
Enjoy a fabulous vista on horseback from the Pololu Valley lookout at Kahua Ranch, then hit Merriman's for a take on local cuisine by a James Beard Foundation finalist (merrimanshawaii.com).
Day 11: Kohala Coast
54 miles
Indulge at the Four Sea-sons Resort Hualalai (from $595; fourseasons.com) and visit the white-sand beaches at Hapuna Beach State Park. Enjoy local seafood at Canoe House restaurant at the Mauna Lani Bay Hotel (maunalani.com). When it's time to jet off, no problem. The airport is a mere fifteen minutes away.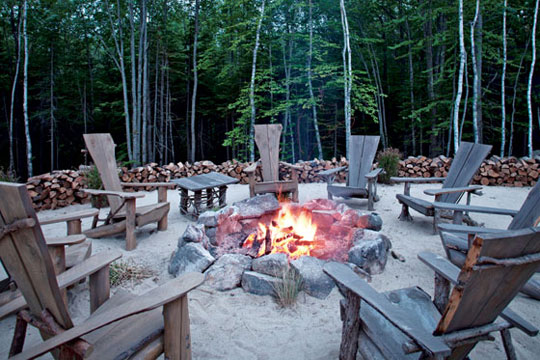 New York to Maine
Satisfy your culture, culinary, and outdoorsy needs by heading to Maine's magnificent coastline via the scenic Hudson River Valley and the Berkshires.
Day 1: Hudson Valley, N.Y.
83 miles
Take the Taconic State Parkway north to the Hudson Valley. Shop in Cold Spring (pick up handmade natural products at Cold Spring Apothecary), see art at Dia:Beacon, and spend the night at Mohonk Mountain House (from $580 including all meals; mohonk.com).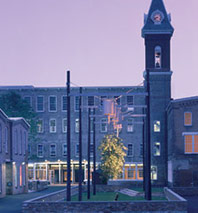 Day 2–3: Berkshires, Mass.
147 miles
Make your way to this cultural bastion and see exhibits at Mass MoCA or catch a show at the Colonial Theater in Pittsfield. Rest at the Kemble Inn (from $235 to $435; kembleinn.com), a 125-year-old Gilded Age mansion known for its beautiful mountain views.
Days 4–5: Kennebunkport, Maine
212 miles
Splurge for a cottage at bucolic beauty Hidden Pond (from $364 to $740; hiddenpondmaine.com). Then start walking: Stroll around town and hit the Seashore Trolley Museum, which has a collection of over 250 streetcars and other vehicles. When lunchtime rolls around, make a beeline for the generously stuffed lobster rolls at the Clam Shack. Finally, complete the circle at celebrated Boston chef Ken Oringer's "farm to fork" Earth (earthathiddenpond.com), the restaurant at Hidden Pond.
Days 6–7: Portland, Maine
35 miles
Grab a muffin at local favorite Standard Baking Co., then scan the rare vinyl collection at Strange Maine (kraag.org/strange). Have dinner at the critic's favorite, Hugo's (hugos.net), then retire to a suite at Inn by the Sea (from $219; innbythesea.com).
Days 8–9: Rockland, Maine
85 miles
Hike around Wolfe's Neck Woods State Park in Freeport, stop for the view and a bowl of fish chowder (served with a blueberry muffin) at Dolphin Marina restaurant in Basin Point, and slurp local palm-size oysters at Glidden Point Oyster Farm. In Rockland, check into a quaint room at the Limerock Inn (from $130 to $159; limerockinn.com). Visit the Farnsworth Art Museum downtown to see American painter Andrew Wyeth's work and then head to dinner at award-winning farm-to-table restaurant Primo (primorestaurant.com). Rise early for the long drive (about six and a half hours) back to Manhattan.
Puerto Rico
Drive around this isle with Caribbean and Atlantic coastlines, and you understand why it's known as the "Island of Enchantment." The Ruta Panorámica, a maze of narrow, rural roads that snake past fields of sugarcane, waterfalls, national forests, and tranquil villages, is especially picturesque.
Day 1: El Yunque National Forest
56 miles
Hop a flight to San Juan from New York—JetBlue, on most days, has up to five direct flights daily—rent a car at the airport, and drive east to Las Casitas Resort (from $289; lascasitasvillage.com). Visit El Yunque National Forest to hike the Big Tree Trail and cool off under the Juan Diego Falls. Next, make a day trip to the fishing town Maunabo to climb to the top of the lighthouse.
Days 2–3: Jayuya
107 miles
Hike around San Cristóbal Canyon before checking into plantation home turned hotel Hacienda Gripiñas (from $85; haciendagripinas.tripod.com). Less than 30 minutes away is the Toro Negro State Forest—as glorious as El Yunque, but with fewer visitors—where you can walk the many paths, then make your way to the peak of Cerro de Punta, the highest point on the island, for the spectacular view.
Days 4–5: Guánica
53 miles
Make a pit stop in Colonial beauty Ponce, the island's second-largest city, to admire the exquisite Cathedral of Our Lady Guadalupe and learn about the coffee-making process at the Hacienda Pomarrosa coffee farm. Check into a quaint room at Mary Lee's by the Sea (from $110 to $150; maryleesbythesea.com), then snorkel around the massive coral wall known as La Pared. Take an evening kayak ride around the glimmering phosphorescent bay in La Parguera.
Days 6–7: Rincón
43 miles
This surfer's paradise delights seasoned pros (go to Tres Palmas for its big breaks) and novices (take lessons at Rincón Surf School). Book a room with an ocean view at the Horned Dorset Prim­avera (from $570; horneddorset.com), a Relais & Châteaux property. For fresh grouper and beer, hit the Ship- wreck Bar & Grill (rinconshipwreck.com), just a ten-minute drive.
Days 8–9: Dorado
83 miles
It's your honeymoon. Indulge. All of the suites at Dorado Beach, a Ritz-Carlton Reserve, feature an outdoor shower and either a private pool or terrace (from $719; doradobeachreserve.com). Its restaurant, Mi Casa by José Andrés, is a destination in its own right.
Days 10–11: San Juan
21 miles
Cap off your trip in the capital city. The elegant rooms at El Convento hotel (from $260; elconvento.com), are a masterpiece of Colonial architecture with modern amenities; tour the cobblestoned streets in the walled quarters of Old San Juan (don't miss El Morro, a sixteenth-century citadel), then cross the bay to Cataño to visit Casa Bacardi, one of the world's oldest rum distilleries (it began operating in 1862).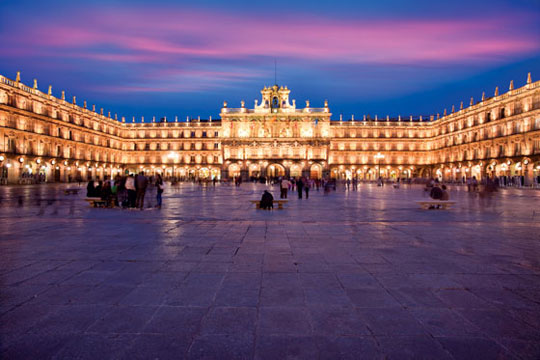 Northern Spain
Spain's vibrant southern cities always draw tourists, but the country's wildly beautiful northern coastline is just as worthy of attention. Fly direct from New York: Iberia Airlines recently upped its number of flights from New York to Madrid, with an average of 15 per week between April and October.
Days 1–2: Madrid
The city is best explored on foot, so rent a car when you travel farther afield. Check into the new Hotel Alicia (from $119 to $212; room-matehotels.com), located across from Plaza Santa Ana. Be sure to visit these three beloved tourist attractions: the Parque del Buen Retiro (one of Madrid's largest parks), the Plaza Mayor (a sprawling and elegant central square), and the Museo Nacional del Prado (don't miss Velázquez's Las Meninas, if you haven't already seen it).
Day 3: Santiago de Compostela
384 miles
Granted, many arrive in this gorgeous Galician city on foot—it is the final destination of the Christian pilgrimage known as the Way of St. James—but you can do plenty of walking even if you drive there. A visit to the stunning Catedral del Santiago de Compostela is a must. Rest weary feet at the fifteenth-century hospital turned hotel Hostal Dos Reis Católicos (from $209–$380; parador.es).
Days 4–5: Asturias
188 miles
After a few days in cities, head straight to the water. To drink in serious ocean views, it's worth taking the longer coastal route to the northwestern region, known for its rolling hills, rugged shoreline, and pungent Cabrales blue cheese. Stay at the rustic Torre de Villademoros (from $115; torrevillademoros.com), which has an idyllic setting and a tiny kitchen that churns out traditional regional fare.
Day 6: Oviedo
49 miles
Make a pit stop in Gijón to scope out the beautiful Art Nouveau architecture before driving on to Oviedo, the lovely town that made a cameo in Woody Allen's Vicky Cristina Barcelona. Come dinnertime, choose between Michelin-starred eateries, Casa Marcial (casamarcial.com) or El Corral del Indianu (elcorraldelindianu.com) in Arriondas.
Day 7: Santander
120 miles
Pause in the charming coastal town of Llanes en route to Santander, the city that hugs the Bay of Biscay. Stop by the gothic Santander Cathedral with its 800-year-old crypt and, later, snack on tapas at the lively Las Hijas de Florencio.
Days 8–10: San Sebastián
122 miles
The Frank Gehry–designed Guggenheim Museum in Bilbao is a must-see on your way to this sweet Belle Epoque seaside city. Check into the Villa Soro (from $178; villasoro.es), a nineteenth-century aristocratic home turned boutique hotel in a leafy residential area and then wind your way through the city's web of pintxos (Basque tapas) bars, sampling Rioja wine, croquetas, and Jabugo ham. Start your trek back to Madrid, about a four-and-a-half-hour drive, to catch your flight home to New York.
Ireland
The best way to see Ireland's verdant countryside is by driving right through it. You'll never think of green in the same way again.
Days 1–2: Dublin
Check into one of the refined rooms at the award-winning Merrion hotel (from $350; merrionhotel.com). Then explore the city: Take a pint break at the ornate Long Hall pub; go book browsing at Hodges Figgis; and do some time at Kilmain-ham Gaol, the prison dating back to 1796. Book a dinner reservation before your trip at Michelin-starred Chapter One (chapteronerestaurant.com), located in the basement of the Dublin Writers Museum.
Day 3: Mayo
176 miles
Pay a visit to New-grange—a UNESCO prehistoric site that predates the Egyptian pyramids—then drive west toward Connemara County. Book an opulent room at Ashford Castle (from $209 to $253; ashford.ie), then drive to Connemara National Park, visit the walled Victorian gardens of Kylemore Abbey, and watch sheepdogs at work on Joe Joyce's third-generation sheep farm.
Days 4–5: Galway
27 miles
Stay at the modern House Hotel (from $133; thehousehotel.ie) in this dynamic coastal city. Stroll along the seaside promenade and enjoy an haute-locavore feast at Aniar (aniarrestaurant.ie). Take a ferry to the Aran Islands (Inishmore, Inishmaan, and Inisheer), where Ireland's iconic cable-knit sweaters are produced.
Days 6–7: Dingle
153 miles
Use Adare Manor, a nineteenth-century manor house that's now a luxury hotel, as your base (from $235; adaremanor.com). Explore the Dingle Peninsula by bike or car, making sure to stop at Conor, the highest mountain pass in Ireland. Sample local oysters and frosty pints at Lord Baker's, then head to Dingle favorite, the Chart House, for dinner (thecharthousedingle.com).
Days 8–9: Cork
93 miles
Check into the five-star boutique hotel Hayfield Manor (from $187; hayfieldmanor.com) before wandering the manicured gardens of the historic Bantry House. See the ancient architecture of Holy Trinity Church, then follow the droves of tourists to kiss the famed Blarney Stone.
Days 10–11: Bray
168 miles
Take long hikes amid the lush surroundings in Wicklow Mountains National Park; wander around the castle and gardens of massive estate Powerscourt (don't miss Powerscourt Waterfall, Ireland's highest); and relax among the dunes at Brittas Bay Beach. Retire to a room at the Martello (from $94; themartello.ie) in the seaside town of Bray, and catch a performance at the Mermaid County Wicklow Arts Centre. From there, the drive back to the Dublin airport is only about 30 minutes.