You have a long weekend:
Downtown hotels and gallery crawls:
Los Angeles, California
Nowadays, with its bustling food and art scenes, eternal sunshine and star spotting are only part of L.A.'s draw. Explore the newly revitalized downtown starting at the Ace Hotel (from $199; acehotel.com/losan­geles), which just opened its second California outpost. Alternatively, shack up at Koreatown's Line Hotel (from $240; thelinehotel.com), a newly restored mid-century building with light-drenched, California-modern rooms. Allot plenty of time for art gawking. This year marks the completion of the new Broad museum, where nearly 2,000 works from the billionaire owner's collection will hang; come 2015, Hauser, Wirth & Schimmel will open their first gallery in the city. Until then, pay a visit to LACMA (the first major retrospective of John Altoon opens there in June) and visit the Stahl House, a mid-­century architectural wonder that opened to the public in 2010. If you prefer to eat your way across the city sprawl: Downtown, browse the food wares at Grand Central Market (don't miss breakfast at Eggslut), and book a table at omakase-­style Orsa & Winston or Bar Amá, chef Josef Centeno's latest.
Johnny Cash and haute southern fare:
Nashville, Tennessee
It may be just a two-hour flight from New York, but Nashville feels a world away. Its honky-tonk roots run deep—country and bluegrass joints abound, and a Johnny Cash museum opened in 2013. Check into a modern room at the luxurious Union Station Hotel (from $229; unionstationhotelnashville.com), housed in a former railroad station. Fuel up with biscuits and gravy at Loveless Cafe, before sniffing out vintage finds at Katy K's Ranch Dressing or custom neckties at Otis James. For dinner, gorge yourself on the city's signature meat-and-three at Arnold's Country Kitchen. For a taste of its vibrant contemporary food scene, try the homemade pastas at City House or the newfangled takes on southern fare at Husk and the Catbird Seat. Sip fancy cocktails at Holland House Bar & Refuge, then head on to Tootsie's World Famous Orchid Lounge for live music of the boot-stomping-country variety.
Private beaches and Bloody Marys:
Nantucket, Massachusetts
The preppy stalwart isn't just for the squash-playing set. For some New England elegance, stay at the Wauwinet (from $195; wauwinet.com) on the island's northern coast. The classic hotel (think Cape grey with white shutters) features private beaches on the Atlantic and Nantucket Bay side, plus an on-site spa. The nearby Brant Point Grill restaurant is known for its standout Bloody Marys. Active types can dive with sharks (contact Nantucket Shark Divers), then hike or bike (rent wheels through Nantucket Bike Shop) through the Instagram-worthy trails of Sanford Farm. Hop the jitney into town to sample what's on tap at local favorite Cisco Brewers; try the locavore fare at the Proprietor's Bar and Table; and end the night with drinks and music at the lively Chicken Box. (Jimmy Buffett is, reportedly, a fan.)
You have one week:
Rooftop hot tubs and lobster picnics:
Newfoundland, Canada
Getting there is a little roundabout (a three-and-a-half-hour flight, followed by a six-hour drive and scenic 45-minute ferry ride), but you will be rewarded with utter remoteness. Fogo Island, the largest offshore island in the province, feels like it's at the edge of the world. (In fact, it's about halfway between the equator and the North Pole.) And the Fogo Island Inn (from $845; fogoislandinn.ca), a wonder of high design amidst the craggily natural landscape, is the jewel in its crown. The futuristic stilted property was designed by Canadian architect Todd Saunders, while the interiors were furnished by local craftspeople. Daily excursions are all guided by those who know it best: the island dwellers. Shadow lobster trappers (a lobster picnic is included, naturally), fish for the island's renowned cod on an old wooden skiff among the surrounding Little Fogo Islands, or take an outdoor watercolor class. In the evening, feast on a menu inspired by the island's so-called seven seasons, stargaze from a rooftop hot tub or Finnish sauna, then retire to one of the luxurious second-floor suites. Each has a wood-burning fireplace and floor-to-ceiling windows looking out at the Atlantic.
Modern art and mezcal:
Mexico City, Mexico
Sensory overload is the name of the game in this massive capital city. Check into one of the seventeen lofty rooms at the new Downtown México (from $195; downtownmexico.com). The converted seventeenth-century Palacio de los Condes de Miravalle is, as the name implies, located in the centuries-­old city center, a stone's throw from the famous Zócalo, the main plaza. Be sure to visit the newly opened Museo Jumex, which houses the largest collection of contemporary artworks in Latin America. For lunch, try the Mexican cuisine dispensed by the celebrated new guard of chefs: Jair Tellez at seafood-­centric Contramar, Jorge Vallejo at Quintonil (the signature dish is is the titular quintonil, or amaranth greens), and Daniel Ovadía at Morablanca, which gives French food a Lebanese­-Mexican spin. Do dinner at one of the many local fondas and taquerias. With your belly full, head out for drinks at La Nacional, which features a far-reaching menu of mezcals (from regions beyond traditional Oaxaca) and Mexican-made brews, or try a glass of pulque (fermented agave sap) at Pulquería Insurgentes, where a rotating cast of local D.J.'s and live bands sets the mood.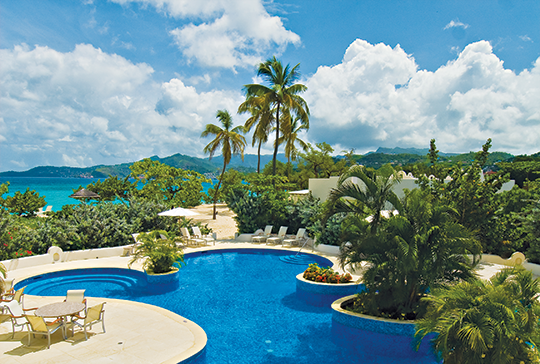 Waterfall hikes and remote beaches:
Grenada
One of the less-explored nooks of the Caribbean, the so-called Isle of Spice feels untouched. Check into the beachfront cottage at Laluna (from $375; laluna.com), outfitted with Balinese-style furnishings and an open-air bathroom. Spend your days planted beachside or venture further afield: Head due north to Levera Beach to catch a glimpse of the island's famous leatherback turtles. Take a tour of Belmont Estate, a plantation that harvests Grenada's namesake spices, or hike to the Seven Sisters waterfalls in the rainforest of Grand Etang National Park. Should you want a change of scenery, ferry (a 90-minute ride) to Carriacou, where you can hike and snorkel in more remote environs. Back on the mainland, try the island fare. Patrick's Local Homestyle Cooking in St. George's has a tasting menu of up to twenty local specialties (like callaloo soup), while at the Aquarium in Point Salines it's all about the catch of the day.
You have two weeks: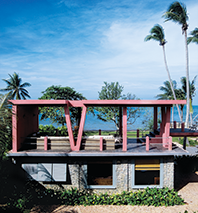 Spicy fish curry and ancient temples:
Phnom Penh, Siem Reap, and Kep, Cambodia
Start your tour in the capital at the Plantation (from $85; theplantation.asia), which has the feel of a beachfront resort (complete with a swimming pool surrounded by frangipani and champak trees), but a location in the heart of the city. Shop your way down tree-lined street 240, which is full of boutiques, before sampling spicy fish amok curry served in a banana leaf at Romdeng. Then head to Siem Reap (less than an hour's flight) and check into the recently opened lavish Park Hyatt downtown (from $355; siemreap.park.hyatt.com): an ideal home base for exploring historic Angkor (a fifteen-­minute drive away). The web of temples built by the Khmer civilization between the ninth and fourteenth centuries is a jaw-dropping architectural marvel at any time of day, though sunrise and sunset are particular crowd-pleasers. Back in Siem Reap, visit the floating village of Tonle Sap Lake, hunt for treasures at the Psah Chas Old Market, and linger over a meal at contemporary Cambodian restaurant Cuisine Wat Damnak. To get to Kep, you will have to go back through Phnom Penh. Once a playground for the wealthy French elite in the early 1900s, the pebbly beach there is now a local weekend destination. Check in at Knai Bang Chatt (from $126; knaibangchatt.com), an Art Deco–style boutique property, which offers daily yoga and meditation sessions, stylish suites, and an infinity pool overlooking the Gulf of Thailand. Rent a motorbike to visit the nearby pepper plantations, the Phnom Chhnork cave, and the famous crab market, where you can grab lunch. (Go for the crab, obviously.) Continue your seafood-ing come dinnertime at the beach-shack-y Sailing Club at Knai Bang Chatt.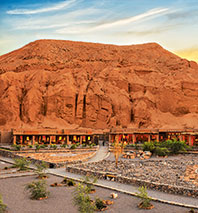 Pub fare and volcanoes:
Santiago, Millahue Valley, and Alto Atacama, Chile
Chile has something for every breed of traveler—the cultural hub of Santiago, multiple wine regions, and the vast Atacama Desert, a playground for adventure-seekers. Bookend your trip in the capital and check into the Singular in Santiago's Lastarria, a verdant, bohemian neighborhood (from $350; thesingular.com). Sample gastropub fare at White Rabbit and end the night with cocktails at La Jardín in Barrio Italia. Once you're done urban exploring, drive two hours south to the Millahue Valley, home to the Viña Vik (from $600; vikhotels.com). Set among rolling green hills, the property has 22 art-adorned rooms, an 11,000-acre vineyard, and an on-site wine spa. Finally, head back to Santiago and fly to Chile's far north and the arid, Mars-like atmosphere of the Atacama Desert. Check into a suite at the Alto Atacama Desert Lodge & Spa (from $690; altoatacama.com), and spend your days mountain biking through Death Valley, climbing nearby volcanoes, and hiking to the Tatio Geysers. Reserve your evenings for stargazing: The skies here are among the clearest in the world.
Grand hotels and olive groves:
Venice, Vicenza, and Verona, Italy
Honeymoon destinations don't get more quintessential than Italy, and while Venice's star has always burned bright (and rightfully so), the surrounding Veneto region, a utopia of wine and art, is just as alluring; best to broaden the scope of your trip to include both. Start or end in Venice and splurge on a palatial room (literally: the hotel is situated in the sixteenth-­century Palazzo Papadopoli) at the new Aman Canal Grande (from $1,360; amanresorts.com). Satisfy your retail fix at Carpe Diem (vintage Italian designers) and Gianni Basso (letterpressed stationery); church- and museum-hop; or just get lost wandering the web of narrow streets. Have a snack—the Venetian version of tapas is cicheti, and locals gather at Osteria Cá d'Oro alla Vedova (or, when it's crowded, in the alley in front) for them before dinner—then move on to Osteria alle Testiere, a local favorite. Less than an hour's drive away is the town of Vicenza, nestled among olive groves, the Berici hills, and the Asiago highlands. It's also the site of much of famed neoclassical architect Andrea Palladio's work. Check into one of the simple, stylish rooms at the nineteenth-­century farm turned guest house Relais Ca' Muse (from $313; camuse.it). From there, take a scenic drive through the lush Valpolicella wine region before heading to the underrated, culturally buzzing city of Verona. Stay at the recently made-over Palazzo Victoria (from $848; palazzovictoria.com). Your first stop should be the amphitheater; by night, it's the site of the city's annual opera festival, which takes place here from June through September.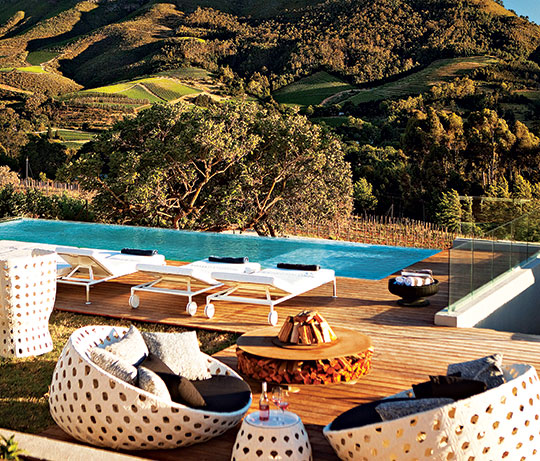 You have three-plus weeks:
Lush vineyards and empty beaches:
South Africa
While it may not win you any points for originality, South Africa's perennial status as a honeymoon favorite is well-earned. There are breathtaking beaches (and world-renowned surf breaks), wine country, safaris par excellence, and vibrant Cape Town, which has been named the 2014 world design capital. Book a room (request one with a view of Table Mountain) at One&Only Cape Town (from $536; capetown.oneandonlyresorts.com), and wander the artsy shops (and the Old Biscuit Mill market) and galleries in the Brooklyn-­esque suburb of Woodstock. Drive along the coast to the Cape of Good Hope, stopping at Boulders Beach to check out the famous penguins, before dining at the Roundhouse, the Test Kitchen, or Reuben's (located in the One&Only). Stellenbosch, a 40-minute drive, is a weekend destination for the wine savvy. The spectacular Clouds Estate (from $237; cloudsestate.com) is set amidst the vineyard-­dotted hills. Wine-taste at the Thelema Mountain, Tokara, and Waterford vineyards and dine at nearby Delaire Graff. Continue your unwinding oceanfront in Knysna (a five-hour drive from Stellenbosch), where stately limestone cliffs and the country's largest indigenous forest provide a backdrop to some dramatic surf; the Conrad Pezula (from $251; conradhotels.hilton.com) has views of the Outeniqua Mountains and lagoon (home to the endangered seahorse), plus access to the secluded Neotzie beach. Finally, fly to Hoedspruit (SA Express has flights from Cape Town) and Camp Jabulani (from $847; campjabulani.com), a petite (only six luxurious suites and eighteen guests at a time), family-run safari camp close to famous Kruger National Park. What separates Jabulani from the hordes of other lodges are its devotion to wildlife stewardship (see its Hoedspruit Endangered Species Centre, which works to conserve endangered creatures) and nighttime elephant-back safaris.
Octopus fritters and sleeper trains:
Southern Japan
Tokyo and Kyoto have long beckoned travelers to Japan, but for a decidedly less tourist-trodden journey, head due south. Start in flashy and frenetic Osaka; the posh St. Regis (from $263; starwoodhotels.com/stregis) is close to the famed Osaka Castle. Visit the Osaka Aquarium, a 286,000-square-foot behemoth beloved by locals; upgrade your kitchen knives at Ichimonji Chuki, one of the many homeware stores in the Doguyasuji shopping area; take in the incredible view from the floating garden observatory atop the futuristic Umeda Sky Building; and, come nightfall, beeline for Dotombori, the gaudy neon epicenter for after-dark action. Osaka's nickname is tenka no daidokoro (translation: "the nation's kitchen"), so food is of utmost importance here. Try two of the city's iconic dishes (takoyaki octopus fritters and okonomiyaki, a fried pancake filled with items like eggs, pork, eel, or shrimp) at the food stalls along Dotombori or get an elaborate meal at the high-end Nakamura. Once you're ready to really leave the city, a two-hour train ride brings you to the Kagawa Prefecture on Shikoku Island. Stay at Kotohira Kadan (from $185; kotohira-kadan.jp), a 400-plus-year-old ryokan. Rooms have traditional tatami mats and futons, plus views of Mount Sanuki-Fuji. In town, check out the Konpira shrine and museums honoring two of Japan's most renowned artists (Isamu Noguchi and George Nakashima), before returning to your ryokan for the elaborate nightly kaiseki meals featuring fish sourced from the Setouchi Sea. A ferry ride (about seven hours long) will take you from Shikoku to Kyushu, Japan's third-largest island, a mountainous region that's best to explore via the new Seven Stars train (see jrkyushu.co.jp/English), Japan's first luxury sleeper line (fourteen suites in seven carriages). It starts in the ancient port city of Hakata, then snakes past the coast, mountains, and volcanoes.