Blowout Budget Honeymoons:
$15,000 Plus
Dubai and the Maldives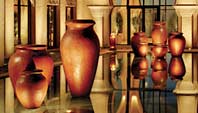 The Arabian Court at the One&Only Photo Courtesy of One and Only Resorts.
For a perfect mix of urban energy and pastoral seclusion, divide your time between two of the Middle East's most exclusive resorts. Fly
Emirates
direct to Dubai, and check into the palatial
One&Only Royal Mirage
hotel (
oneandonlyresorts.com
), whose towering domes, majestically carved arches, and 65 acres of manicured gardens evoke an opulence usually reserved for a Shah. Deep within the most discreet section of the resort are the private suites that are part of the
Residence & Spa
, and within that lies the
Garden Villa
(from $3,500), where a couple will find a version of Arabian magic beyond what even the slickest genie could provide. Wander between the shaded gazebo, private pool deck, and your own stretch of beach, then venture out to the
Givenchy Spa
for a herbal body wrap and massage before taking in the city's irrepressible nightlife at hot spots like
Kasbar
. Catch a four-hour flight to the constellation of islands in the Indian Ocean that make up the Maldives. From there, it's just a 30-minute speedboat ride to
Cocoa Island
, a pristine spot to the south that's far removed from many of the larger resorts nearby (
cocoaisland.como.bz
). Each of the rooms is built on the frames of traditional Maldivian fishing boats and positioned just offshore along a plank boardwalk. Or, depending on your temperament, choose between the
Sunset
or
Sunrise villas
, each of which affords plenty of privacy and commanding views (from $2,090). Charter a catamaran and spend an afternoon watching dolphins play in the surf, or check out one of several dive sites where you can catch a glimpse of white-tip sharks. The hotel's restaurant,
Ufaa
, serves up a modern blend of Sri Lankan and Indian dishes with an emphasis on raw ingredients and fresh seafood. The
COMO Shambhala Retreat
at the hotel is the site for open-air yoga and a couple's pavilion where honeymooners can indulge in the Javanese Royal Lulur Bath, an Indonesian massage followed by an aromatic sea-salt scrub and languid soak in the flower-filled tubs.
St. Barts, French West Indies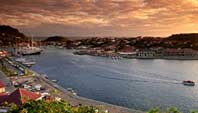 St. Barthelemy Harbor. Photo: Angelo Cavalli/Getty Images.
As an alternative to the luxury-hotel vacation, reserve your own villa and yacht for a honeymoon in St. Barts. Rental agency
Wimco
(from $2,300 a week;
wimco.com
) has been in the villa business for 25 years; choose from 200 of their properties. For privacy, the one-bedroom villa
"BBK"
is situated in the hills of
Lurin
with views of Anguilla and St. Martin; for proximity to restaurants and shops,
"AUM"
is popular with couples for its prime location in
St. Jean
; and if all you want is to be on the beach,
"CHL"
is a simple three-bedroom right on the water that you can have for the one-bedroom rate during off-season. Arrange to have the fridge fully stocked when you arrive, or wander down to
La Rotisserie
takeaway stop to pick up croissants for breakfast before going for a dip, as each of the villas has a private pool. The agency can arrange to have a chef prepare a candlelit dinner or for an in-room massage.
Maya's
is the hottest reservation in town; try to make one before you arrive, or pick up takeout for a picnic lunch from
Maya's To Go
.
The Hideaway
is a casual alternative that's popular for its slightly lower prices and the warmth of owner Andy Hall, and the
Sand Bar
and
On the Rocks
in the
Eden Rock hotel
(
edenrockhotel.com
) are still getting rave reviews for their cuisine; standout dishes include breast of quail sautéed with a grape-and-pine-nut chutney and a mushroom lasagne. Make the most of the visit by exploring the neighboring islands in a yacht chartered by
Master Ski Pilou
. Most couples factor in at least a day trip, but the company can arrange longer journeys and suggests taking a three-day cruise. The 55-foot Motorsport cruiser can reach the beaches of
Anguilla
in just under an hour, where you can snorkel on a deserted beach along
Shoal Bay
, then go for a romantic walk along the rocky coastline of
Sabah Island
. There's only one tiny restaurant on
Pinel Island
, just north of St. Martin, and it offers incredible langoustines that should not be missed. St. Martin is known for its nightlife, so dash off to the casinos and discotheques before retiring in one of the boat's three cabins.
Ngorongoro Crater, Tanzania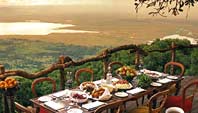 Breakfast at Ngorongoro Crater Lodge. Photo courtesy of CC Africa
While Kenya has some of the oldest safari camps in Africa, Tanzania is considered a national safari secret. Why? Because only here can you see elephant, buffalo, rhino, lion, leopard, cheetah, wildebeest, hippo, and zebra all in one place. That place is the Ngorongoro Crater, the globe's largest intact caldera, considered by many to be the eighth wonder of the world. Perched on the crater rim is the over-the-top
Ngorongoro Crater Lodge
(from $320 per person;
ccafrica.com
). Often described as "Versailles meets Maasai," the lodge is broken into three camps. Honeymooners generally choose
Tree Camp
because it's the most remote and has just six rooms, each designed to take advantage of the crater views. Furnishings tend to the English clubby look-leather chesterfield-style armchairs flank a fireplace (lit nightly by your butler), Persian carpets cover the floors, and a chandelier is suspended from the ceiling. In the bedroom, a custom-made bed with floor-to-ceiling headboard is covered in white percale sheets; the bathroom has a tub for two (baths are drawn by your butler and filled with rose petals). Napping isn't really possible on the bumpy 50-minute, 5:30 a.m. game drives, but you'll want to be awake to spot the leopards lounging in the trees. If you sleep in, combine the afternoon drive with lunch on the crater floor at a table set with crystal glasses and fine china. Meals are based on what's in season, but it can't hurt to ask for the tender Kenyan beef. If you're safari-ed out, visit the nearby Boma, a
commercial Maasai village
where you'll learn all about the culture from the residents themselves. They'll show you their mound-shaped homes, which are made of cow dung (it's a natural insulator), and entice you with their traditional jewelry-bangles made of glass beads sewn onto animal hides. Custom dictates that you ask before taking pictures of the Maasai-especially those you encounter in the bush-but in the Boma it is welcomed. At night, enjoy dinner at
Lake Eyasi
. It's just a twenty-minute drive from the lodge, and the sunset views are spectacular. The lodge will arrange all transportation, prepare a favorite meal (with advance notice), and, of course, ply you with plenty of champagne.