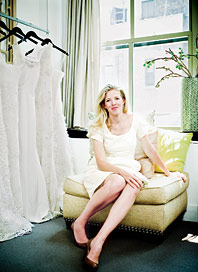 Lela Rose
Why did you start designing bridal?
There weren't many collections with a strong fashion perspective. We do dresses with unconventional detailing, and in unusual fabrics like cotton faille, cotton grosgrain ribbon, cotton voile.
So you don't do poufy white satin?
We don't design for the woman who's been fixated on her wedding vision from a very young age, who believes that this is her day to be a princess. A twenty-foot train suited Lady Diana because she was a princess. Most of us are not. The dress itself should somehow exude the feeling that life has happened prior to this day. You shouldn't look so shiny and new, so right out of the box.
What's the right way to shop for a dress?
Look through magazines, and dog-ear what you like. Look back two months later. Do you still like them? Choose two places to visit, and bring one person to the consultation—a friend who won't give unsolicited opinions. It gets confusing when you bring too many people or visit five different bridal shops.
Why are gowns so expensive?
They're white. Sewing a white dress is immensely difficult. If you make one little stitch out of line, it's going to show. The fabric has to be backed and lined so that you don't see the seams. The fabric's costly. People think silk is most expensive, but it's really cotton faille or reembroidered lace.
Is strapless the most flattering shape?
Pretty much every bride walks in and says, "I don't want a strapless gown. All my friends wore strapless." But when they put one on, they change their mind. The important thing is for you to find something that's special but is still you. Don't do trendy for the sake of it: Five years later, you'll look back and think, Yikes.
Must a wedding gown be white?
The whitest we go is ivory. I'm partial to a saturated tone—it's more romantic, softer. I also like a hint of something bold. When I got married, I wore bright-pink shoes.
Can you customize a dress?
Yes, we'll embroider the wedding date onto it. One bride had the pearl necklace her mother wore on her wedding, but it was broken. So we embroidered the pearls into the neckline. We sewed another bride's grandmother's gold wedding ring into her dress; that's how she held her train up.
How should one accessorize?
If you do earrings, don't do a necklace. The simpler the veil is, the better. I don't like layers of tulle, or crystal encrusted, and I've never liked a thick satin finish. And it should really only be worn during the ceremony. In general, just don't gild the lily.
TIPS FROM THE TRADE
For every bride who ruins, burns, or sops her gown (see the inane Website trashthedress.com), there are hundreds more who want to preserve it. "Your wedding dress is something you may pass along," says Rose, whose gowns arrive in a custom-designed keepsake box. Couture-cleaner Madame Paulette offers an archival "chamber" for acid-free storage to prevent yellowing ($150). Have the dress cleaned first ($600), and once it's stored (don't put it in a sealed garment bag), air it out at least once a year.
212-947-9204; lelarose.com