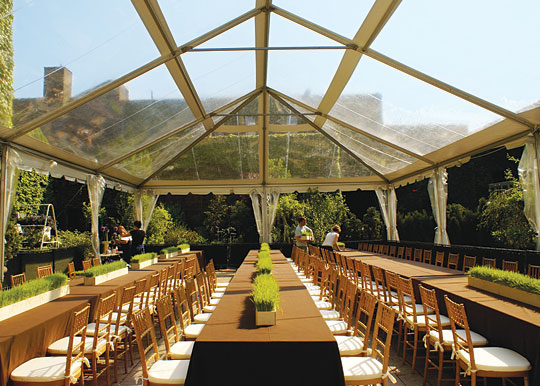 LOFTS & RAW SPACES

Pros
Most are undecorated white-walled boxes or empty industrial spaces—wonderful for ambitious aesthetes with lots of spare time and a large rental budget. You'll have to hire an off-premise caterer, which offers a double bonus: you can customize an exotic foodie menu as well as save money on the bar (off-premise caterers usually lack liquor licenses, so you can supply your own booze).

Cons
Off-premise catering has drawbacks, too. Some lofts don't have viable kitchens; you may even need to build one from scratch. Adequate heating, air-conditioning, and running water can be a bit iffy. Given the far-west or outer-borough location of these venues—as well as the nondescript buildings they're usually in—you'll have to micromanage guest transportation and situate a point person at the entrance, lest guests end up lost on the West Side Highway.
PRIVATE EVENT SPACES

Pros
These are often single-function venues, so they offer loads more flexibility than other places in terms of setup and breakdown (most spaces give you up to ten hours, twelve if you're lucky). This means little to no overtime fees and few load-in related headaches for vendors. Many spaces have built-in state-of-the-art lighting and sound systems and an attractive overall look, all of which are money and time savers.

Cons
There's usually a rigid vendor list you'll have to abide by. Pry a bit about possible kickbacks, and make sure none of the vendors they're recommending are mediocre. Schedule a tasting to ensure the food's up to snuff, and check that rentals aren't worn or rickety. Most places have on-site liquor licenses, which will add some heft to your bill. Some spaces are tasteful, while others are rather ostentatious, so shop around.
CULTURAL INSTITUTIONS

Pros
A wedding at the Frick Collection, the American Museum of Natural History, Jazz at Lincoln Center… Guests' jaws will drop. But frankly, other than bragging rights—and the absolute, unparalleled grandeur of celebrating your marriage in an iconic location in New York City—the pitfalls could dampen the "wow" factor.

Cons
Members-only institutions require sponsorship (asking a friend to be a guarantor brings back icky, postcollege, parental-mooching memories). All will require insurance; some will insist upon a big donation. You'll likely be strong-armed into using a list of preferred vendors and be squeezed in and out of the place on the day-of (setup usually can't begin until after 4p.m. and curfews are non-negotiable). Rarely can anything be moved: Sometimes that means having a Jewish reception with a crucifix in view—or dancing under Moby Dick.
HOTELS

Pros
The all-under-one-roof aspect is a hotel's biggest perk. You're a captive consumer of all their goods, so you can negotiate better rates: the guest-room block, valet parking, bridal-prep suite, after-party room, wedding-night suite, etcetera. Hotels are accustomed to serving massive parties, so expect smooth service across the board.

Cons
You're stuck with the hotel's décor (from its china to its carpets). Many have exclusive vendors, so even if you wanted to bring in your supercool florist to improve the aesthetic, you could be restricted. Likewise with food: They may not stray from their templated $250-a-head-four-course dinner with the house wine. Their bad rap as "wedding factories" is based on some truth—ensure yours is the only event that day or risk bumping into a bridal clone fresh from her own altar.
*The content in this article does not directly refer to the venues shown.