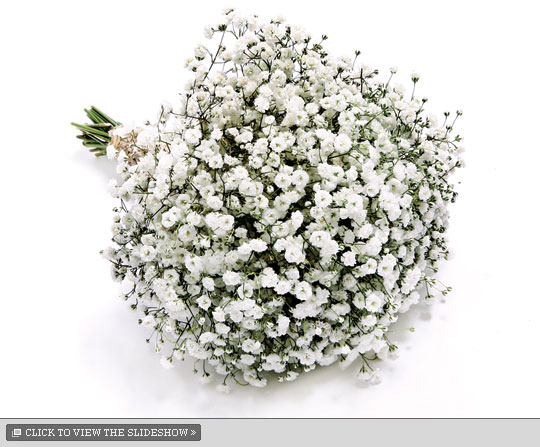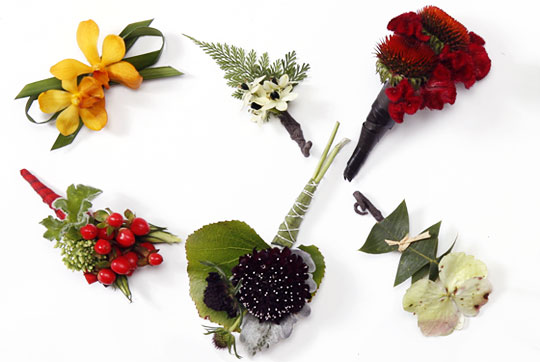 Orange Vanda Orchids with Lily Grass $20 by Renny & Reed Ornithogalum Arabicum and Fern $18 by Raquel Corvino Celosias and Echinacea $25 by Bloom Red Hypericum Berries with an accent of Cedum $15 by Belle Fleur Egglplant Scabiosas, Dusty Miller, Miniature Galax $23 by Castle & Pierpont hydrangea and Banskia Leaf $18 by Raquel Corvino
Miniature Calla Lily with Ornithogalum Arabicum and Scented Geranium Leaf $20 by Chestnuts in the Tuileries Pink Serena Roses $15 by Renny & Reed White Asclepias, Privet Berries, White Scabiosa Buds, and Pepper Grass $22 by Fleurs Passion Vine, Celosia, Nerine, and Sedum $20 by Artfool Crocosmias and Aucuba Leaf $18 by Raquel Corvino Miniature Cymbidium Orchids $35 by LMD Floral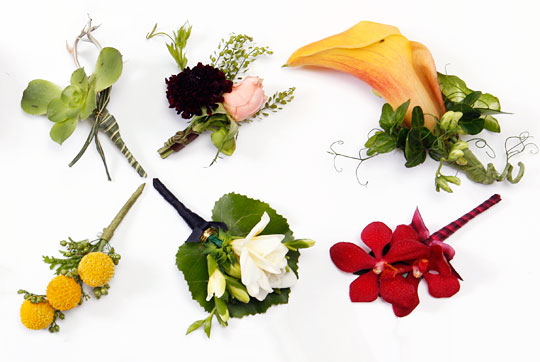 Echeveria, Flying Dragon Thorn, Variegated Lily Grass $45 by David Beahm Design
Blue Magic Vanda Orchid and Green Hypericum Berries $25 by Banchet Flowers Black Beauty Rose, Pink Nerines, Peacock Plumes $40 by Fleurs Bachelor's Buttons With Oregano, Mint, and Fresh Lavender $22 by Renny & Reed Pine Cone Petals, Hydrangea, Sprigs of Boxwood $30 by Bridget Vizoso of the Designers' Co-op Chrysanthemums, Craspedia, Kangaroo paw, Geranium Leaf, and Grass Pod $30 by Bridget Vizoso of the Designers' Co-op Variegated Henna Coleus and Green Crabapples $25 by David Beahm Design
Photographs by Hannah Whitaker
Fresh baby's breath tied with organic ribbon, $175 by L'Olivier.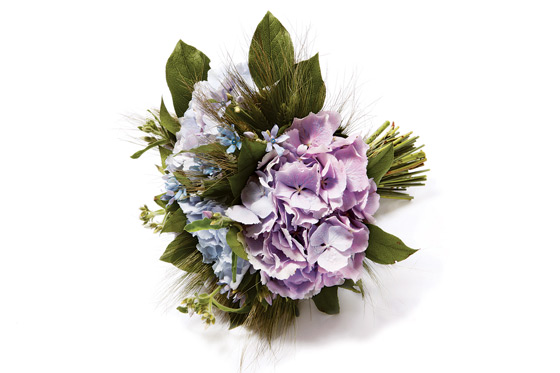 Raspberry scabiosas, pink asclepias, Sahara roses, dusty pink roses, oregano, and antique pink hydrangeas, $325 by Renny & Reed.
Thistle, black viburnum berries, and echeveria succulent, $150 by Ovando.
Garden roses, jasmine, mint, and hydrangeas, $400 by Artfool.
Blue thistle, zebrina foliage, and Italian oregano, $150 by VSF.
Privet berries, garden roses, Queen Anne's lace, and white scabiosas, $250 by Fleurs.
Disa orchids, garden roses, viburnum berries, and gloriosa lilies, $300 by Takashimaya.
Local antique hydrangeas and tuberoses, $200 by Raquel Corvino.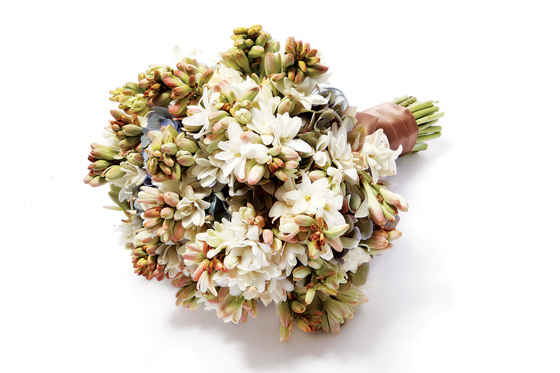 Zinnias and geranium leaves, $175 by LMD Floral.