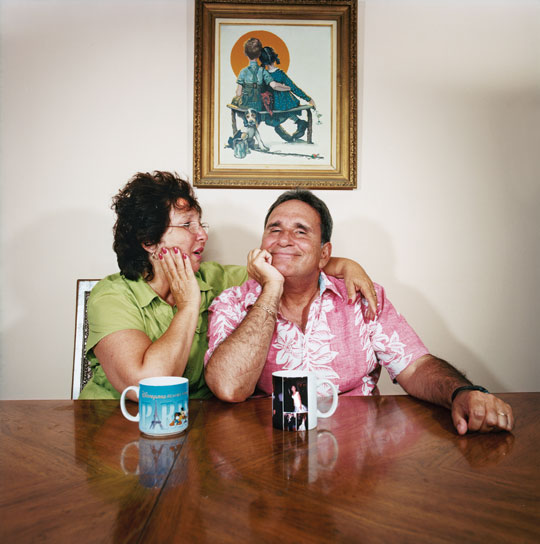 STEPHANIE & DANIEL BIFULCI
Married 38 yearsDo you remember what you did on your first date?
DANIEL: We went to a really nice Italian restaurant in the Bronx called Amerigo's. It doesn't exist anymore. And then to my friend's bar called The Cat's Meow. By about midnight, Stephanie said to me, "I've got to go home." So I took her home.
STEPHANIE: My father was waiting at the door. He pulled me inside and slammed the door in Danny's face.
DANIEL: Her father eventually got to like me and nine months later we got married.
How was the wedding?
STEPHANIE: The people at Alex and Henry's, where we had the reception, surprised us by putting two white doves in a cage on top of the wedding cake. And when we cut the cake and kissed, they let the doves out.
What are your dates like?
DANIEL: She comes to Yankees games with me, and I go to the opera and ballet with her. And I (a kid from the Bronx!) have discovered that I actually enjoy it.
FRED & MARCIE IMBERMAN
Married 35 years
Where was your first date?
MARCIE: At a restaurant called La Chaumière. We never ran out of things to talk about. As we kept dating, I became very impatient for him to propose to me.
FRED: I thought I proposed at rocket speed, actually!
What is your fondest memory from the wedding?
MARCIE: When I walked down the aisle and Fred took my hand, turned to me and said, "Come here often?"
And nearly 40 years later, you're still together.
FRED: We live together; we work together. We're in the antique furniture and jewelry business, and living in the art and cultural center of the world has been very important for us.
MARCIE: We love walking the streets. And the parks. We even love the subway. We ride it home at midnight from the opera and from Carnegie Hall.
Why would anyone move to the suburbs, right?
FRED: It's just that in the city, you never wonder, "What's there to do?" As long as you've got the perfect date.
ELAINE & TIM MALDONADO
Married 41 years
How did you two meet?
TIM: I was a student at Cooper Union in my fourth year of architecture school. I thought, if I'm going to find a good-looking freshman—fresh-woman—I'd better get to school early. So at nine in the morning I arrived, and there was Elaine, waiting for the elevator. I followed her in. One of our first dates was going to the World's Fair.
ELAINE: We used go to Caffe Reggio on Bleecker Street, and play soccer in Central Park. If he was over on Sunday mornings, we would get the New York Times and sit out on the terrace.
What was your wedding like?
ELAINE: It was white-tie at the St. Regis hotel. The women were in long, glamorous evening gowns. Tim's best man was a physician. He had Tim pumped full of tranquilizers; he was so nervous. None of my friends were married. It was so uncool. I totally blackmailed him.
What advice would you give newlyweds today?
ELAINE: Buy an apartment. Don't rent. Even if it's small.
HELEN EICHLER & GARY KRIGSMAN
Married 26 years
How did you get together?
HELEN: One of his friends happened to be an attorney at the Wall Street firm where I was working. I was complaining about how difficult it was to meet quality men, and he said, "I have a lot of friends who are gentlemen." I said, "If it's so easy, come in with a list." The very next day he brought one. He said, "Pick one. I'll have him call you."
How did you know to stop looking after you met him?
HELEN: On our first date, we went out to eat and I just knew—
GARY: —because I ate off of her plate.
HELEN: My grandparents ate out of one dish their entire lives. They considered it the ultimate romantic thing.
What do you remember the most from your wedding?
GARY: The spirituality of it.
HELEN: Today, we're on the board of the Interfaith Council in South Queens. We go to Sikh temples, Christian churches, celebrate different cultures. The organization wouldn't be as vibrant if it were anywhere but here.