1. Bypass boring paper goods.
The party starts in the mailbox! Set the tone with a fun save-the-date, like goofy-cute photo booth shots. "Either visit a photo booth or take digital pictures and we'll make them look like they were taken in one," says Nicole Michels, of stationer Bird and Banner ($1,500 for 100 from Bird and Banner; 215-285-8055; birdandbanner.com). Even a more traditional idea can look new. Rebecca Schmidt-Ruebensaal, of Mr. Boddington's Studio, combined one couple's family crests and modernized them with neon colors ($3,000 for 100 sets from Mr. Boddington's Studio; 212-686-5953; mrboddington.com). And even escort cards can be cool. For a reception at the New York Public Library, Ellen Kostman of SideKick Events put place cards in an old-fashioned card catalog, complete with Dewey Decimal System-style table numbering (card catalog, from $75 at Props for Today; 212-244-9600; propsfortoday.com), and Fête event designer Jung Lee once pinned paper 'leaf' cards to a pile of lemons.
2. Be gracious hosts.
Keep guests cool, warm or dry. "Our wedding was outdoors, and it was very hot," says newlywed Suzanne Graves. "For the ceremony, we placed a fan on each chair alongside the program. Guests fanned themselves the entire night (from $1 for paper fans at Pearl River Mart; 212-431-4770; pearlriver.com)." For an early spring reception, planner Kostman got $3 pashminas from a city street vendor to keep ladies (and some gents) warm. If it looks like rain, order umbrellas in your wedding colors; they'll double as favors ($180 for 60; candrelite.com).
3. Have a greener wedding.
Floral bouquets are pretty, but a modern option is to make one from herbs. Event designer David Beahm uses holy basil, rosemary, scented geranium, horehound, orange and chocolate mint, and silver mound artemisia in coleus leaves ($100; 212-279-1344; davidbeahm.com). And, rather than a tacky, stiff velvet square, "Do a natural ring pillow instead," suggests floral designer Bridget Vizoso. "In winter, use pinecones, twigs, birch bark, and barley grass pods (from $175 at The Designer's Co-op; 212-721-2188; thedesignersco-op.com)."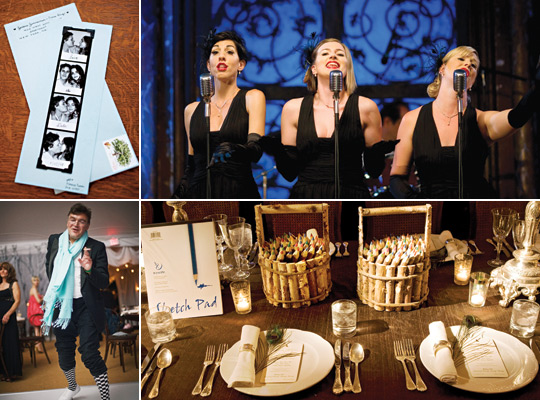 4. Don't play broken records.
Planner Claudia Hanlin of the Wedding Library remembers, "for the recessional, one bride had a 40-voice children's choir sing the 'Flower Duet' from the opera Lakmé (from $8,000 with piano, through Elan Artists; 718-388-2901; elanartists.com)." Or, do theme music during the cocktail hour. Raggs & the All-Stars is a 1940s-style band that can segue into other genres during the reception (from $10,000 through Elan Artists). And don't discount the virtues of an unexpected, lively first dance. "I had a couple who went from Michael Bublé to Rihanna," says planner Karen Bussen.
5. Personalize your booze.
"Every culture has a special beverage," says planner Xochitl Gonzalez of Always a Bridesmaid. So ask yourself what great-great-grandpa would drink. "For a Nordic groom's wedding, we served glogg, a spiced wine from Scandinavia. For an Italian-Puerto Rican couple, we passed limoncello shots on the dance floor." Or dress up the obvious: have a specialty beer bar. "Serve locally-brewed beers, or brews from your guests' home states," says JoAnn Gregoli of Elegant Occasions.
6. Lighten up.
Lest you forget, weddings are supposed to be joyous, fun affairs. "Bring in a snow cone machine for the cocktail hour," suggests Peter Fazio of Sterling Affair Caterers. Bartenders spike them with margarita or cosmo flavors (additional $5 per person to bar bill, from Sterling Affair Caterers; 212-686-4075; sterlingaffair.com). For a wedding at the Central Park Zoo, Fête's Lee put a waiter in a polar bear suit. "This guy wore the suit during all of cocktail hour while he passed appetizers. Guests loved it," she says.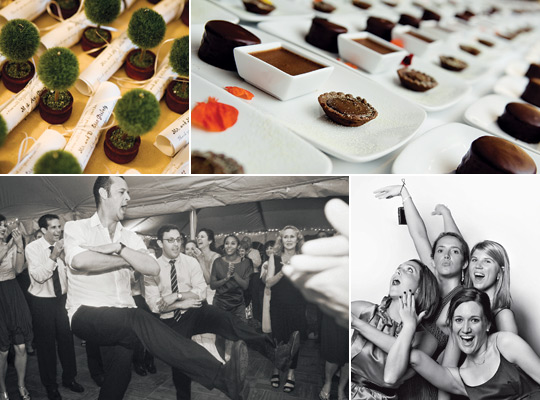 7. Leave no canvas blank.
A tent shouldn't feel like a sealed, claustrophobic cell. For an outdoor reception in a wooded area, event designer Frank Alexander used a single layer of sheer voile imprinted with trees around the tent's perimeter. The setting sun silhouetted the real trees outside and cast the room in an ambient orange (from $12,500, 212-677-5176; frankalexandernyc.com).
8. Keep kids occupied (and mom and dad happy).
Children are great at weddings—unless they're bored and wailing. If the kids are old enough (8 to 12), create a kids' table somewhere far from parents—"so both can enjoy themselves," says Fête's Josh Brooks. "You can put things like sketch pads and colored pencils on their table, and still have an elegant-looking tabletop that matches the rest of the wedding's décor." Or better yet, splurge, and create a separate haven for them with movies, toys, sleeping bags and, most importantly, a babysitter. The Baby Sitters' Guild can send nannies and entertainment (from $50 per hour, per sitter; 212-682-0227; babysittersguild.com).
9. Let guests ham it up.
Have your photographer set up a portrait photo studio on-site (it's usually against a blank wall or a seamless backdrop), where guests can take unlimited digital pictures of themselves. Photographer Brian Dorsey posts them on his website, so everyone can order prints ($1,750; 212-227-6772; briandorseystudios.com). After a few drinks, even the camera-shy will give it a turn. For the newlyweds, it's another whole set of pics to obsess over after the party.
10. Slip into something more comfortable.
Why stop with just one dress? Cut the cake and then change into Dress No. 2. "Quite a few brides switch gowns," says Mark Ingram of Mark Ingram Bridal Atelier. "The second one is always easier to dance in (dress, $3,900 at Marc Jacobs; 212-242-2207; marcjacobs.com)."
11. Skip the cake.
You won't invoke the wrath of the wedding tradition gods if you opt for something you like better as a passed or plated dessert. "For a couple who loves chocolate and lemon, I did mini-trios in each flavor," says caterer Mary Cleaver of The Cleaver Co. (212-741-9174; cleaverco.com). At one laid-back wedding, "a couple asked six of their closest relatives and friends to bake pies to serve instead of wedding cake," says planner Kostman. "We set the pies on glass cylinders filled with the corresponding fruits." Or, you can order pies yourself from Bubby's—15 pies for 100 guests should do it ($29 each; 212-219-0666; bubbys.com).
12. Get them to the dance floor…
D.J. Choimatic claims these songs do the trick: Michael Jackson's "Don't Stop 'Til You Get Enough"; Frankie Valli's "Can't Take My Eyes Off You"; The Esquires' "Get On Up."… and keep them there. Hand out sugar-buzzed treats on the dance floor. "We do bite-size ice cream cones or hot fudge sundaes with Guinness-stout ice cream in shot glasses," says Robb Garceau of a Hudson Yards Catering (from $3 per person; 212-488-1500; hycnyc.com). Event planner Leslie Russell, of Marcey Brownstein Catering & Events, passes around sweet cocktails like mini-Oreo martinis (prices vary; 212-807-0568; marceybrownstein.com marceybrownstein.com
13. Think beyond little boxes of chocolate and table mints.
If you're doing favors, make them personal. "We had a couple who gave saplings—topiaries bought online—with certificates stating a tree would be planted in Israel, through the Jewish National Fund, in the guest's name ($18 each; jnf.org)," says planner Lyndsey Hamilton. "Do something similar through Trees for the Future, which plants in developing countries, ($.10 each; treesftf.org) or American Forests, which reforests devastated areas ($1 each; americanforests.org)." Or give out something that you love. Newlywed Michelle Flax bagged her husband's favorite Pennsylvania Dutch pretzels for their guests ($27 for six pounds, Martin's Pretzels; 315-628-4927; martinspretzels.com; ribbon, stickers at Arthur's Invitations and Prints; 212-807-6502; arthursinvitations.com; bags at Party City; 212-271-7310; partycity.com).
14. Make a grand exit.
"Release butterflies– one for every two guests—they'll flutter around beautifully, and fly away," says Renee Cooke of the Greathouse Butterfly Farm (from $89 for a mixed dozen; 866-475-2088; greathousebutterflyfarm.com). Or, hand out sparklers, which make for a dramatic photo op ($41 for 192 sticks; theweddingfavorbar.com).
15. Don't stop while the night's still young.
No one will want to leave a good party, especially one that promises more snacks and music. Station a Mister Softee truck on the street. Offer the whole menu of ice cream, keep a tab, and pay in cash. For 200 guests, it can cost as little as $400 (856-939-4103; mistersoftee.com). Planner Bussen had one couple who took all their friends to the Hotel on Rivington. "For their after-party, they rented the triplex penthouse, which has a bar and a hot tub, and brought in a D.J. to spin late-night ($7,500 for the penthouse; 646-253-6638; hotelonrivington.com)."
Additional reporting by Catherine Coreno, Frankie Thomas, and Katherine Ward