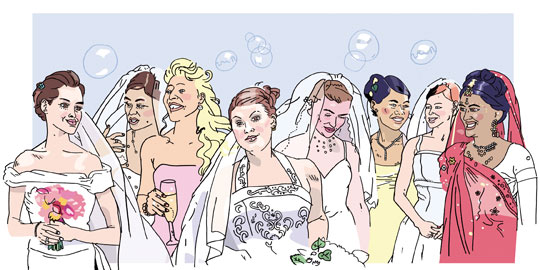 Alex, 32 ……..dinner and dancing at Angel Orensanz Foundation
Nina, 32…………two-day multicultural wedding in the Catskills
Ramona, 38 ………………evening wedding at Blue Hill at Stone Barns
Chloe, 37 ………outdoor reception at parents' residence upstate
Sita, 35…………………….four-day Indian extravaganza in Manhattan
Meg, 28……………………………………………..formal wedding in the Hamptons
Raeanne, 29…multicultural wedding at Brooklyn Botanic Garden
Daphne, 29……………………………black-tie party at the University Club
The Engagement
"When it happened I didn't cry as much as my mother, who lost her mind."
Anyone resort to strong-arming?
Raeanne: Sort of. We had been dating for five years. Would I have waited five more? Probably not.
Alex: I had help. My husband has a group of eight best friends; as soon as one proposed, it was like dominoes. He was so happy not to go first.
How long were your engagements?
Nina: A year and a half. I wasn't looking forward to the planning.
Meg: You were smart! We didn't give ourselves time to enjoy it. Our engagement quickly became about money and feeling guilt about wanting certain things. That sucked.
Sita: Mine was six months. Intense. We wanted summer and didn't want to live with wedding planning for that long.
Raeanne: The upside of our one- and-a-half-year engagement was getting our first-choice venue, the Brooklyn Botanic Garden, and paying 2007 prices for our 2008 wedding.
Did you pay for your wedding?
Raeanne: Well, we paid for the band.
Chloe: We paid for part of ours—not the lion's share. My mother said, "If you elope, we'll just give you the money and you can use it for a down payment."
Meg: Mine too!
Raeanne: Mine too!
Chloe: Now I feel horrible for choosing a party!
Meg: I felt so wasteful. Vendors told me to take the money and run. They told me that we'd regret it when we're their age, and I thought, You can say that now because you've already had yours.
Ramona: For me, the party was so much for my parents.
Sita: We considered eloping, but my dad would have killed us.
The Planning
"I was prepared not to be human for the month before the wedding. I felt like a machine. I never slept."
Did any of you hire a wedding planner?
Meg: We did. My family and my husband didn't get along with her.
Daphne: I didn't have the best experience. We hired somebody for the day of. She came in and started contacting the vendors without talking to us, changing times after things had already been set.
Nina: I hired Preeti Shah of Spotlight Style—she was incredible for day of. I had two weddings: an Indian reception on Friday night and a Western wedding on Saturday.
Alex: We interviewed ten. With each one we were like, Eh. And for the money you're paying! We asked our venue who they like working with and who had worked there before. It was the best strategy. It's been several months since our wedding and I still miss my planner, Eyal Tessler of In Any Event, every day.
How involved were your parents?
Raeanne: I fought with Mom about silly things I didn't want to spend money on—like, she really wanted valet parking. Also, she wanted her name and my father's name on the invitations, and I wanted them to come from us. She said, "No, we're hosting this. I want our names on it." The wedding brings out a whole other side of people.
Meg: My mom didn't think navy blue was formal enough for our invites. I went back to Kate's Paperie like 18 times.
Sita: My dad wanted these really traditional, enormous multilayered invitations from India, which I wanted nothing to do with. I ended up ordering them; they came, Dad saw them, they were not loved, and they were returned.
How involved were your grooms?
Alex: Very.
Meg: Surprisingly opinionated.
Raeanne: His thing was the music. We hired the Lou Davis Band and they were incredible. But other than that, he couldn't get into the details. My mother and I are very detail-oriented, and he got tired of hearing about it.
Did the wedding planning take a toll on your relationship?
Sita: It was six months of planning, with no mother involved. The two of us planned everything. I would have meltdowns and yell at him.
Alex: We fought. My husband would say, "You're going to drive me insane. You just need to make a decision!" But you stress about every decision. All of a sudden, you can't make one. At one point we decided to schedule times to talk about the wedding. We said, "You know what? We can't talk about this all the time!"
Sita: My husband would say, "You're more than the wedding." It became my mantra: I'm more than this wedding; this wedding does not define me.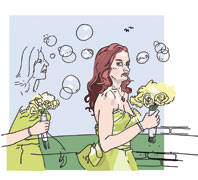 The Dress
"Any ideas I had about what I would wear went right out the window."
How was gown shopping?
Meg: I must have tried on 800 dresses.
Daphne: It was a nightmare. I had a saleswoman at Saks say to me, "People come from all around the world to Saks, to New York City, to find their wedding dress. If you don't know what you want, maybe you don't want to get married."
Sita: Wow.
Ramona: What?!
Raeanne: No.
Daphne: I thought, Get me out of here! Afterward we went to Carolina Herrera. They were so accommodating. I was always late for my appointments and they always waited for me.
Raeanne: I actually had a great experience at Saks. I didn't go through many dresses; mine was probably one of the first ones I tried on.
Ramona: I didn't try on anything. A designer friend of mine showed me this little top she had made and said, "What if this were a dress?" And I said, "Yeah." That was it. Twenty-five yards of fabric. It was insane. It was so different, and romantic—just phenomenal.
Chloe: I went to one of those bridal barns and cried when I put the first dress on. Then I went to Michael's Consignment on the Upper East Side, because I thought, God, you wear it once; I don't want to spend all that money. But it's kind of weird trying on somebody else's dress. One day my mom and I walked by Vera Wang and Mom said, "Let's just do it for a hoot." I hadn't shaved; I was wearing a black bra. But we went in. With the first dress my mom said, "Oh, let's do it. It's so beautiful." So we got it; the night of, I switched into a hot-pink dress and gold heels for dancing.
Alex: I had my dress custom-made at Angelo Lambrou. He's South African and has a little bridal shop on East 7th Street, between First and A. He incorporated my mom's antique lace into the dress. I was there every two weeks. We'd have a glass of wine; I'd try on the dress. It was awesome.
Most of you had bridesmaids. Did you also choose their attire?
Raeanne: Yes. At first I thought I'll just give them a color and let them find whatever they want. But then I thought that was even meaner in a way. I felt I should do the legwork.
Sita: It is so hard.
Raeanne: I really felt bad about making them spend a lot of money. I ended up choosing a dress from J.Crew for about $150—it was in spring green and came in several styles. But they weren't very happy with the way they looked. Some of them said as much.
The Toughest Decisions
"We changed the proofs three times for the words 'of' and 'the.'
What was particularly tricky?
Alex: Addressing the envelopes: Is it Dr. or Mrs.? Whose name do you put first? My husband's like, "He's my friend; I want his name first," and I'm like, "No, you have to put the girl's name first."
Sita: I had a guest show up to the wedding with a plus-one who hadn't been invited with a plus-one.
Raeanne: Yeah, I had a few of those.
Daphne: I was shocked—some of my guests didn't RSVP, period. I would have never imagined that I would have to chase people down.
What about the seating chart?
Alex: We spent all Labor Day weekend cutting up little pieces of paper—the "tables" and "chairs"—and moving them around in different versions.
Raeanne: I was really against the sweetheart table. I wanted to sit at a table with our families, but it was too big a group. So we ended up putting our families at different tables and sitting at a sweetheart table, which ended up being nice, actually.
Where else did you compromise?
Chloe: My husband wanted a big cocktail party with just tapas, and I said, "You can't just serve random tapas all night! What, Grandpa is going to sit on a stool for six hours?" You have to make people comfortable and pick your battles. Like we were dead set on doing Brazilian churrascaria—until we realized no one does this for weddings. Apparently, no one wants people walking around with large, bloody hunks of hot meat over the wedding guests. So we had a buffet— oh, so traditional. We did have skewers of meat; they just weren't hovering and portable. Our caterer accommodated our weird requests. We wanted lots of bacon, four different kinds of beef jerky shipped in from Texas, and Turkish Delights, rock candy, and red hots.
What cost a fortune?
Alex: Rentals. We rented from Party Rental, Ltd. They created a mock-up of the tabletop for us. I'm glad that I pushed them to do a mock-up, and that I wasn't afraid to ask questions and to change things.
Chloe: I didn't want synthetic napkins—they had to be linen. And it actually cost more to rent them than to buy them, so we ended up buying 100 fine-linen, hem-stitched napkins. At the end of the night we were doling them out.
Meg: Our wedding bills rolled in right before the wedding. My poor dad…
The Bridezilla Moment
"I looked at my hair and said, 'I hate this; you have to redo it.' She almost ripped my hair out."
I'm sure you had a low point or two …
Alex: I did have one freak-out—just one. I woke up in the middle of the night, and thought, Oh my god, I hate my dress! I went on a ten-minute rant on my dressmaker's answering machine.
Ramona: I didn't have a specific low point, but rather a low hum of neuroses throughout. The biggest thing for me was the magnitude of the event, what it really meant. Being confronted with like the, Who am I? How does this invitation reflect who I really am? So that weight was constant and heavy. I know I sent my venue's manager one too many e-mails, like, "The lamb? Is it going to be medium rare or rare?" I was so out of control.
What were you most nervous about?
Ramona: Rain. A hurricane was supposed to hit New York the weekend of our wedding. I so badly wanted to have it outdoors; I was apoplectic. But I just kind of Zenned my way through it and it didn't rain.
Nina: My biggest fear was two cultures meeting at the wedding. His side came from India, and I had people in from Japan. But it was fantastic! One night we had Indian food and music—Moghul was the caterer, and we had D.J. Magic Mike. They both did a fabulous job.
Daphne: I had a huge fear of someone doing something stupid: a guest getting drunk, doing drugs in the bathroom, getting really wasted, or getting into a fight. The University Club is very formal, and my father is a member there. I definitely had my planner keep an eye on a few people.
Did anything go awry?
Ramona: We didn't have a rehearsal, so the ceremony didn't go as perfectly as I had imagined. I sort of tripped down the aisle, and I couldn't really get to my husband—there was a drainpipe in the way—and then he forgot that I was going to circle him. He was trying to gently move out of my way, and I was like, No, stay here, just stay. I dropped his ring; I had to duck down to pick it up. It was quirky and a little awkward.
Raeanne: Our videographer was late. He missed the ketubah signing. My photographer, Kelly Guenther, totally stepped up in his absence. It was funny: We had a mariachi band for the cocktail hour because my husband is Salvadorean and half the guests were Latino. Everyone told me to tell them that the party was starting earlier than it actually was. But they were early.
The Highlights
"We wrote our own vows. His were so much better than mine."
What was the best part of wedding planning?
Ramona: Taking dance classes.
Alex: Us too! They were our refuge. It was an hour a week to not think about anything else but moving our feet.
Ramona: I went to NY Wedding Dance. We thought we were going to take one class but loved it so much we signed up for six. We choreographed our first dance: There were spins, turns, a dip.
Alex: Zack's Dance Loft was mine. You have cocktails with him first, then you have your class. We did the cha-cha to "Save Room" by John Legend. We joked about him stepping on my train on the day of, and he did. It snapped off!
What was the most memorable moment from the wedding day?
Meg: We didn't think that much about the ceremony. We're both Catholic; we thought, Okay, let's just get married in this church and move on. And yet the ceremony was my favorite moment.
Daphne: On our escort-card table we had six black-and-white wedding photos of our parents and grandparents. We had grandparents pass away the year before, so it was a way of having them there. I didn't want it to look like a shrine, or anything creepy or weird. Everyone said how nice that was.
Sita: For me it was our last dance. I couldn't tell you what song it was; it didn't matter. There was slow dancing, there was some bending over backward, there were some fast movements— we did everything you could possibly imagine to it. In that moment I knew he was my husband. I had married the heck out of this guy.
Alex: We had to be out of Angel Orensanz by 11:30, so we all went out afterward. I walked through the Lower East Side and Little Italy in my dress, with my husband yelling, "Get out of the way! There's a bride!" We all ended up eating pizza on Mulberry Street at two in the morning. The pizzeria's owner came out to give us soap as a gift.
The Best Advice
"Make it a point to thank your parents."
What tips do you wish someone gave you before you got married?
Meg: Go away together. That totally saved us.
Sita: Yes! A month and a half or so before the wedding, even if it's just for a weekend, just the two of you.
Raeanne: Wear your shoes before the wedding. You need to know where the blisters will form.
Sita: Hand off your cell phone to a bridesmaid on the day of, because there will be those silly last-minute calls and you don't want to deal with them.
Nina: Have a moment to yourselves after the ceremony. Our planner handed us two glasses of Champagne after we walked down the aisle, and led us directly to the back of our venue before everything started. I cannot tell you how amazing that was.
Alex: We were adamant about the room being cool because we had a lot of very hairy, active Jewish men there, including my husband. The temperature can be the difference between misery and happiness.
Any regrets?
Meg: We didn't think to have anyone take pictures or film the rehearsal dinner. It was a really fun night and I wish I had record of that.
Nina: I would have regretted not hiring a videographer. At first, I was flat-out against it; I didn't want a camera around me. But our planner talked us into Dominic Perez of Go Show Media. We didn't know they were there. And now I love having the video. We've sent it to family in India and Japan who weren't able to make it. You get the speeches, you see it all in action … I've watched it three times.
Raeanne: I mean, for the ceremony alone. I think I've seen mine three times too. My husband won't watch it anymore. I have to watch it in secret.
Last words of wisdom, ladies?
Daphne: Remember that it's only a day. It's five hours. Things will go wrong. Just focus on what's really happening. You're deciding to share your life with somebody—that's huge.

• New York Couples Share Their Wedding Albums
• The Best Dance-Floor Moments
• A 28-Inch, 1,001-Word-Long Save-the-Date
• Ethereal Gowns for a Fantasy Day