Resist the urge to channel Reservoir Dogs.
Apparently it's difficult for jazzily dressed grooms and their groomsmen to refrain from homage to Quentin Tarantino's famously badass big-screen hit. But Mr. Pink impersonators have become alarmingly ubiquitous, so the shot is now a total cliché.
Photographer's Tip: Photographer Jonathan Elderfield says, "Consider having the bride and all the bridesmaids sport killer shades instead, to turn the custom on its head."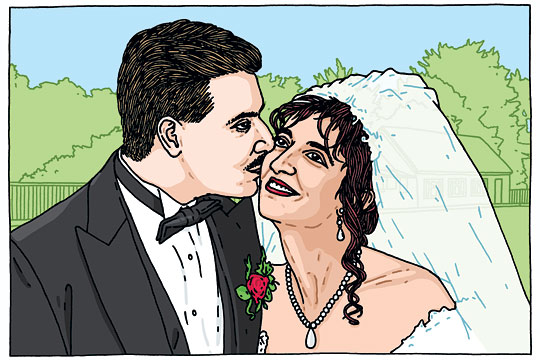 Kiss like you mean it.
Your lips are tired from smiling, your gloss is smudged, your groom is distracted by his college buddies, but fake kisses are obvious.
Photographer's Tip: "For kiss shots, take a walk and get away from your guests," says photographer Erik Ekroth. "Make it just the two of you with your photographer."
Beware the edgy background.
Just as bands should avoid being photographed on train tracks and in front of graffiti murals, so too should the bride and groom. Unless that neon-hued tag holds special significance—say, it was the site of the proposal—why would it be a backdrop in your album?
Photographer's Tip: "The focus should be on the couple, not the background, so keep it clean, simple, and elegant," Ekroth recommends.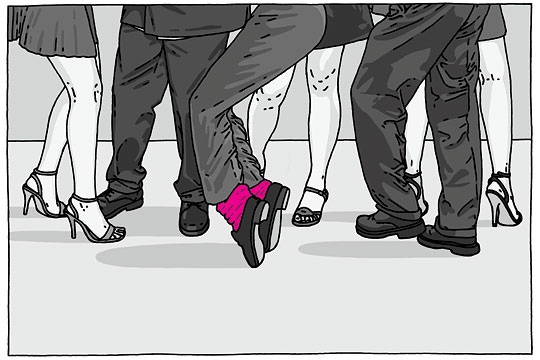 Don't colorize.
The latest trend in wedding photography slaps black-and-white photos with a dash of color. Example: a muted shot of the bouquet, with the flowers recolored in hot pink. Sounds cute, looks like a greeting card.
Photographer's Tip: "Stick to either color or black-and-white, not both," says Ekroth.