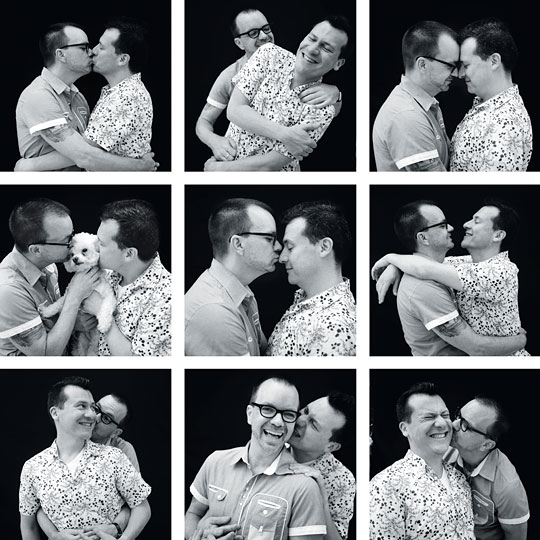 COUPLE NO. 1
Jon Paul Buchmeyer, 42, and Juan Pablo Chavez, 41
WEDDING WISHES: Eleven years into their relationship, Buchmeyer (in glasses), a writer, and Chavez, a Mexico City–born chef, want a big-time-epicurean June wedding with a vegan twist. Otherwise, their M.O. is "quirky and unusual": show tunes, perhaps a mariachi band, and most important, some way to include their eight-year-old bichon frise, Frida.
BUDGET: $30,000
GUESTS: 100
THE PLANNER: Lauren Sozmen, founder of Loli Events (914-659-1294)
HER VISION: Sozmen sees the couple's ceremony taking place in the morning in Madison Square Park ($25 permit fee), with an art gallery on hold should bad weather arise. A flamenco guitarist would provide the soundtrack—songs from some of their favorite musicals—as a family friend accompanies a ring-bearing Frida down the aisle toward her dads, who would be wearing Paul Smith suits and bow ties. Afterward, guests would walk to raw-food restaurant Pure Food and Wine (212-477-1010; from $8,000), where they would be greeted with Mexican beer, watermelon-juice-and-Champagne cocktails, and Latin jazz band Arturo O'Farrill Quintet (212-353-0855; from $2,500).The tables would be dressed in crisp linens and centerpieces by Poppies & Posies (347-709-0762; from $250). Frida, meanwhile, would head to nearby dog spa Wiggly Pups. After lunch, there'd be dancing by the jukebox and cake from Per Se, where Chavez once interned.
THE COUPLE'S VERDICT: They appreciated Sozmen's effort but worried she was trying too hard. "The acoustic flamenco, Latin jazz band, and Mexican beer almost borders on cliché," says Buchmeyer. The Paul Smith suits, however, are perfect (minus the bow ties), as was Sozmen's idea to send Frida to a doggy spa.
COUPLE NO. 2
Janice Goldberg, 57, and Susan Darrow, 60
WEDDING WISHES: Playwright Goldberg (left) and real-estate agent Darrow met in Ocean City, Maryland, as young waitresses out for an after-work, tequila-fueled walk on the beach. Thirty-two years later, they are imagining a beachy—and similarly boozy—fall wedding. Says Goldberg, "[We want] our friends to walk out saying, 'Oh my God, my feet hurt from dancing, and I'm drunk as a skunk!' "
BUDGET: $15,000 

GUESTS: 100
THE PLANNER: Bernadette Smith, owner of gay-planning firm 14 Stories (646-580-1270)
HER VISION: Smith thinks a Fire Island rental would better accommodate Goldberg and Darrow's personalities and budget than a traditional function hall, with one caveat: "Cut your guest list to 50." Tents are expensive, and so are portable dance floors, making a beach club out of the question. Smith also suggests skipping the formal ceremony by having all but the oldest guests stand and establishing fire as a theme, using a fire pit and tiki torches for ambience. Catering company the Raging Skillet (212-463-0872; from $130 per person) would serve hors d'oeuvre and staff the bar. The couple could bring their own liquor, Smith notes, which is both fun and economical: "When the bar 'closes' and the staff leave, you get to keep going."
THE COUPLE'S VERDICT: "Argh, that really is tough love," says Goldberg. "We don't know that we could cut the guest list that much." But she and Darrow do like the fiery theme and the location.
COUPLE NO. 3
Bianca Kosoy, 40, and Lauren Rodolitz, 32
WEDDING WISHES: As a public-relations guru, Rodolitz is used to planning big events, while Kosoy (in the hat), executive creative director for Equinox, is a professional aesthete; their Labor Day wedding, therefore, must be exactingly executed. They picture a raw space with a high-low feel ("like expensive Champagne in rusty buckets," says Kosoy); good food and wine; and a "cool chuppa, no flowers." In fact, "nothing too 'wedding,' " insists Kosoy, though Rodolitz wants enough alcohol to get her bride on the dance floor.
BUDGET: $50,000
GUESTS: 100
THE PLANNER: Event designer Colin Cowie (212-994-2000)
HIS VISION: Cowie suggests Blue Hill at Stone Barns (914-366-9600; prices upon request) in Pocantico Hills, N.Y. The ceremony would take place at dusk under a chuppa dressed with hanging candles; guests would perch on ottomans as Rodolitz walks a serpentine aisle ("less conventional, more intimate," says Cowie). Dinner, a Tuscan-inspired feast that includes magnums of Italian wine, would be served family-style at two long tables. For dessert: individual-size wedding cakes, with dancing to follow, D.J.-ed by Donna D'Cruz (rasaliving.com; prices upon request). That's when the real fun would start: "Vodka, coffee, and chocolate shooters to keep the dancing going!" says Cowie. "Can I get an invite?"
THE COUPLE'S VERDICT: "He nailed it," says Kosoy. "We especially love the long wooden tables and family-style dining."