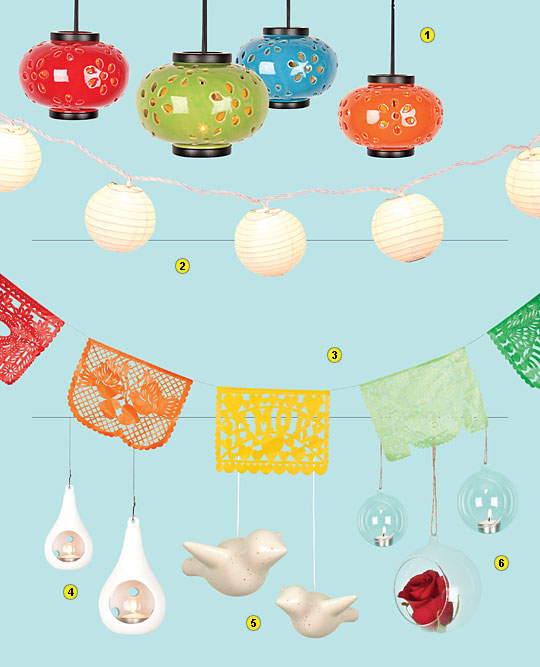 1. Ceramic lanterns
$18 at the New York Botanical Garden shop, Bronx River Pkwy at Fordham Rd., the Bronx; 718-817-8869.
Alternate colors or stick with a scheme, then fill with flickering tea lights.
2. Paper lanterns
$15 at Pier 1 Imports, 191-24 Northern Blvd., at 191st St., Flushing; 718-353-8945.
A few of these softball-size lamps will cast a warm glow over the dance floor.
3. Colorful flags
$12 at La Sirena, 27 E. 3rd St., nr. Second Ave.; 212-780-9113.
Laser-cut paper banners suggest prayer flags or taco trucks, whichever you prefer.
4. Votive pods
$17 at Sprout Home, 44 Grand St., nr. Kent Ave., Williamsburg; 718-388-4440.
Cluster a few ceramic teardrops over the altar as a reminder that it's okay to cry.
5. Perch! Stan birds
$24 at Foxy & Winston, 392 Van Brunt St., nr. Dikeman St., Red Hook; 718-928-4855.
These fowl are nondenominational, but they'd look lovely nesting in a chuppa.
6. Glass bubbles
$9 to $24 at West Elm, 112 W. 18th St., at Sixth Ave.; 212-929-4464.
Hang them from the ceiling filled with your mood setter of choice.
Photographs by Danny Kim