Couple No. 1:
The Up-Close and Personal
"Violet and David are deeply interested in the lives of the people around them," says Michael Davidson, who officiated the wedding of his step-daughter Violet Gaynor to David Nugent. "We have to be continually reminded that coincidences are rarely random." Both Violet and David referenced each other's favorite fruits and The Smiths.
Violet to David:
You are the man of my dreams.
Standing here with you now is exactly where I was always meant to end up.
Nothing has ever felt so right.The words I engraved inside your wedding band are the same ones I vow to you today: "Let's go where we're happy."
No matter where that may be, or how we get there, I promise to always be by your side.
I also promise to peel your clementines and play with your hair at night to help you fall asleep.
David, you have an amazing heart.
And I'm constantly blown away by the love you share with me, your family, and anyone who is lucky enough to be close to you. I am so honored to share my life with you.

David to Violet:
I vow to take care of you, to provide, support, and protect you in all the ways that you need and deserve.
I vow to continue, as a non-mango eater, to try to find the sweetest, ripest, and best mangoes out there for you to eat each night when you get home.
I vow to be by your side, to be your partner, but to let you continue to grow into the person that you want to be.
I vow to be a warm and nurturing father to the children I so look forward to raising with you.
I was so happy when I picked up my ring at the jewelers and found that you'd had it inscribed with a line from our favorite Smiths's song: "Let's go where we're happy." I'd like to end by adding another line from a song by The Smiths: "There is a light and it never goes out." That light is in your heart, Violet, in your kindness, your love for life, and for others. And it never will go out. It's a light that brightens any room into which you glide, and every night that you walk out into. I count myself so lucky that it will shine upon me every day for the rest of our lives.
Couple No. 2:
The Sing-Along
"The bride and groom asked if they could sing a song," says Dr. Scott Black Johnston, senior pastor at the Fifth Avenue Presbyterian Church, who officiated the wedding of Lizzie Elston and Thomas Cannell. "I cautioned them that spontaneous singing, coupled with wedding-day jitters, might be risky. They persisted. I relented. I'm so glad I did. Everyone sang—grandpas, mothers, and friends. People played guitars. Tears ran down people's faces. When it was over, there was luminous silence. And then they gave each other wedding rings."

"The Book of Love" by the Magnetic Fields
The book of love is long and boring
No one can lift the damn thing
It's full of charts and facts and figures
And instructions for dancing

But I, I love it when you read to me
And you, you can read me anything

The book of love has music in it
In fact, that's where music comes from
Some of it is just transcendental
Some of it is just really dumb

But I, I love it when you sing to me
And you, you can sing me anything

The book of love is long and boring
And written very long ago
It's full of flowers and heart-shaped boxes
And things we're all too young to know

But I, I love it when you give me things
And you, you ought to give me wedding rings
I, I love it when you give me things
And you, you ought to give me wedding rings
Couple No. 3:
The Children's Book
"What could be better than celebrating what is 'real' in a relationship?" says the Rev. Mary L. Foulke, a senior associate at The Church of St. Luke's in the Fields, who officiated the wedding of Scott MacDougall and Michael Angelo. "On a day that can become more about the show, Scott and Michael made it 'real' in every way."
From The Velveteen Rabbit by Margery Williams
"Real isn't how you are made," said the Skin Horse. "It's a thing that happens to you. When [someone] loves you for a long, long time, not just to play with, but REALLY loves you, then you become Real."

"Does it hurt?" asked the Rabbit.

"Sometimes," said the Skin Horse, for he was always truthful. "When you are Real, you don't mind being hurt."

"Does it happen all at once, like being wound up," he asked, "or bit by bit?"

"It doesn't happen all at once," said the Skin Horse. "You become. It takes a long time. That's why it doesn't often happen to people who break easily, or have sharp edges, or who have to be carefully kept.

"Generally, by the time you are Real, most of your hair has been loved off, and your eyes drop out and you get loose in the joints and very shabby. But these things don't matter at all, because once you are Real, you can't be ugly, except to people who don't understand… once you are Real you can't become unreal again. It lasts for always."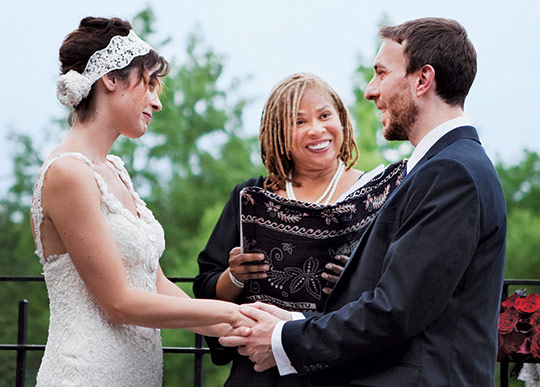 Couple No. 4:
The Translation
"At the wedding of two Italian nationals at Belvedere Castle in Central Park, I gave the vows in English, and they repeated them to each other in Italian," says Kim Kirkley, an interfaith minister and celebrant who officiated the wedding of Andrea De Marco and Teodora Altomare-De Marco. "Italian is such a beautiful language, so it was incredibly romantic. It really set them apart as a couple. Their vows were heartfelt and not at all standard. They recognized that life is about changing together, not changing one another. I really valued them for that."
I, Andrea/Teodora, take you, Teodora/Andrea, to be my beloved wife/husband
(Io, Andrea/Teodora, prendo te Teodora/ Andrea come mia moglie/marito).
To stand with you in the light that is our love
(per vivere con te nella luce del nostro amore)
To honor you, to change with you
(per celebrarti, per cambiare insieme)
To open the windows of my heart
(per aprirti le porte del mio cuore)
To share my life openly with you
(per condividere apertamente la mia vita con te)
To be with you always
(e rimanere sempre al tuo fianco)
I promise you this now and forever.
(Questa e' la mia promessa, oggi e per sempre.)