From Aisle to Isle
Islands where you crazy kids can kayak with beluga whales, bathe in a cenote, or just lie out by the infinity pool.
IPO Pipe Dream: Tetiaroa, French Polynesia
For decades, Tetiaroa belonged to Marlon Brando. Before him, it was the playground of choice for Tahitian royalty. And no wonder: 12 lush motus ringed with white-sand beaches encircle a sparkling lagoon teeming with sea turtles, Technicolor coral, and 167 species of fish. Brando was an early advocate of sustainability, pioneering seawater air-conditioning systems and dabbling in renewable energies. When Brando died, his estate sold the property to a hotelier; as of July, it's finally open to the public. Starting at $4,065 a night for a one-bedroom villa, the Brando caters to the jet-set elite. Each 1,033-square-foot mini-paradise has an outdoor bathtub and plunge pool. Daily spa treatments are on the house, as is use of Polynesian outrigger canoes, paddleboards, and snorkeling equipment. Though it feels light-years from nowhere, the island is actually just 30 miles north of Tahiti; the resort picks up and delivers guests via private plane in Papeete. And true to Brando's vision, the new villas are built using locally sourced timber and palm fronds, with energy derived from solar power and coconut oil. But lest you, a mere mortal, think you can splurge on just one grand evening here, know this: There's still a three-night minimum stay.
---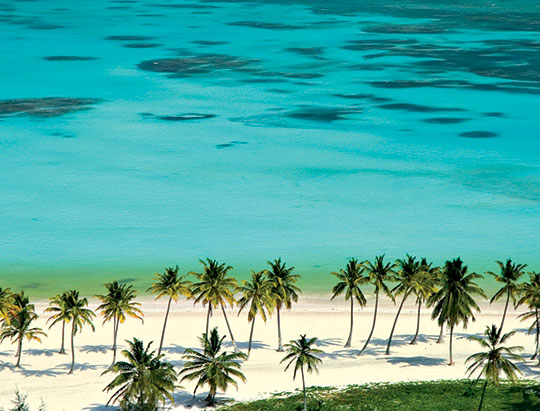 No-Need-to-Think Getaway: Punta Cana, Dominican Republic
Some resorts lure you in and never let you go—and that's just fine when you've spent the last 8,765 hours of your life planning a wedding. At Relais & Chateaux's Eden Roc at Cap Cana in Punta Cana, the "Romance Getaway" package (from $894 for a garden-view suite, based on a minimum four-night stay) includes a bottle of bubbly on arrival, breakfast every morning, dinner at one of two chichi restaurants, and a moonlight couple's massage on the beach. That's assuming you even leave your room: Each of the 34 freestanding suites is kitted out with a plunge pool and outdoor shower; inside, it's all goose-down duvets and marble Jacuzzis. Tear yourself away to take a surfing lesson with a Macao Surf Camp instructor or head to Scape Park, where you can zoom above the treetops on a zip line or go for a dip in Hoyo Azul, a cerulean cenote at the bottom of a cliff. Another day, slide behind the wheel of a complimentary golf cart and putter down to Juanillo Beach, where you can dig your toes into the powdery white sand, pull out a book, and do a whole lot of nothing.
---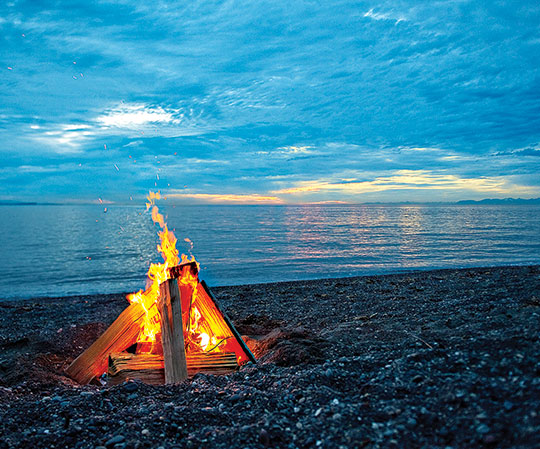 Gastronomic Mecca: Lummi Island, Washington State
Yes, you can look for bald eagles and whales on Lummi Island. But let's be real: You came here for the food. Noma-trained chef Blaine Wetzel has made Willows Inn on Lummi (from $125), located just off the northwestern coast of Washington State, one of those must-do foodie pilgrimages. (That Wetzel won the 2014 James Beard Award for Rising Star Chef of the Year won't make locking down a table any easier. The main dining room tends to be closed in January and February; for other fall and winter months, reservations should be booked as far ahead as possible.) The preset meal lasts up to three hours and takes seasonality and locavorism as core tenets. Most of what you see on the plate is "fished, foraged, or farmed" from whatever looks good that moment on Lummi and its surrounds. (The most popular dish in fall is the smoked salmon.) Once in a food coma, retire to your room in the inn proper or sip wine on the terrace of a more secluded cottage. The following day, take a guided, foraging-themed kayak trip through the island's tide pools, hike to the top of Baker Preserve for a grand view of the San Juan Islands, or get your city fix by heading to Seattle. The five-minute car ferry goes to Gooseberry Point, a two-and-a-half-hour drive from the city.
---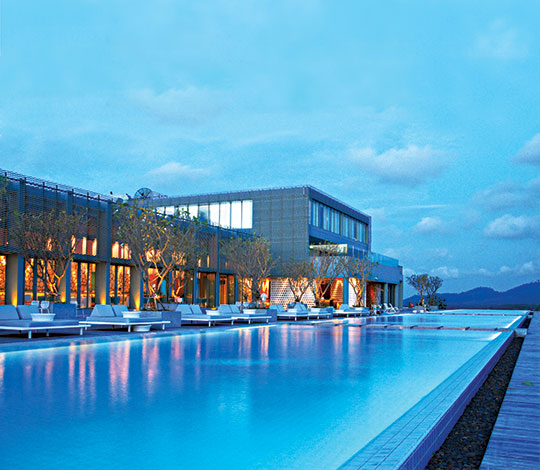 Living Postcard: Phuket, Thailand
Though certainly not immune to it, Phuket feels somewhat removed from the political turmoil that has wracked Thailand this year. Plenty of tourists have turned their backs on the Land of Smiles; don't be one of them. Diversions of every stripe await on the country's biggest isle: diving with docile leopard sharks at Shark Point; gawking at Wat Chalong, the island's biggest Buddhist temple; and catching a Muay Thai boxing match at Patong Boxing Stadium. Or forget all that and just hunker down at the brand-new Point Yamu by COMO (from $274), a 106-room resort with 27 villas, all decked out by Italian designer Paola Navone. Days here can be spent floating in the 100-meter infinity pool, indulging in an exfoliating massage and bath in the on-site Shambhala spa, or poking around the snorkeler-friendly reefs and towering limestone karsts of Phang Nga Bay.
---
Arctic Experience: Somerset Island, Nunavut, Canada
Talk about remote. Guests of the Arctic Watch Wilderness Lodge take a charter plane from already-­middle-of-nowhere Yellowknife in Canada's Northwest Territories to uninhabited Somerset Island in Nunavut, some 500 miles north of the Arctic Circle. The joy, of course, in being so far off the map is getting up close with Mother Nature. In the course of a weeklong "Discovery" safari (from $7,338 per person, all-­inclusive), comb the tundra for polar bears; kayak among icebergs, belugas, and seals; rumble ATVs along the shores of the Northwest Passage; hike trails littered with prehistoric fossils; and catch char in gorgeous Inukshuk Lake. Trips only occur in June, July, and August (Hello, midnight sun!), but book months in advance; in typical ends-of-the-Earth fashion, the lodge only accepts 26 guests at a time.
---
Envirofreak Fantasy: Santa Cruz Island, the Galápagos
Like visiting the Eiffel Tower or climbing Mt. Kilimanjaro, a trip to the Galápagos is a bucket-list endeavor. Thanks to the all-inclusive Pikaia Lodge (from $3,230 per person for three nights), you can now check out the protected marine reserve in ecoconscious fashion. Opening this October on a slip of land between two extinct volcanic craters, the 14-room resort is the first carbon-­neutral accommodation here, powered entirely by solar and wind energy. Its restaurant, meanwhile, emphasizes local ingredients. There's a yacht and wet suits for day tours and separate live-aboard options for more remote dives, plus guides to walk you through whatever marine life (manta rays, giant tortoises, sea lions) you might encounter along the way.
---
Thriller Down Under: Queenstown, South Island, New Zealand
Both the North and South Islands of New Zealand are famed for their natural wonders, but Queenstown is the de facto adrenaline capital of Middle Earth. Here, you can bungee jump with AJ Hackett, hurtle on a jet boat through the Shotover River Canyon, or 'copter over mind-bogglingly beautiful Milford Sound. If spending your honeymoon with your stomach on the floor doesn't appeal, tour the wineries of Central Otago and grab a table at Rata, helmed by Michelin-star chef Josh Emett. Whatever you do, book yourself into Aro-Ha, (from $3,605 per person) or the Matakauri Lodge (from $505). The former is an all-inclusive wellness retreat incorporating Vinyasa yoga and vegetarian cuisine. The latter is situated on the banks of the alien-blue Lake Wakatipu. Of the dozen suites, eight are stand-alone cottages with terraces.
---
Anti-Ibiza: Minorca, Spain
The hordes can have glossy Majorca and party-central Ibiza. Minorca is the dark horse of Mediterranean escapes—the smallest, sleepiest, and arguably most special of the Balearic Islands. (The whole place is a UNESCO biosphere reserve.) Settle into one of six rooms at Hotel Ses Sucreres in central Ferreries (from $116), a converted 1844 manor house with walls displaying contemporary art and daily breakfasts of pastries and jam. There are no TVs, which is just as well: Order a picnic basket, grab two bikes, and pedal to one of Minorca's countless beaches (Cala Mitjana, Son Saura, and Binigaus are all stunning). If you tire of cycling, motorbike your way from villa to villa or bump along the ancient Camí de Cavalls trail on a horse. Or just head back to Ferreries and toast your savviness at avoiding tourists over a pair of pomadas (Minorcan gin with lemonade).
---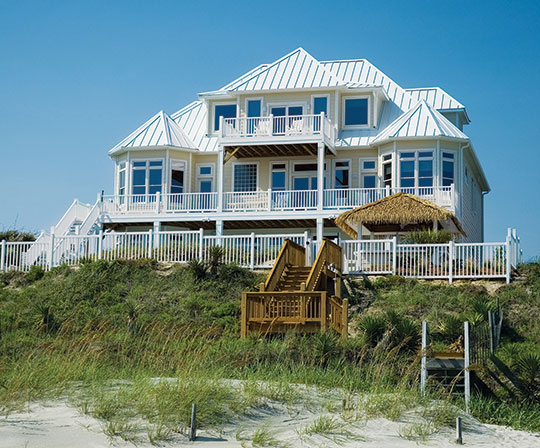 Dixie-fied Hamptons: Southern Outer Banks, North Carolina
Think of North Carolina's Crystal Coast and its quaintly named townships (Salter Path, Pine Knoll Shores, etc.) as a less pretentious, more genteel Southampton. In this neck of the barrier islands, the looming beachfront mansions (a.k.a. "sand castles") are the stuff of legend. Can't fill eight bedrooms? No problem. Beach bungalows abound; book one by the week via Emerald Isle Realty or Bluewater Vacation Rentals. The goings-on are as chill (bird-watching on Carrot Island, strolling the dunes at sunset) or thrilling (shipwreck diving, parasailing, jet-packing) as you choose. The two nonnegotiables: tucking into a catch-of-the-day plate at Amos Mosquito's in Atlantic Beach, and Instagramming a couple thousand photos of your newlywed selves at Core Banks' iconically checkered Cape Lookout Lighthouse.
---
Arabian Exploit: Socotra, Yemen
No, the U.S. State Department does not want you visiting Yemen right now. And no, Socotra isn't for everyone. But for daring newlyweds willing to fly into Sana'a and then skip over to Hadibo (a village that is home to the island's only airport), an experience like no other awaits. To­yemen founder Mohammed Hareth has been running private tours to this speck of land in the Arabian Sea since 2007. He offers a choice of two all-inclusive packages: "Comfort" (from $510 per person for four days) and "Adventure" (from $390 per person for four days). In the former, you travel via 4x4 with an English-speaking guide and hole up in conventional accommodations; in the latter, it's all camel rides, sandboarding (the desert version of snowboarding), and camping out under the stars. Both packages include three meals a day, plus airport transfers and entrance fees. On the itinerary: visits to pristine (and virtually tourist-free) beaches like Dilisha and Qalansiyah, a whirl through an unspoiled forest of dragon-blood trees on the Dixam Plateau, and plenty of interactions with Socotris, including the opportunity to cook local food.
---
Europhile Retreat: Île de Ré, France
Paris is so … predictable. Why not honeymoon as the well-heeled Parisians do by joining the scores of French who descend upon this three-mile-wide sliver of land off the coast of La Rochelle? Golf at Les Portes en Ré, queue for ice cream at Le Martinière, and boutique hop in the capital of Saint Martin de Ré. For an unbeatable photo op, climb the rickety stairs of the Vue Panoramique Depuis le Clocher de L'eglise. Another 257 steps await at Saint Clément des Baleines, one of France's tallest and most powerful lighthouses, which overlooks the wooded dunes of Plage de la Conche. At night, bed down in Villa Clarisse (from $288), a whitewashed 18th-century house with four rooms, five suites, and gardens galore. Swim in the heated pool or venture out on two wheels. The island is home to over 60 miles of designated bike lanes and more than enough beaches (La Couarde, Trousse Chemise) to get you tanned and tired.
---
New England Escape: Mount Desert Island, Maine
Though it's the largest island off the coast of Maine, its year-round population is about 10,000. Visit in winter for snowmobiling, dog sledding, and ice fishing, or save the honeymooning till summer, when galleries in downtown Bar Harbor open and you can make use of the adults-only infinity pool on the roof of West Street Hotel (from $169). To keep busy, sign up for rock-climbing lessons with Acadia Mountain Guides Climbing School or take your pick of hiking trails in Acadia National Park, home to the highest summit on the Eastern Seaboard (that'd be the 1,532-foot-tall Cadillac Mountain). Make the trek in the wee hours before dawn and you'll be among the first people in the U.S. to catch the rising sun.
---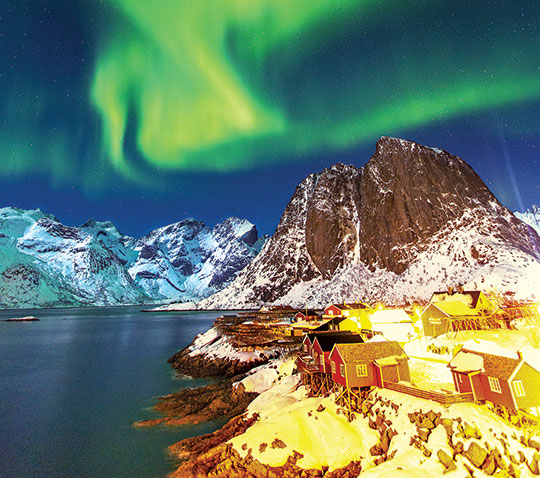 Scandi Sanctuary: Lofoten Islands, Norway
In a country where majestic fjords and rugged mountainscapes are as ho-hum as wheat fields in the Midwest, it means something when the locals call the Lofoten Islands epic. To reach this Norwegian archipelago, hop a flight from Oslo to Evenes and set out with a rental car. All told, the islands cover about 99 miles; make one of the cozy fishermen's cabins at Eliassen Rorbuer near Reine (from $133) your home base for biking, mountaineering, deep-sea rafting, and, in the winter months, chasing the elusive northern lights. (Each cabin comes with a full kitchen and complimentary rowboat.) From Reine, jump a ferry to Kjerkfjord, Moskenesøya, and then hike two hours to secluded Horseid Beach; BYO equipment, and the camping is free. Back in civilization, don't miss the intricately carved ice sculptures at Magic Ice gallery in Svolvær or Henningsvær's KaviarFactory, a contemporary-art museum operating in a defunct caviar plant.
---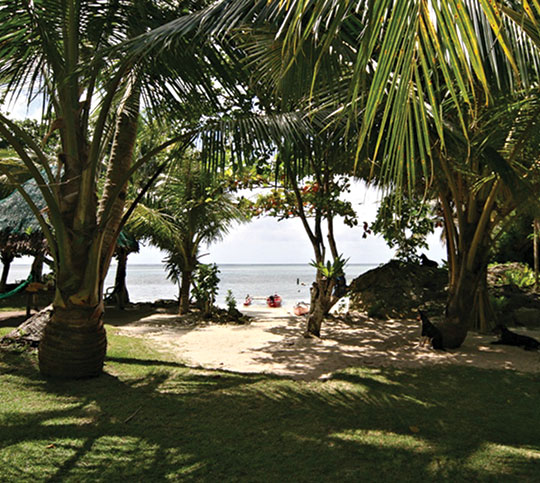 Diver Dream: Palau, Micronesia
Two words: Jellyfish Lake. That's right, the Rock Islands in Palau are the only place on earth where you can safely snorkel with thousands of stingerless Mastigias and Aurelias. That natural wonder is just one of seemingly hundreds in this 586-island archipelago west of Micronesia; before-you-die Palauan dive sites include Blue Corner, Blue Holes, and Ulong Channel. At the so-called Milky Way natural spa, smear your body with a rejuvenating white sandstone mud. Hike to the otherworldly Ngardmau waterfall, zip-line 250 feet above the ground at the Palau Eco Theme Park, or simply head to the Jungle Bar in Palau Plantation Resort on Koror to sip fruity umbrella drinks. While the lodging there is excellent, you can get further out of Dodge by taking a 50-minute boat ride from Koror to Airai, then a 15-minute ferry to Ngellil, and checking into one of eight rooms at the Ngellil Nature Island Resort (from $150).
---
Equatorial Hideout: Fernando de Noronha, Brazil
The World Cup blitz through Brazil this past summer did little to raise the profile of this microscopic archipelago located 340 miles off the coast of Pernambuco. That's partly because it's so inaccessible (the UNESCO World Heritage site lets in only 246 tourists at a time, and all visitors must pay an environmental tax) and partly because, once discovered, everyone who visits wants to keep it a secret. Spiky cliffs, white sand, and crystalline waters are just a few of the selling points. Surf up-to-12-foot breaks or join a game of futevolley (hands-free volleyball) at Cacimba do Padre, visit the dolphin-breeding colonies at Baía dos Golfinhos, go off-roading in rented dune buggies, or BYO Champagne for a spectacular sunset at Conceição beach. To refuel, consider a bite at Brazilian midfielder Hernanes's Corveta Bistrô or pack a picnic dinner and hike to Baía do Sancho, one of South America's most storied beaches, which is accessible via a metal ladder wedged in the crevice of a rock. Note that only residents can operate businesses on Fernando de Noronha; the stellar four-room, family-­run Pousada Naiepe guesthouse (from $210) has a communal kitchen for use by guests.