THE RECEPTION GUIDE
The Traditional Wedding
In consultation with Claudia Hanlin and Jennifer Zabinski of The Wedding Library.

MEDIUM BUDGET
THE YALE CLUB
50 Vanderbilt Ave., at 44th St.; 212-716-2105; yaleclubnyc.org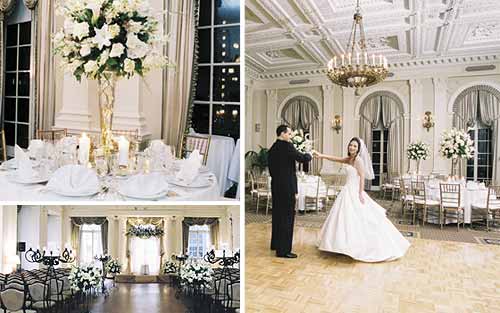 Photo by Jovon Photography
Location
If you're not a Yale alum, you'll need a "sponsor" to vouch for you, but membership has its rewards in personalized planning. Rental fees ($170 to $200 per person) cover luxury amenities like fine Rosenthal china, Schott Zwiesel stemware, and cloakroom attendants. Have your ceremony in the twentieth-floor grand ballroom, with its floor-to-ceiling windows, fluted columns, and Persian-style rugs. Enjoy cocktails on the rooftop terrace, then head back to the ballroom for dinner and dancing. If at any point in the night you and your beau want to sneak away, head for the mezzanine balcony to spy on your party from above.
Catering
To start off the cocktail hour, have tuxedo-clad club waiters greet guests with champagne and white wine, and serve eight passed hors d'oeuvre selected from an extensive list. You'll also get two stations: Options range from the standard carving table to a "tapas table" with dishes like Spanish tortilla. A nice choice for the main meal is the artichoke-and-tomato salad and veal chops-or stick with executive chef Charles Kehrli's version of surf and turf: filet mignon with scampi. For dessert, try the "Chocolate Obsession" (white-and-dark-chocolate mousse with opera cake) and the delicate lemon curd with hazelnut florentines. The Yale Club even provides a wedding cake.
Music
For cocktails, consider The Whiffenpoofs (from $3,500; contact Matthew McCauley at 877-597-4939), Yale's esteemed a capella group, the oldest collegiate one in the country. They'll come impeccably dressed in formal white tie. At the reception, turn up the energy with the band Uptown Mix from Vali Music (201-768-9100). Led by Jimmy Vali, this group features twelve musicians, plus two male and two female vocalists. They'll perform in forties-style white dinner jackets and play big-band tunes from Glenn Miller and Artie Shaw. At $15,000 to $20,000, they are a bit of a splurge but worth it for the added stage presence and effect.
Flowers & Décor
Achieve the classic Belle Epoque look with rich colors like crimson and chocolate. Match these with silver trophy urns and dark velvet tablecloths. For the ceremony, look to paintings by the old Dutch masters to inspire you. Create displays of beautiful still lifes with clusters of small pears and champagne grapes. Make sure the glow from the wall sconces and chandeliers is soft. Add pin spots on centerpieces to highlight their detail and a pink wash on the dance floor. Consider splurging to up-light the fluted pilasters (from $3,500, Bentley Meeker; 212-722-3349). Pull back the drapes to reveal that Beaux Arts landmark: Grand Central Terminal.