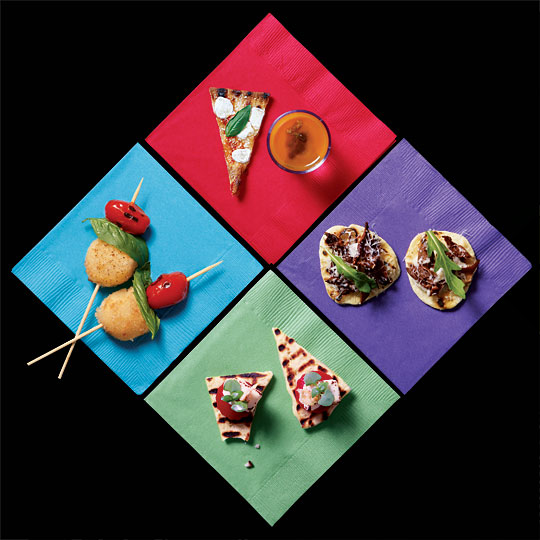 Pizza
Clockwise from top: Tomato "sauce" soup with basil oil served with grilled pizza dough, tomato, buffalo mozzarella, pancetta, and basil, by Abigail Kirsch; mini thin-crust pizza with porcini mushrooms, baby arugula, Parma ham, white truffle oil, and garlic cream, by Sonnier & Castle; grilled pizza dough crust topped with brûléed mozzarella, a marinara sauce sphere, and crumbled freeze-dried garlic, by Sterling Affair; fried mozzarella, basil leaf, and roasted cherry tomato on skewer, by Mary Giuliani Catering & Events.
Burgers
Clockwise from top: Tuna burger with sun-dried tomato, wasabi paste, herb cheese, and cucumber, by Peter Callahan of Callahan Catering; bánh mì slider with sweet and spicy pork belly, pickled vegetables, ginger-chili mayo, and cilantro, by Abigail Kirsch; beef short-rib burger with roasted summer vegetables, topped with fried shallots, by Sonnier & Castle; braised Kobe short-rib burger stuffed with aged Cheddar cheese, topped with crisp pork belly and Thousand Island dressing, on a Cheddar gougère, by Sterling Affair.
Mac 'n' Cheese
Clockwise from top: Spicy mac 'n' cheese with guacamole and chipotle crème served in a mini-taco, by Mary Giuliani; Parmesan tuiles topped with macaroni, Cheddar, Parmesan, Cotswold cheese, and lobster, with a parsley garnish, by Peter Callahan; fried panko-rolled truffled mac 'n' cheese dusted with Parmesan, by Sterling Affair; wild-mushroom and mac 'n' cheese lollipop fritter with truffle aïoli, by Abigail Kirsch.
Fried Chicken
Clockwise from top: Pretzel-crusted free-range chicken drumette with sweet potato fries, by Abigail Kirsch; crispy chicken cracklings topped with diced buttermilk-fried chicken and tomatillo salsa, by Peter Callahan; buttermilk-marinated "fried chicken roll" filled with homemade mashed potatoes, by Sterling Affair; buttermilk-fried chicken bites topped with white Cheddar grits and scallion, by Sonnier & Castle.