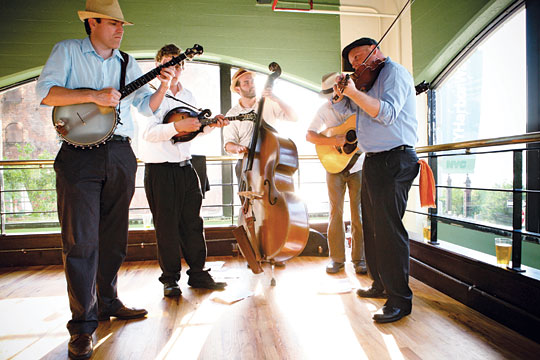 If you like… The Beatles' "I Saw Her Standing There" and Michael Jackson's "Don't Stop 'Til You Get Enough"
Then hire: Aria Melody D.J. (from $1,475; ariamelody.com)
Here's why: "A lot of D.J.'s want to be the center of attention, telling bad jokes on the mike," sighs John Sinclair, who founded Aria Melody D.J. with his brother Paul in 2005. Owen O'Mahony joined the crew in 2010, and to date the trio has D.J.'ed venues as varied as the W Hotel, Le Parker Meridien, and the Hoboken Yacht Club. Says John, "We give clients complete control over the playlist so the music is a unique reflection of them, not us."
If you like… Bob Marley's "Stir It Up" and UB40's "Red Red Wine"
Then hire: Reggae Stars (from $3,500; startalentinc.com)
Here's why: "Hearing them sing is like being right by the pool in Jamaica. You can close your eyes and imagine you're in the islands," says Michael Taylor, owner of Star Talent Inc., the group's booking agency. Concerned about authenticity? Don't be. The twelve-year-old band includes a steel drummer and three vocalists (who sing in reggae, calypso, and Latin styles), with members hailing from Trinidad, Jamaica, Saint Vincent, and Panama. The group has even jammed with Chaka Khan and Stevie Wonder.
If you like… Phoenix's "Lisztomania" and Montell Jordan's "This Is How We Do It"
Then hire: Colleen Crumbcake, founder of the PopShop collective (from $1,650; popshopdjs.com)
Here's why: "One of my strengths is building excitement on the dance floor and throwing in fun, forgotten nuggets that make people lose their minds," says Crumbcake, who spins regularly at Beauty Bar and Fontana's and played Karen O's 30th-birthday party. Her tastes run the gamut (indie rock, hip-hop, French pop, British Invasion), and though she never turns a mike over to a guest without a couple's prior approval, she once segued D.J. Kool's "Let Me Clear My Throat" into A Tribe Called Quest's "Scenario" while a guest rapped along.
If you like… Traditional bluegrass tunes like "I Wish I Was a Mole in the Ground"
Then hire: Strung Out String Band (from $2,000; strungoutstring band.com)
Here's why: Since 2001, this six-person acoustic ensemble has been playing old-timey southern music at dive bars, backyard barbecues, and runway shows. "We [use] fiddle, banjo, guitar, and, in the great tradition of those who came before us, anything we can get our hands on," says fiddler Nate Landau. Worried your guests won't know what to think when they hear that high, lonesome caterwaul? Landau says the group has never failed to move bodies—and one time inspired a wedding full of Marines to square-dance.
If you like… Yiddish swing, Israeli music, and Abba's "Dancing Queen" sung a cappella
Then hire: The Klezmer Connection (from $4,500; klezmerconnection.com)
Here's why: Despite the name, this conservatory-trained, Emmy-winning group rounds out its Jewish repertoire with classic rock, Motown, Dixieland, folk, even a cappella. Wedding receptions usually begin with a high-energy hora, followed by contemporary American songs, though anything goes. "We once did a huge, tented wedding in the Hamptons; the bride was Hindu and the groom a Polish Protestant," says bandleader Michele Levine. "They both just really liked klezmer."
If you like… Lady Gaga's "Bad Romance" and The Cure's "Just Like Heaven"
Then hire: Gotham D.J. (from $3,500 for Anderson, from $2,000 for an associate; gothamdj.com)
Here's why: "I'm comfortable spinning a left-of-center reception for a Lower East Side indie-rock couple or an extravagant wedding for a billionaire's daughter—and I've done both," says Gotham's Andy Anderson, a one-time Roxy resident who played Andrew W.K.'s wedding in 2008. His jack-of-all-trades approach generally involves Top 40 hits, funk, hip-hop, and crowd-pleasing eighties.
If you like… Irving Berlin's "Cheek to Cheek" and Jerome Kern and Dorothy Fields's "The Way You Look Tonight"
Then hire: Michael Arenella & His Dreamland Orchestra (from $2,500; dreamlandorchestra.com)
Here's why: "We represent an era when romance ruled," says Arenella of his swanky 1920s-style ensemble, which can feature up to twelve members. The big-banders have gigged the festive Jazz Age Lawn Parties on Governors Island, as well as the Guggenheim, Plaza Hotel, and Waldorf Astoria. "It's about manners and old-world decorum," says Arenella of his crew's genteel approach. "Just don't think we're square—we're still hot jazz musicians!"
If you like… Consuelo Velázquez's "Bésame Mucho" and Vicente Fernández's "Mujeres Divinas"
Then hire: Mariachi Citlalli (from $550; mariachinewyork.com)
Here's why: "Mariachi music is more than 'The Mexican Hat Dance,' " says bandleader Jerry Navarrete, whose quartet has played for Conan O'Brien and former first lady of France Cécilia Ciganer-Albeniz. "We make the bride happy by delivering a serenade while she gets ready," says Navarrete. "In the Latino community, that is seen as a sign of love and reassurance from the groom."
If you like… Bob Sinclar's "Love Generation" and Gorillaz's "Dare"
Then hire: D.J. Dina Regine (from $3,500; djdinaregine.com)
Here's why: This self-taught D.J. has held residencies at the China Club and Limelight and is credited with helping introduce hip-hop to dance clubs. "I love so many styles; my musical vision has no boundaries," says Regine. "At one black-tie wedding, things were just too stiff," she recalls. So she threw on House of Pain's "Jump Around." "It was like the room exploded. There were full-length gowns flying in the air, and the grandparents were jumping all over the place!"
If you like… "Beware of the Boys" by Panjabi MC featuring Jay-Z, and M.I.A.'s "Paper Planes"
Then hire: D.J. $mall ¢hange (from $2,500; djsmallchange.com)
Here's why: "Some [D.J.'s] say they're eclectic, but I try to really live it," says James Dier, a.k.a. $mall ¢hange, who folds jazz, hip-hop, soul, reggae, punk, salsa, and more into his sets. The former music director of APT spins regularly at Rubulad and has done stints at Santos Party House and Bembe. "I can take a crowd on a musical journey, play them something new, or just give them what they know," he says.
If you like… Ella Fitzgerald's "All of Me" and Rita Indiana y Los Misterios' "Dulces Sueños"
Then hire: D.J. Johnny "Danger" Stuart (from $2,800; johnnystuart.com)
Here's why: "Ham belongs on a plate, not behind a mike," cracks Stuart, a veteran of the club scene (Palladium, Tunnel, Soho Grand). He plucks tracks from his 50,000-album-strong library and loves a good mash-up: Stevie Nicks versus Prince, James Brown versus Janet Jackson, and so forth. This works especially well at more traditional or ethnic weddings, when he combines, say, an Italian tarantella with hora music. Just watch out, warns Stuart: "The circle dancing can get really nuts!"
If you like… Vivaldi's Four Seasons and Coldplay's "Viva La Vida"
Then hire: Clinton String Quartet (from $2,800; clintonstringquartet.com)
Here's why: "We offer concert-hall-quality music at a reception-hall venue," says Michael Bosetti, first violinist in this conservatory-trained foursome. Handel, Bach, and Mozart figure among their most common requests, but they're not opposed to throwing down a tune from The Sound of Music or Fiddler on the Roof—or something totally unexpected, like the theme from Raiders of the Lost Ark.
If you like… Plastic Bertrand's "Ça Plane Pour Moi" and "Be Faithful" by Fatman Scoop featuring Crooklyn Clan
Then hire: D.J. Gaza (from $1,350; 74events.com)
Here's why: Gaza (né Gary Hoffman) takes his dance-floor inspiration from mash-up masters 2 Many D.J.'s and local parties like Negroclash. At Elisabeth Moss and Fred Armisen's 2009 wedding (R.I.P.) at the Foundry, "I had Amy Poehler doing a kind of Flashdance thing with her hair as her husband, Will Arnett, was dancing so crazy that a circle formed around them," recalls Hoffman. "Andy Samberg was literally on the floor, he was laughing so hard."