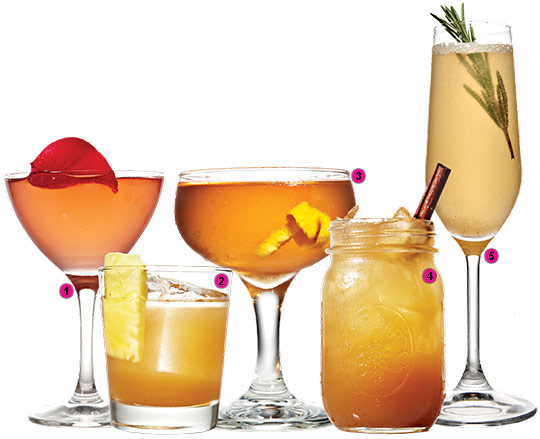 1. Gin
PDT's Rose-Tinted Glass
1 oz. Plymouth gin
1/2 oz. lemon juice
1/2 oz. Brizard Crème de Cacao
3 oz. 2006 Leopardi Brut Rosé Cava Llopart
Rose petal
1. Shake gin, lemon juice, and crème de cacao with ice and strain into a chilled coupe.
2. Top with Cava.
3. Drop in rose petal.

2. Whisky
Booker and Dax's Coriander Old Fashioned
2 dashes of Angostura bitters
1/2 oz. coriander syrup
2 oz. Yamazaki 12-year-old single-malt whisky
Pineapple spear
1. Stir together bitters, syrup, and whisky on ice.
2. Pour over a large rock of ice.
3. Add pineapple spear.
3. Bourbon
The Daily's Seelbach
1 1/2 oz. Elijah Craig 12-year-old bourbon
1/2 oz. Combier triple sec
2 dashes Peychaud's bitters
2 dashes Angostura bitters
2 oz. of Taittinger Champagne
Lemon twist
1. Stir together bourbon, triple sec, and bitters with ice and strain into a small coupe glass.
2. Top with Champagne.
3. Stir in lemon twist.
4. Spiced Rum
Sons of Essex's All-American L.E.S.
2 oz. Sailor Jerry rum
1/2 oz. cinnamon syrup
4 oz. warm apple cider
Dash of nutmeg
Cinnamon stick
1. Fill tumbler (or mason jar) with ice.
2. Add rum and cinnamon syrup.
3. Fill with apple cider.
4. Pour into shaker and joggle well.
5. Pour back into tumbler, top with nutmeg, and stir with cinnamon stick.
5. Tequila
Death and Co.'s La Esposa
1 1/2 oz. Tequila Centinela Reposado
1/2 oz. fresh lime juice
1/2 oz. cinnamon-bark syrup
1/4 oz. Grand Marnier
Splash of dry, white sparkling wine
Rosemary sprig
1. Combine all ingredients, except the wine, in a cocktail shaker.
2. Add ice and give a good hard shake.
3. Fine-strain into a Champagne flute and top with sparkling wine.
4. Swirl in rosemary sprig.