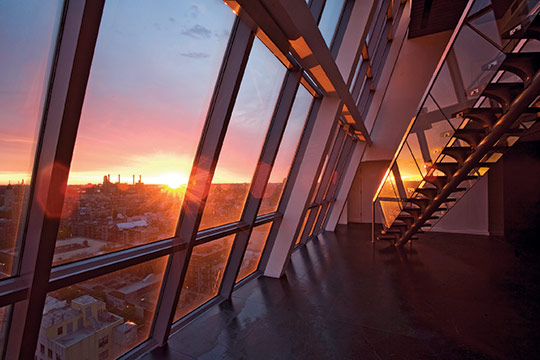 Downtown Vistas
The Glasshouses
These loft spaces located in the Chelsea Arts Tower practically redefine airy with their wraparound glass windows on three sides. "The Glasshouses has amazing views of lower Manhattan, the Hudson River, and the Upper West Side," says Joshua Brooks of the wedding planning company Fête NY. "At night, you feel like you're floating above Manhattan." The exquisite venue—actually a pair of similarly designed spaces—located on two separate floors has eleven- and fourteen-foot ceilings and a wide-open layout perfect for long, banquet-style tables or elaborately staged, multi-environment receptions. The 21st floor holds up to 110 guests for a seated dinner; the 14th floor up to 150—both can accommodate up to 200 for cocktails. Guests driving into town will appreciate the parking garage across the street. Prices upon request. 545 W. 25th St., at the Chelsea Arts Tower, nr. Tenth Ave.; 212-242-7800; theglasshouses.com.
Bridgewaters
The cobblestone streets and seafaring charm of the South Street Seaport serve as the backdrop to Bridgewaters, where you can go nautical in New York, even in the dead of winter. The views from the floor-to-ceiling windows and wraparound terrace include the stately old-fashioned boats docked in New York Harbor, the Brooklyn and Manhattan bridges, and the Wall Street skyline. Inside, dance under sweeping, vaulted ceilings, and dine on creative cuisine consistently praised by brides and planners. Holds 400 for seated dinner; 550 for cocktails. Prices upon request. 11 Fulton St., nr. Front St.; 212-608-7400; bridgewatersnyc.com.
Penthouse at the Hotel on Rivington
If you love the Lower East Side and want a venue that reflects true downtown style, there's really only one place to do it: The Hotel on Rivington. From the property's swanky penthouse, you see the best panoramas of the neighborhood in all its gritty glory. The sleek, modern décor and glass walls frame views of Williamsburg and the Brooklyn and Verrazano bridges. Wooden ceilings temper the bare, slightly futuristic aesthetic, and the multilevel space (with a dramatic floating staircase) is perfect for splitting the party between cocktails and dinner. Hosts 250 guests for cocktails; 125 for a buffet dinner; catering by the in-house brasserie CO-OP Food & Drink. Prices upon request. 107 Rivington St., nr. Ludlow St.; 212-475-2600; hotelonrivington.com.
By the River's Edge
Smack Mellon
This sprawling, industrial art space in the heart of Dumbo may not be the easiest place to host a wedding—you'll have to work around its exhibition schedule and bring in everything from tables and chairs to a caterer. But it's certainly one of the borough's most dramatic. The loft's arresting, elegant, yet unfinished, vibe makes it an artsy Brooklynite's dream. So do the 25 windows overlooking the East River, with the Manhattan Bridge stretching overhead. If the weather allows, take your photos at Brooklyn Bridge Park across the street (a permit may be required). Be sure to warn guests about the chilly wind that can accompany evenings spent close to the water. Holds up to 150 for a seated dinner; 249 for cocktails. Prices start at $4,000, plus a $3,000 to $4,000 membership fee. 92 Plymouth St., at Washington St., Dumbo; 718-834-8761; smackmellon.org.
River Café
This restaurant on the Brooklyn waterfront has been delighting couples for 36 years. It's old New York at its finest, and the greenery-filled terrace room boasts an unparalleled panoramic view of the Brooklyn Bridge and Manhattan's skyline across the river. What's more, the food is far less traditional than you might expect: Chef Brad Steelman is a champion of fresh, local ingredients and regularly spins out inventive cuisine like yellowfin tuna with foie-gras stuffing and Wagyu steak tartare. Holds 100 for a seated dinner and dancing. Prices start at $275 per person. Catering is in-house. 1 Water St., at Old Fulton St., Dumbo; 718-522-5200; rivercafe.com.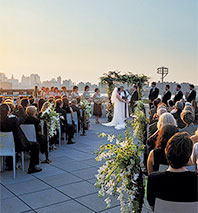 Abigail Kirsch at Stage 6
Brooklynites hoping for a local, yet lavishly traditional, reception with a great backdrop needn't look any further than this Steiner Studios facility at the Brooklyn Navy Yard. Both the enclosed rooftop of the repurposed movie-production studio, featuring two walls of floor-to-ceiling windows, and the adjacent terrace offer sweeping views of the East River, bridges, and the Manhattan skyline that are nothing short of breathtaking. The same could be said for the food, which is prepared by famed caterer Abigail Kirsch, creator of recent treats like parmesan cones filled with whipped goat cheese, topped with a scoop of tomato-basil sorbet. Holds 50 to 650 guests for dinner and dancing. From $125 per person. 15 Washington Ave., nr. Flushing Ave., Brooklyn Navy Yard; 718-237-1919; abigailkirsch.com.
Skylight West
"Skylight West is a multistory loft space, where brides and grooms can tent the roof and host a seated dinner atop Manhattan," says event planner Loulie Walker of Loulie Walker Events, based on the Upper West Side. "For a winter wedding, think clear-top tent with snow falling above." The 15,000-square-foot space is rendered in a palette of cool neutrals. Couples who start their weddings on the early side are rewarded with a gorgeous sunset over the Hudson River, flanked by views of both the Empire State Building and New Yorker Hotel. The rooftop holds 200 for dinner; 300 for cocktails. Studio with rooftop starts at $13,000. Catering is not included. 500 W. 36th St., nr. Tenth Ave.; 212-736-6200; skylightnyc.com.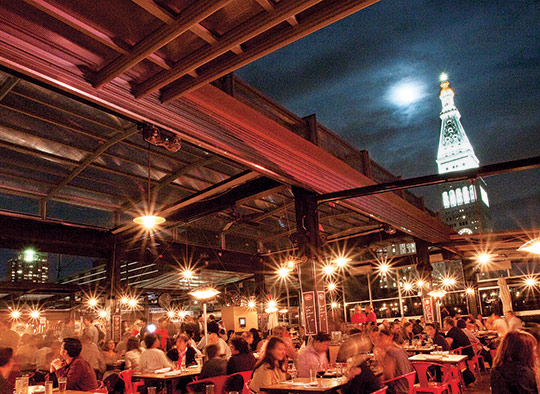 Flatiron and Gramercy
Gramercy Terrace at the Gramercy Park Hotel
The indoor-outdoor rooftop space at Ian Schrager's perennially cool, bohemian hotel has been an in-demand wedding venue since it opened in 2006—and thanks to a retractable-glass rooftop, it hosts events year-round. Guests enter through the hotel's cozy, fireplace-lit lobby and hop an elevator to the top floor, where they find an ethereal garden space with lush landscaping that evokes the feel of a chic country club in the sky (with northern views of the Empire State and Chrysler buildings and southern angles of One World Trade). Another perk to having your wedding here: Newlyweds will enjoy luxe wedding-night accommodations on the house, which include exclusive access to Gramercy Park. Holds 250 for cocktails; prices upon request. Catering by Danny Meyer's Union Square Hospitality Group. 2 Lexington Ave., at 21st St.; 646-898-3314; gramercyparkhotel.com.
Eataly's Birreria
Hosting a small reception for up to 150 beer-obsessed meat-lovers? The laid-back 4,500-square-foot Birreria atop Mario Batali's Eataly has become a must-hit destination for Italo-philes and brew-obsessives alike. For special events in the winter, a clear, retractable roof keeps the beer garden's exceptional views on full display. The pretty brick walls that line the rooftop outside hide much of the manic Manhattan action, leaving only a sweeping view of the night sky, crested by the dramatic Flatiron Building. "You can see Madison Square Park and the Empire State Building, plus you have the added bonus of having the Batali/Bastianich team as your in-house caterer," says Walker of Loulie Walker Events. Think house-made Tuscan-inspired blood sausage; salads awash in apple, fennel, and speck; perfectly grilled steak; and dessert options ranging from salted-caramel panna cotta to classic tiramisu. Holds 175 for a cocktail-style reception; up to 150 for a seated dinner. Catering by Mario Batali and Joe Bastianich. Prices upon request. 200 Fifth Ave., nr. 23rd St.; 212-539-0204, ext. 304; eatalyny.com/eat/birreria.
In the Heart of Town
620 Loft & Garden
There's an undeniable romance to the splendor of Rockefeller Center come holiday time. And if you're lucky enough to hold your reception between late November and early January, you can take advantage of one of the most dramatic winter wedding spots in the city. The beautifully manicured, indoor-outdoor space overlooks Fifth Avenue and St. Patrick's Cathedral. From the wall-to-wall windows inside the light-flooded Soho-style loft, guests can also take in views of the Rockefeller Center tree and the storied ice skating rink. A portion of the outdoor garden is tented and can be heated year-round. There's no in-house catering, but with a plum list of preferred vendors, you'll be in good hands. Holds 100 for seated dinner and dancing; 165 for cocktails. Prices upon request. 620 Fifth Ave., entrance on 50th St., seventh fl.; 212-593-9499; rockefellercenter.com/privateevents.
Empire Hotel Rooftop
What could be cooler than having your wedding in the shadow of the hotel's huge neon sign? Up on the twelfth floor, guests will be welcomed into an intimate, candlelit lounge decked out with plush, modern seating, dark-wood chairs, and tropical plants. Outside, there's a vast area with cozy nooks and chaise longues—all covered by a retractable-glass roof that allows the luminous views of Broadway and Columbus Avenue to shine through day or night. Seats up to 400 for a cocktail-style or buffet reception and dancing. Prices upon request. 44 W. 63rd St., nr. Columbus Ave.; 212-265-7400; empirehotelnyc.com.
Per Se
For unforgettable dining, you can't beat Thomas Keller's East Coast answer to Napa's famed French Laundry. His New York place devotes an entire wall to windows overlooking Central Park and Columbus Circle. Book the West Room, which accommodates 60 guests; the main dining room, which seats 75; or go all out and reserve the whole restaurant, which seats 135. Signature dishes include salmon cornets and Keller's famous oysters and pearls, a sabayon of pearl tapioca with Island Creek oysters and sturgeon caviar from Northern California. Prices upon request. 10 Columbus Circle, nr. 58th St., fourth fl.; 212-823-9349; perseny.com.
Studio 450
This subtly industrial penthouse duplex is in high demand, thanks to its spectacular views of the Hudson River and the Empire State Building. A bonus is its exceptional rooftop space, which features a glass "room" with a wraparound outdoor terrace. The loft's all-white interior walls move, so you can tailor the space to suit your vision. Note that party rentals and kosher catering are exclusive, and you'll have to pay a fee to bring in your own vendors. Seats up to 220 guests for dinner, 275 for cocktails; wedding-venue fees start at $6,000. 450 W. 31st St., nr. Tenth Ave., twelfth fl.; 212-290-1400; studio450ny.com.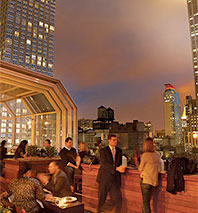 Top of the Strand
These days, many couples are skipping the seated dinner altogether. If cocktails and hors d'oeuvres are more your speed, check out the Top of the Strand. From this inviting, greenery-lined cabana-style aerie, the Empire State Building looks so close, it seems like you could touch it. In addition to the glass roof and alabaster bar, the space also features a new sound system and 65-inch flat-screen available for use (hello, home videos!). Capacity is 100. Pricing starts at $7,000 for three hours (hors d'oeuvres and drinks included), plus an 18 percent service fee; each additional hour costs $1,500. 33 W. 37th St., nr. Sixth Ave.; 646-368-6385; topofthestrand.com.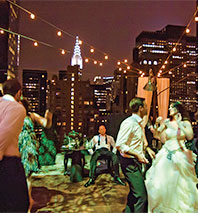 Upstairs at the Kimberly Hotel
Nothing says urban Art Deco fabulosity like a front-and-center view of the iconic Chrysler Building. Add to that a sleekly outfitted, 3,000-square-foot space with a retractable-glass ceiling and walls, and you've got a new venue that should soon rank among the city's best. Your guests take a private express elevator to the hotel's 30th-floor indoor-outdoor lounge, where they are regaled with offerings by Marcus Samuelsson–trained chef David Andrews. Worried about cool temperatures? Ask about the venue's heated floors (no kidding). Fits up to 250 for cocktails, and up to 110 for a seated dinner. Prices upon request. 145 E. 50th St., nr. Third Ave., penthouse; 212-702-1685; upstairsnyc.com.
Parks and Museums
Prospect Park Picnic House
Few venues offer so complete an escape from the city as this charming brick-and-glass-enclosed pavilion in Prospect Park. It's also one of few venues with a view that's better in the winter months: The surrounding lawns that play host to hordes of barbecuing families in the summer are blissfully empty come November and December, leaving you with unobstructed views of the park's rolling hills and trees that grow more magical with the addition of snow. There is plenty of room inside for a seated dinner and dancing. Sixty-inch tables and white-wood garden chairs are available for free, and there is a piano in-house. Guest parking is available at the Litchfield Villa, or you can take a short stroll through the park from the Third Street entrance on Prospect Park West. Holds 175 for a seated dinner; 250 for cocktails. Prices start at $3,500, plus a $500 refundable security fee. Catering is limited to a preferred list of fifteen caterers, including Great Performances and The Cleaver Co. West Drive nr. 5th St., Park Slope; 646-393-9031, ext. 2; prospectpark.org.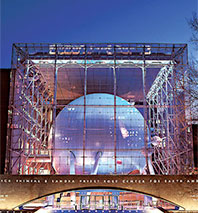 American Museum of Natural History
This New York City landmark offers surreal locations for both cocktail-style and seated receptions. Consider booking the acre-long tree-lined Arthur Ross Terrace for cocktails (it can hold up to 315 guests) and then moving indoors to the Powerhouse loft space for a seated dinner. The Powerhouse, which overlooks the Terrace and its inlaid reflecting pool, plus the Rose Center, has one of the most magnificent and thoroughly unique views in town. Powerhouse holds 300 for a seated dinner. Membership fee required. Catering by Restaurant Associates. Central Park West at 79th St.; 212-769-5350; amnh.org.