Brooklyn Grange
The View: The East River and downtown Manhattan
This 65,000-square-foot commercial farm overflowing with veggies and flowers comes with a bonus: a smashing twelve-story rooftop view of the lower Manhattan skyline. Amid the rows of cucumbers and heirloom tomatoes is a paved deck-and-patio area that can be tented and allows for side-by-side ceremonies and sit-down receptions with (or without) a dance floor for up to 150 people. Naturally, the venue's list of preferred caterers includes many top-notch restaurants to whom the farm supplies fresh produce (Roberta's in Bushwick, most notably). The spot can incorporate its own homegrown blooms into various flower arrangements for the big day.
Site fee ranges from $2,500 to $10,000. 63 Flushing Ave., Bldg. 3, nr. N. Elliott Pl., Brooklyn Navy Yard; 347-670-3660; brooklyngrangefarm.com.
Alice Austen House
The View: The Statue of Liberty, Verrazano Bridge, and all of lower Manhattan
Staten Island isn't the most obvious choice for a destination wedding, but the Alice Austen House, celebrating one of America's most prolific photographers, is an under-the-radar waterfront gem. The paved beach promenade—located at the bottom of the hill—is a perfect spot for a sunset cocktail hour after a ceremony (for up to 200 guests) in one of two meadows beside the house. While some couples set up tents on the lawn for traditional sit-down dinners, others arrange for more casual barbecues. Conveniently, there's a B&B next door. Site rental ranges from $1,600 to $2,000. 2 Hylan Blvd., Staten Island; 718-816-4506, ext. 10; aliceausten.org.
The Mayflower Grace
The View: Stately New England gardens
New Yorkers have long fled to Washington, Connecticut, for ritzy R&R at the Mayflower Grace. Come wedding time, couples can take over the resort and treat up to 150 guests to a weekend of festivities—kayaking, biking, hiking, and spagoing—in between the main events. The appeal here is twofold: aesthetic beauty (56 bucolic acres are lusciously landscaped with manicured lawnsand impressive gardens) and first-rate hospitality. Ceremonies are held in a handful of unique rooms and lunch or dinner is served in one of two restaurants: the more formal Muse, by Jonathan Cartwright, or the relaxed Tap Room. Site fees range from $125,000 to $150,000. 118 Woodbury Rd., Washington, Conn.; 860-868-9466; gracehotels.com/mayflower.
Gallow Green at the McKittrick Hotel
The View: From the Empire State Building to the Hudson River
From the team behind the immersive theater phenomenon Sleep No More, Gallow Green is a decadently overgrown garden atop the McKittrick Hotel. For ceremonies, brides can stroll down a canopied walkway spanning a vintage train track, enjoy cocktail hour downstairs in the Heath—an enclosed space designed as a train station frozen in 1939—and have the roof transformed into a dining room catered by in-house chef R.L. King. The venue's events team handles everything, so no external wedding planner is needed. For an extra $100 per person, your guests can experience Sleep No More before heading home. Costs range from $25,000 to $100,000. 542 W. 27th St., nr. Tenth Ave.; 212-564-1662; gallowgreen.com.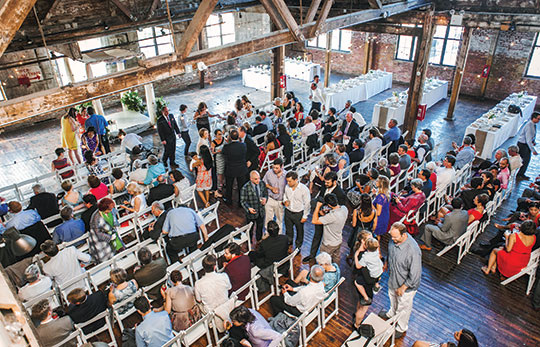 Greenpoint Loft
The View: The Williamsburg Bridge and East River
For the couple that dreams in DIY, the Greenpoint Loft, a converted pre–World War II warehouse, is all canvas and no restrictions. The main space is a raw 6,500 square feet with hardwood floors that can be covered with rugs for warmth or left bare for dancing. Ridiculously high ceilings can accommodate professional lighting or a thousand strings of sparkly LEDs. A lofted room, overlooking the main floor, opens onto a 1,000-square-foot step-out rooftop balcony, where guests can grab fresh air or have a smoke, with views across the East River. The site fee—from $4,000 to $6,000—covers twelve hours, as an install is necessary. 67 West St., nr. Noble St., Greenpoint; 718-310-3040; greenpointloft.com.
Buttermilk Falls Inn & Spa
The View: The Hudson River and waterfalls
In addition to the lush grounds and front-and-center Hudson River views, one of the main draws at this inn is farm-to-table restaurant Henry's at the Farm, helmed by executive chef Tom Muff, who handles all on-site catering. Weddings for more than 80 require a weekend buyout of the property (from $20,000), with accommodations for up to 54 guests in ten rooms, three cottages, and four guesthouses. Overlooking the river, the open-layout living room of River Knoll (the largest guesthouse) is a welcoming spot for a rehearsal dinner. A stone-paved hill adjacent to the inn serves as a prime waterfront spot for both ceremony and reception. An average 250-person wedding costs $60,000. 220 North Rd., Milton, N.Y.; 845-795-1310; buttermilkfallsinn.com.
Kontokosta Winery
The View: The Long Island Sound and Old Lyme, Conn., on a clear day
At Long Island's ecofriendly winery, an impressive wind turbine greets visitors before they take in the grand water views from their privileged perch on the Sound. Weather permitting, ceremonies are held on the waterfront bluff and a tented party (for up to 250) follows in the meadow or inside the Great Room (for up to 80), an ultramodern interpretation of a nineteenth-century barn. There, guests can enjoy a catered dinner and dancing under exposed steel beams and floor-to-ceiling windows. Thesite fee ranges from $12,000 to $17,500, not including catering, tent rental, security, and parking. 825 North Rd., Greenport, N.Y.; 631-477-6977; kontokostawines.com.
The Roof at Viceroy New York
The View: Central Park
Roman and Williams, the design firm known for its refined, nostalgia-tinged aesthetic, has put its signature stamp on the Viceroy Hotel Group's first local property. Weddings for up to 60 can be held on the outdoor rooftop with sublime views of midtown and Central Park. Executive chef Marc Murphy and his team downstairs at swanky Kingside handle all the catering. When you're ready to wind down, there's no need to travel far for the after-party: The restaurant is hopping until 4 a.m. Site rental ranges from $10,000 to $30,000. 120 W. 57th St., nr. Sixth Ave.; 212-830-8000; viceroyhotelsandresorts.com/newyork.
The River Café
The View: The East River and downtown skyline
Considered to have the most impressive view of the lower Manhattan skyline, the Brooklyn Bridge–abutting River Café recently reopened after repairing extensive Hurricane Sandy damage. As far as the restaurant layout is concerned, everything has remained the same. Most couples hold their ceremony on the restaurant's waterfront terrace, which can seat up to 110. (There's a 30-guest minimum Sunday through Friday and a 50-guest minimum on Saturdays.) This is typically followed by cocktails and a leisurely four-course lunch or dinner in the adjacent Terrace Room, with dramatic floor-to-ceiling windows. The majority of couples work without a wedding planner, as everything from flower arrangements to cake can be arranged in-house. $1,500 to $3,000 site fee. Lunch is $225 a person; dinner is $295. 1 Water St., nr. Whitehall St., Dumbo; 718-522-5200; rivercafe.com.
Gantry Plaza State Park
The View: The East River and midtown skyline
For a quieter alternative to Brooklyn Bridge Park, head to Long Island City's twelve-acre "front yard." Obtain a permit from the Parks Department, rent chairs, and invite up to 100 of your nearest and dearest to gather for a breezy fête on Pier 2. Though formal receptions are not allowed on the grounds (i.e., no tenting, cooking, alcohol, glass, balloons, or confetti), you're welcome to keep the celebration going by holding a casual picnic on the sprawling West Lawn (though a separate permit is required). From $830 to $1,630 for a permit, with any furnishings entailing an additional flat fee of $150. 4-09 47th Rd., nr. Center Blvd., Long Island City; 718-786-6385.
Fire Island Lighthouse
The View: Great South Bay lagoon
Lit for the first time in 1858 to guide ships into New York Harbor, the Fire Island Lighthouse still shines as far as 24 miles away. A wedding permit allows couples an hour and a half for a ceremony (including setup) on the Keepers' Quarters' terrace (no wiggle room due to public access), the use of 50 chairs and a sound system, and, of course, panoramic bay views. Rent a nearby house (there are plenty of options on VRBO) for post-dinner and dancing, or take the informal route and head over to Surf's Out, the casual beachside restaurant known for its annual pig roast, which the kitchen will happily replicate for your big day. $800 for a wedding permit. Burma Rd., Fire Island; 631-661-4876; fireislandlighthouse.com.
Smack Mellon Gallery
The View: The lower Manhattan skyline, flanked by the Brooklyn and Manhattan Bridges
Conveniently situated just a few cobblestone steps away from Brooklyn Bridge Park in Dumbo, this nonprofit arts organization hosts intimate weddings for up to 74 guests. Their 6,000-square-foot gallery room has soaring windows looking out on the East River, and the space itself offers a completely blank slate on which to impress your own creative vision. While the gallery has no outdoor component (and no air-conditioning, so consider arranging for it via a vendor), couples can head to the adjacent park for wedding photos and an alfresco ceremony. The site rental fee, from $3,000 to $4,000, is partially tax-deductible. 92 Plymouth St., at Washington St., Dumbo; 718-834-8761; smackmellon.org.
Locusts-on-Hudson
The View: The Hudson River and Esopus Meadows Lighthouse and Preserve
Surrounded by the Mills-Norrie State Park and the Hudson River on its western edge, this historic estate underwent a years-long restoration courtesy of star hotelier André Balazs. The luxe property is only available for weddings as a buyout, so guests can enjoy all the activities in one location without having to schlep elsewhere. (Up to 250 can join in the fun.) The fee grants you free reign over all 76 acres for four days and three nights, including accommodation in the eleven manor bedrooms for up to 21 guests; others can retreat to nearby B&Bs. A buyout is $60,000; external vendors are needed for everything, including catering. 135 Old Post Rd., Staatsburg, N.Y.; 212-965-4352; locustsonhudson.com.
Cove Place Inn
The View: The Great Peconic Bay
Tucked away in the small bungalow community of Aquebogue, Long Island, this family-run spot is the North Shore's best-kept secret: a simple inn on a private beach that you can take over with 60 of your closest friends and family. One option: Hold a welcome clambake on the shore, a barefoot ceremony on the sand, and your reception in the large backyard under huge oak trees. As the property is very informal, there are no vendor restrictions, but for catering check out nearby restaurants like North Fork Table & Inn or Noah's. $1,500 site fee, plus requisite two-night buyout of rooms ranging from $7,500 to $12,500. 15 Bay Ave., Aquebogue, N.Y.; 631-722-3212; coveplaceinn.com.
Grasmere Farm
The View: The Catskills
The oohs and aahs begin the moment you enter the half-mile-long driveway, which winds through oak trees to the big reveal: an 18,000-square-foot stone barn fronting 225 acres of open hayfields against a Catskill backdrop. Ceremonies typically take place on a lawn area adjacent to the barn, with a view to the southwest—perfect for sunsets. Dinner and dancing follow in the barn, which can seat up to 225. Site rental ranges from $12,500 to $15,000. The space is completely raw, so furniture, lighting, and bathroom facilities must be brought in. 29 Mill Rd., Rhinebeck, N.Y.; 845-876-2064; grasmerefarm.com.