If Your Party Is Small (8 to 10):
Rosemary's
18 Greenwich Ave., at 10th St.; 212-647-1818
The bright, airy space feels like a greenhouse, which is fitting, considering that, whenever possible, produce and herbs come from the restaurant's rooftop farm. Order a floral centerpiece for the table and, at $30 a person, a spread of antipasti, platters with Brussels sprouts and house-made sausage, and a prix-fixe entrée like smoked salmon on toasted focaccia.
Colonie
127 Atlantic Ave., nr. Henry St., Brooklyn Heights; 718-855-7500
The exposed-brick dining room, with its wood countertops and lush vertical garden, feels fresh enough for newlyweds but refined enough for in-laws. Brunch offers classics with artful twists, like duck hash with red-bliss potatoes and a poached egg. Prepare to wing it: Colonie doesn't take brunch reservations, and waits can be up to an hour.
The Queens Kickshaw
40-17 Broadway, nr. 41st St., Astoria; 718-777-0913
This casual, stylish spot offers two tables big enough for a small crowd. The kitchen—helmed by a Momofuku Noodle Bar alum—serves four varieties of pour-over coffee and several types of grilled cheese, not to mention brioche French toast with chili-cheese crisps ($12) and cocktails like the Agua de Astoria, made with hard cider and fresh OJ ($6).
If Your Party Is Midsize (11-20):
The Marrow
99 Bank St., nr. Greenwich St.; 212-428-6000
Brunch at Harold Dieterle's Italian- and German-inspired eatery includes dishes like baked eggs with cannellini-bean–and-bacon ragu and bratwurst with potato-cucumber salad. Dieterle himself will help create a meal (minimum $1,500) to be served in the private Wine Room, which seats up to twenty. Management also retains an on-call florist.
Kutsher's Tribeca
186 Franklin St., nr. Greenwich St.; 212-431-0606
Classic Jewish comfort food gets a fresh spin at Kutsher's. The menu proffers everything from matzo brei with berry compote to pastrami hash. Choose selections for a prix-fixe menu ($45 to $55 per person) or, in true nuptial spirit, go family style with smoked-fish platters, bagels and cream cheese, blintzes, and punch bowls of the spicy Gazpacho Mary.
Runner & Stone
285 Third Ave., nr. Carroll St., Gowanus; 718-576-3360
The lower-level private dining room at this bakery-restaurant can seat twenty. The baked goods are top-shelf, churned out by the former head baker at Per Se and Bouchon. Savory offerings include eggs Benedict over pancetta-wrapped fish cake and grappa-cured striped bass, and the French toast comes with a seasonal fruit topping (prix fixe, $30 per person).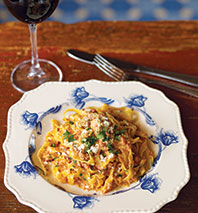 If Your Party Is Large (21 or more):
Al Di La Vino
248 Fifth Ave., nr. Carroll St., Park Slope; 718-783-4565
Al di La Trattoria's renovated bar next door seats up to 30. The staff can work with couples to plan a prix-fixe meal ($25 to $35 each) that features brunch standards like breakfast bruschetta and pork-belly hash with Brussels sprouts, plus wine, cocktails, and draft beer. The space is yours for the decorating, so BYO flowers and confetti to keep things festive.
Isa
348 Wythe Ave., at S. 2nd St., Williamsburg; 347-689-3594
Book the rustic second floor of Isa, and up to 36 guests can be seated around two giant tables, where family-style meals ($25 per person) consist of crowd-pleasing dishes like breakfast pizza with eggs, ham, and Fontina. You can also add on a beverage package ($15 a head per hour) that includes specialty cocktails, beer, and wine.
Jones Wood Foundry
401 E. 76th St., nr. First Ave.; 212-249-2700
Up to 22 brunchers can fit around the farmhouse table in the skylit communal room at this elegant pub, and as many as 60 can sit in the main dining room. One prix-fixe spin on the charmingly British menu includes Scotch woodcock (crumpet and smoked salmon with scrambled eggs), banoffee pie for dessert, and the romantic La Vie En Rose cocktail.