Don't Give Them All the Same Necklace
Brooklyn-based Erica Weiner's antique-inspired lockets can be customized ($90 at Malin Landaeus; 646-361-0261).
Because They Carry Different Things
Metallic pouches for storing "girlie stuff," "euros," or "receipts" (Loose Pockets, $145 at Anya Hindmarch; 212-750-3974).
Flashback to Your Kindergarten Days
Pair a pretty glass vase with a bag of goldfish. If it's your brand of schmaltz, pre-name each duo: Rhett and Scarlett, Johnny and Baby, the Phantom and Christine, for starters (bowl, $150 at Kate Spade; 212-274-1991).
The Most Universally Cheerful Gift
Plant a different flower inside each (Guy Wolff Rose pots, $4 to $6 at Smith & Hawken; 212-925-1190).
One Likes Jasmine, the Other Likes Patchouli
Let them custom-blend a fragrance at the Memoire Liquide Bespoke Perfumery ($50 at Henri Bendel; 212-247-1100).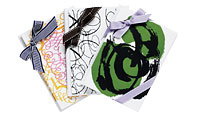 Monogrammed Stationery Is Too Obvious
Get them each a different quirky pattern (note cards, $36 for six at Superdeluxe; 212-260-8300).