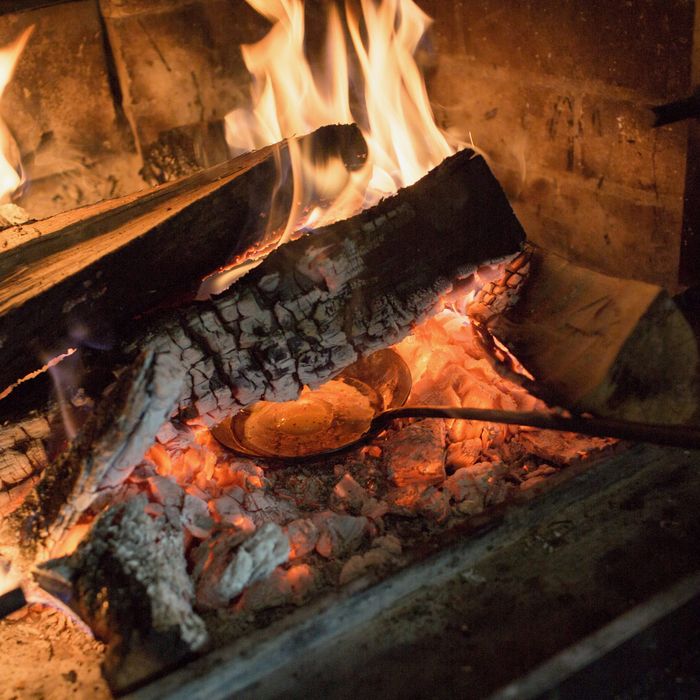 Alice's egg spoon, in action.
Photo: Permanent Collection
I am not ashamed to admit that I have been fully suckered into the romance of Alice Waters's egg spoon, though that's become a loaded statement in recent months. The hand-forged egg spoon has become a somewhat-unlikely symbol of kitchen feminism, after a piece in the New York Times positioned it as part of the "great food culture wars of the 21st century." But even as a fan of the egg spoon, I do concede its inherent impracticality. To use it properly, you need access to an open, yet controlled, flame. Alice's egg spoon also costs $250 from Permanent Collection, though even if you had the money, they're out of stock. I also still don't have a fireplace.
But my desire to be the kind of person who could casually crack a farm-fresh egg into a hand-forged cast-iron egg spoon whenever the mood strikes in order to fight the patriarchy is how I ended up scouring the internet for the best dupe for Alice Waters's egg spoon. I started with Etsy because that's where I'd expect to find artisanal egg spoons, but came up short. Ditto eBay. I revisited the original New York Times piece, to figure out how Waters found the egg spoon in the first place. She had it custom-made by her friend, a master blacksmith, but only after reading the book The Magic of Fire: Hearth Cooking: One Hundred Recipes for the Fireplace or Campfire.
That's when I started looking into camping cookware, a hunt hurried along by a detail in Tamar Adler's Grub Street Diet, in which she uses a hand-forged egg spoon. Adler used to own "little campfire pie irons, which you can buy at any hardware store, and they worked just as well" as her hand-forged one. The OG manufacturer of these cast-iron pie irons is an Illinois-based company called Rome Industries, and it's been making this long-handled cast-iron camping cookware since the 1960s. The pie irons would definitely do the trick if you're looking for a makeshift egg spoon; they're basically mini–waffle irons on the ends of long sticks, to be used when making sandwiches or pies at a campground. If you just used one-half of one? Bam, you've got an egg spoon.
But the most convincing dupe for Waters's egg spoon in its collection is the Family Campfire Skillet. It's a handsome, egg-size skillet at the end of a long stick, just like Alice's. The biggest difference seems to be aesthetic. The handle is much longer — 39 inches on the Rome skillet to Waters's 16 or so — and is covered in wood, rather than left raw. But it's only $23 on Amazon, a tenth of the cost of the original, and that is a price I can afford, especially since I don't know when I'm going to have a chance to use it.
If you also don't have access to an open-flame, here are some other viable substitutes for Alice Waters's egg spoon.
If you're trying to make an egg while using a conventional gas or electric burner, this miniature Lodge skillet will do. It's just big enough for one egg, but it doesn't have the extra-long handle, which could be burdensome in smaller kitchens. And at only $5, it's definitely the most cost-effective option.
This little stainless-steel pan will suffice, with similar bowl dimensions to that of Waters's egg spoon.
You could also bake your eggs to get a similarly soft texture to Waters's spoon-cooked eggs, since that's basically what you're doing when you put a cast-iron skillet into a cocoon of hot flames. All you have to do is crack the egg into the ramekin, add a bit of cream and salt and pepper, then bake at 400 degrees Fahrenheit until the whole thing's set. It's very French and still very aspirational, especially in these Le Creuset ramekins.
Maybe fire's not for you, and that's all right. Get techy with your fussy egg-cooking methods, and buy a sous-vide machine. You'll still get great results. Grub Street editor Alan Sytsma tested two of the most popular sous-vide cookers for us a while back and loved how they cooked his eggs: "Silky. Soft. Smooth like you can't believe. Took, like, 20 minutes total, and I'm never going back to the old way again." He slightly preferred the Joule over the Anova because of the size, but noted, "you're going to get great food with either one."
The Strategist is designed to surface the most useful, expert recommendations for things to buy across the vast e-commerce landscape. Some of our latest conquests include the best dining room decor items, coffee makers, knife sets, Japanese coffee brewer, charcoal water filter, and drinking glasses for water and more. We update links when possible, but note that deals can expire and all prices are subject to change.
Every editorial product is independently selected. If you buy something through our links, New York may earn an affiliate commission.