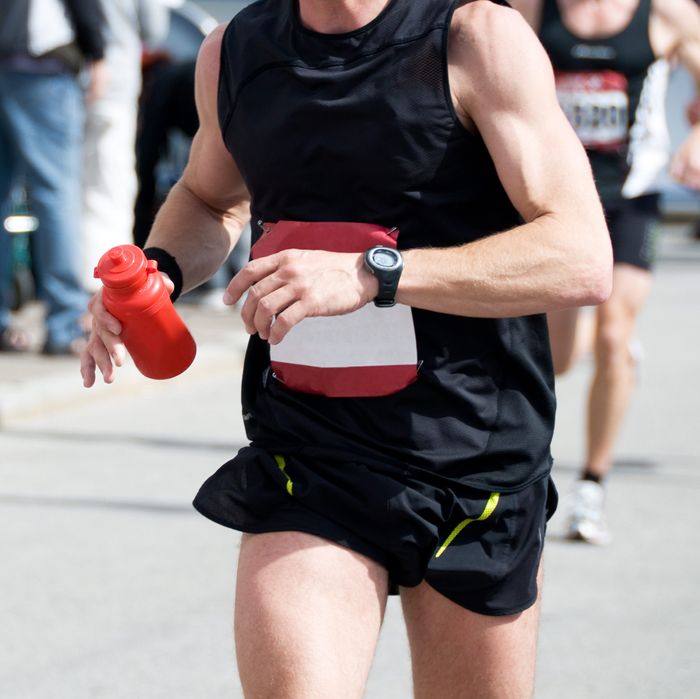 Here at the Strategist, we like to think of ourselves as crazy (in the good way) about the stuff we buy, but as much as we'd like to, we can't try everything. Which is why we have People's Choice, in which we find the best-reviewed products and single out the most convincing ones. (You can learn more about our rating system and how we pick each item here.)
And while we've written about pocket watches before — including a couple of cheap watches that look expensive, for both men and women — we've gone deep here on the best men's sports watches you can find on Amazon. (Note that reviews have been edited for length and clarity.)
Best men's sports watch
Just about every mechanical feature of the Casio Men's Sport Analog Dive Watch has been praised by reviewers. "Shockingly accurate!" one person writes, "This watch has outperformed much more expensive watches in my collection by gaining only 4 seconds in 6 weeks. Hard to beat." This person adds that it's water resistant enough "to never have to worry about it in daily use including showering and even shallow water sports" and that it ticks quietly "so those with hypersensitive hearing won't have to bury it in a drawer. Sits low on the wrist, fits comfortably under long sleeves."
Another reviewer referred to this Casio as his "Redneck Rolex," explaining that he's "worn Casios of one type or another for approximately 40 years, usually the $15-20 digital variety, which have served me well. Put 'em through dust, rain, sweat , heat (+40 C), cold (-20 C), Soviet aircraft and Soviet ground transportation (vibration and shocks)." This model did not disappoint: "Can't beat the features for the price. Looks good, too. I like the 24-hour markings for when I need reminding that I worked for DoD & Army for 30 years."
Best (less expensive) men's sports watch
This extremely affordable watch from Casio is loved by reviewers because, as one summarized, "It keeps its simplicity without compromising craftsmanship." For this reviewer, who "needed an everyday watch that could endure different environments I may subject it to," the Casio F91W's "clear digital readings, seven-year battery, illumination feature for low-light environments, alarm, stopwatch, and 12 and 24 hour modes," left them "pleasantly satisfied with the expectations I hoped for." Another reviewer, who needed something "simple and efficient," didn't expect that the "Casio F91W-1 was much more than just a throwaway item. This baby has lasted through extreme usage. I hike with it; it's resistant to scratches. I swim with it; it's water-resistant. I've dropped it a few times when putting it on (I've got butter fingers) and there are no dents or scratches. This may seem like a cheap watch, but Casio forged this thing to survive the apocalypse. If you're a fellow zombie hunter and want a sturdy, indestructible watch, this is the watch for you!"
And now some micro-picks for every type of men's sport watch set you might be looking for.
Best analog sports watch
"This watch is actually my favorite," writes one enthusiastic reviewer who loves the versatility of this analog watch: "I can take it swimming, wear it to the gym, the beach. I can mow the lawn with it on, or I can wear it on a plane or a business trip. It's a casual-looking watch; it's super thin, and seemingly weighs nothing. You won't even know it is there, and the band does not pull on my arm hair. The battery also outlasted my other watches." The MQ24-7B2's easy-to-use winding dial made it a favorite among others. As one reviewer — who called it "the perfect watch for the clinical classes I'm about to start in nursing school this coming summer" — wrote: "I saw a review on here that gave it a bad rating because they thought it was difficult to set the time, and honestly, I would say ignore that review! It's literally so easy to set the time, and it even has the manual telling you how in one sentence." They also added, "I'm a woman and that if you're thrown off by the title because it says 'Men's,' don't be! This watch looks equally as good on women, it's not too big, it's in just the right spot to be what I consider unisex."
Best watch for triathletes
One reviewer who "competed in one mini triathlons, two regular Tough Mudders, and two World's Toughest Mudders," noted that this Timex "has been through freezing cold water, extreme heat, 15ft under water, and has yet to show signs of breaking. I've put the watch on and off thousands of times." Reviewers generally liked that this Timex can record intervals of time with its 'lap' setting. As one wrote, "With 30 laps of memory, you can record your time by mile for a marathon or any shorter distance. Best of all, the display is super easy to read, and there is one big 'Start / Split' button on the front that is all you need while you are concentrating on running your best race." Another reviewer added: "It's seen me through several Chicago Marathons, countless gym workouts, and countless jogs in the rain. Each served me well for several years of tough service. I love how easy it is to use. It's easy to change the settings, and has all the functions I need (and then some)."
Best shock-resistant sports watch
"I wore it to work every day through eight months of intense, bone jarring, rock breaking excavation as an archaeology field tech in Colorado and this watch came out in better condition than me," wrote one reviewer who pretty much put the watch through its paces. "Day after day of digging through hard earth six-pound shovels and breaking through cobbles and bedrock with sixteen-pound pry bars, I ended the season with trigger finger in my right hand pinky and carpal tunnel starting in both hands and yet this watch has hardly a scratch on it and still keeps time as accurately as you would expect from any other quartz movement watch." After eight months, this reviewer reset the time to an atomic clock because "it was off by 30 to 45 seconds — not too shabby considering the serious amount of impact and vibration this watch suffered daily during the field season." According to the reviewer, their G-Shock "showed no problems operating in temperatures ranging from the mid teens to upper nineties (and greater since it was often in direct sunlight), and I'm sure there are even greater temperature extremes it could withstand. The wristband gave me no grief either; there are no signs of cracking and only the slightest dents and discoloration exist to remind me where I tighten it down to."
Best dive watch
"I work part time as a dive instructor and dive guide," writes one reviewer, "and while we use computers most of the time, I find that this watch fills a gap as a backup perfectly." This person notes that "the bezel moves easily enough by hand but will not move while underwater, it reads amazingly. I think if you are looking for a dive watch you would be hard pressed to find something with the form and function matched with the price of this watch." Another diver adds, "Solid construction, love the blue color on the face and the band. The orange hand is great, easy to tell time. Luminescence is great. I like the offset screw-down crown, it shows it is a true diver. The band is comfortable and pliable. Also, long enough to go over my dive suits."
The Strategist is designed to surface the most useful, expert recommendations for things to buy across the vast e-commerce landscape. Some of our latest conquests include the best men's wardrobe basics, white T-shirts for men, jeans for men, white sneakers for men, Chelsea boots, and flattering clothes for men. We update links when possible, but note that deals can expire and all prices are subject to change.
Every editorial product is independently selected. If you buy something through our links, New York may earn an affiliate commission.