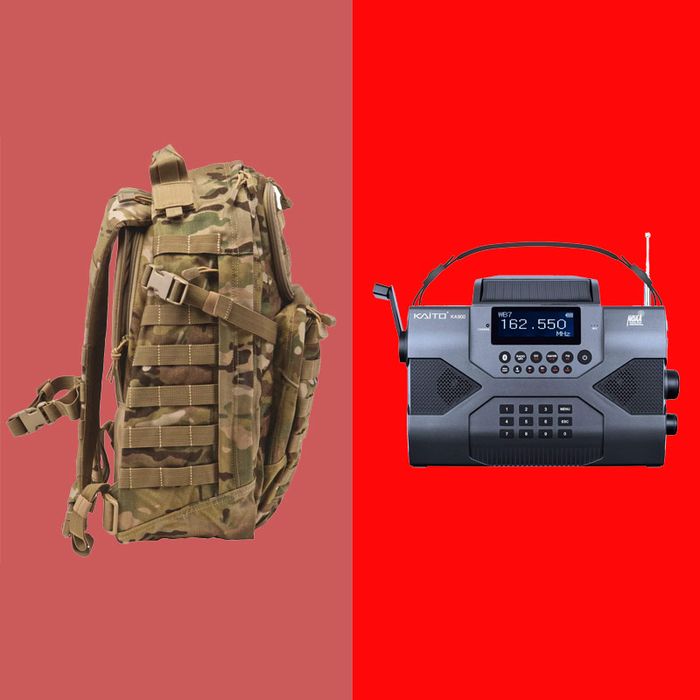 Photo-Illustration: The Strategist; Photos: Retailers
Compiling a stash of emergency-preparedness items used to be a task many of us kept on the back burner — something we knew was important and we'd get to eventually. But eventually, we now know, might be closer than anyone thought. And while we're not suggesting you start digging out an underground bunker and filling it with instant noodles, we've come to learn that having a few things on hand before you need them will only help you, even if it's just mentally.
Most preppers, like Oregon's Afrovivalist, Sharon Ross, equate preparation with peace of mind. "Once a person is prepared during a disaster," she says, "they don't feel the sense of urgency to go shopping for supplies." So if visions of empty store shelves still haunt you, have a nice, calm look at our well-organized, detailed list of emergency supplies to keep on hand. To assemble it, we consulted recommendations from the CDC, Red Cross, the Department of Homeland Security, and the NYC Emergency Management Department. But those agencies give you only general categories, and we wanted specifics. So we interviewed 21 survivalists, preppers, bushcrafters, homesteaders, and emergency professionals about their favorite things to always have on-hand — and their advice to make your bugout (or bugin) the best it can possibly be.
Here are their suggestions, broken down into categories based on your level of survivalist instinct. There's a lot to sift through here, but you can pick and mix products according to your needs. For many, a leaner survival kit makes more sense than a military-grade one. "Simplicity is key when prepping," says Prepper Press founder Derrick James. Especially as, in a worst-case scenario, you might have to haul all of this gear a considerable distance. "It's really important for people to know what their limitations are," says emergency preparedness expert Aton Edwards, author of the upcoming book Afroprep Now!. "Don't prove how strong you are by dragging around a 40-pound bag. Rage lift in the gym, don't rage lift your bag."
Backpack
Most preppers keep two bags: a three-day bag and a two-week bag. While you needn't get too hung up on that, it's not a terrible idea to have something that you can easily grab that has everything you need in it in case you have to leave quickly. Bushcrafter Mark Christensen recommends a "quality rucksack, or even a five-gallon bucket, which keeps your emergency gear together." Survivalist E.J. "Skullcrusher" Snyder (whom you might know from his many appearances on Naked and Afraid) likes the "tough and roomy" bags by Gregory, but if you prefer something more tactical, he suggests something by Maxpedition. Jim Cobb, editor-in-chief of Prepper Survival Guide and Backwoods Survival Guide magazines, likes the RUSH24 bag from 5.11 Tactical, saying that it's "robust without being ridiculously huge." And Lisa Bedford, a.k.a. the Survival Mom, loves the Presidio Tactical Assault Backpack from Flying Circle, because it's "a very good size for teens and most women."
Edwards suggests an alternative to traditional rucksacks: the humble folding shopping cart. "If you aren't physically fit, then lugging around a fully stocked go-bag can be difficult," he explains. "So a folding cart will let you move around from one shelter to another shelter."
Flashlight
Survivalist Travis McGill, along with Thomas Coyne, the owner and lead instructor at Thomas Coyne Survival Schools, and a survivalist who asked that we refer to him by the pseudonym "RC" like Surefire flashlights because they're virtually indestructible. They're so durable, in fact, that some are specially designed to be used as a self-defense weapon, Coyne says. McGill uses the Surefire D3ft but admits "it's totally overkill" and says you could also "get something that takes AA or AAA batteries since they're easy to find and replace." Even a small one for your keychain will do, says Mykel Hawke, a former U.S. Army special forces captain and author of several survival books. "But make sure it has a turn on button, not just squeeze on, for when you need to have light to work and be hands free," he says. Cobb, Edwards, Snyder and Morgan Rogue of the prepper site Rogue Preparedness, however, prefer headlamps to flashlights so you can be 100 percent hands-free and there's less chance you'll put your torch down and lose it. Rogue likes Foxelli or Petzl, while Snyder uses a Black Diamond Spot 325. Cobb also pointed us toward Streamlight's products, which "work very well and will take a beating."
Multi-tool
There was plenty of consensus here, too. Unsurprisingly, everyone likes a Leatherman, a brand that also came out strong on our list of the best multi-tools. "I am a big fan," Snyder says. "There are many types to choose from to meet your needs and budget." Photographer James Barkman "swears by" his Leatherman Free P4, which can do everything from skin a deer to mend tents and other survival gear. Coyne likes the Supertool 300. And John Ramey of the prepper site theprepared.com likes the Leatherman Wave+ because it "doesn't waste space and weight on tools that don't matter much in an emergency, but it's versatile and robust enough to be a core survival item." The Signal, which McGill uses, also includes a fire starter and a whistle.