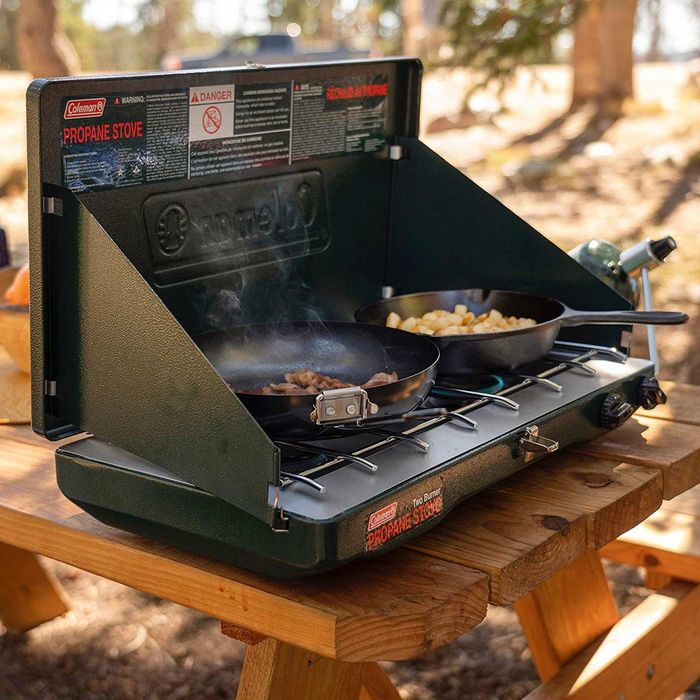 Here at the Strategist, we like to think of ourselves as crazy (in the good way) about the stuff we buy, but as much as we'd like to, we can't try everything. Which is why we have People's Choice, in which we find the best-reviewed products and single out the most convincing ones. (You can learn more about our rating system and how we pick each item here.)
And while we've written about the best camping gear before — including the best camping tents, the best camping hammocks, and even the best knives for camping — here, we've rounded up the best camping stoves, as praised by the most enthusiastic reviewers on Amazon.
Best-rated camping stove
This propane camping stove has over 1,500 five-star reviews, and many satisfied customers call out its packable size and two independently adjustable burners. "This stove is a lifesaver and we absolutely love it. There are no bad things I can say about it," writes one reviewer, who guaranteed that if the stove ever broke the company would replace it with the exact same one. "The flame is strong for fast cooking. The stove is small, packs up easily, and is very slim," they explain. Another reviewer, who dubbed the Coleman a "classic cooker for a reason," agrees about its effectiveness and ease-of-use: "The burners are very efficient and give you a nice blue flame. One 16.4-ounce canister cooked two pounds of sausage, a pound of bacon, enough fried potatoes for several adults, and two pots of coffee. I used a 12-inch and a 10-inch pan simultaneously. It's well-built and super easy to use."
Best rated (less expensive) camping stove
Hundreds of reviewers raved about the power of this inexpensive bottle-top stove from Coleman. "For an emergency or tailgate party, it is an excellent little propane cylinder stove," wrote a first responder who says they frequently use it as a backup stove at his search-and-rescue base camp. "The top is well made stainless steel with wind baffles, works well as a side stove top. Very impressed with the construction and the versatility of this cylinder stove. It is easy to set up and store away." Another reviewer — one of dozens of pleased customers who made note of the stove's "great price" — describes it as "compact, lightweight. Super simple to attach to the propane tank. Burns evenly. Does well in windy situations. Perfect for camping."
And now for some micro-picks for every type of camping stove you might be looking for.
Best camping stove with legs
Compared to a tabletop stove, this one is liked by reviewers for the stability and versatility of its attachable legs; it was especially recommended for cooking in large groups. "The ease in which the legs attach and detach gives me the option of cooking on a concrete picnic bench, or a stand-alone configuration in the middle of the woods," writes one reviewer. "This thing is simply amazing. The BTU output is impressive and setup (and igniting) is a breeze. Everything is high quality for the price and the cooking area is amazing. I recently used this at a camping trip with ten of my friends and cooking was a breeze," says one reviewer. Another happy reviewer adds, "Nice and sturdy. The burners are great. Flame control is straightforward like on a regular stove. We had two 20-quart canning pots going at the same time, and the stove felt very stable, which is reassuring given all that boiling water right next to you." A reviewer who bought the stove as a gift for his wife writes, "I got this because I wanted something that would last and has enough room to use big pots and skillets (large family). When I got this, she thought I went overboard. She used it once and fell in love with it. It is well built and seems like it will last a long time."
Best double-burner camping stove
Reviewers love this stove for its large cooking area, high BTUs, even heat distribution, reliable ignition button, and efficient dial control. One reviewer writes, "I love this stove! It has two really good, strong, even burners. But I'm especially in love with their electronic igniter. So much easier than looking around for a handheld igniter and then click-click-click in the wind. These things light so smoothly and easily. I look forward to many more years of enjoying this stove." Another reviewer notes, "It has two burners at 20,000 BTU. This is twice that of the competitors in the same compact size." And one who bought it as a gift for his fiancé writes, "This stove has been with us for the last year, or so, and has been excellent. It's stood up against blazing heat in deserts, snow in mountains, rain, mud, wind, dirt, and everything in between and is in perfect condition. We've owned more expensive camp stoves that didn't hold up nearly as well as this stove has."
Best backpacking stove
Reviewers praise this lightweight stove for its easy setup and affordable price point. "This Coleman Triton stove is amazing. We used it to cook for a four-day camping trip and it never let us down," says a reviewer. "Excellent, easy to use, lightweight." Another reviewer writes, "Not everyone knows this stove is a camping icon for a reason. It has been virtually unchanged for decades because Coleman achieved design perfection from the start. Buy this, a percolating coffee pot and a griddle that spans both burners — go camping!'
Best dual-fuel camping stove
Unlike standard propane stoves, the Gas ONE stove is a dual-fuel stove that can be powered by butane or propane. Writes one reviewer, "Works for either propane or butane, how cool is that? Also connects to a larger propane tank with the right hose. Versatility is important in small camping spaces, and this camp stove seems as well-made as any of the others I've had." A reviewer who has 20 years of experience as a cook writes, "Dual fuel is awesome. If you got butane, it works great. If you got propane, it works great. Took it camping in the swamps, IT WORKED GREAT. Never bothering with a tiny camping stove again. This isn't heavy and provides ample heat. Browns food nicely. Used old, thick aluminum sauté pan from a past job. Seared pork, fried chicken, pancakes and made plenty of boiling water. Used four days camping (breakfast and dinner) and only used half of a little propane bottle."
Best electric-starter camping stove with single burner
Reviewers love that this simple stove has an easy-to-use electric starter and comes with a convenient carrying case. "While this unit isn't chock full of bells and whistles, it is a serious value. Very nice heat output, very good flame control, works great with standard cartridges, and for around $20, I don't know what more you'd ask," writes one reviewer, and others expressed similar sentiments. "Really easy to clean and the always starts on the first snap. Carrying case makes packing or carrying on a picnic great." Another reviewer adds, "It starts every time, very easily, and it comes with a case, so it stores nicely."