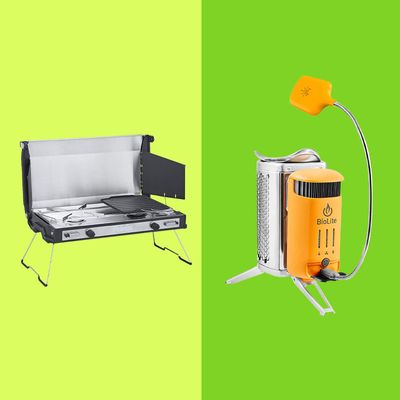 Photo-Illustration: The Strategist; Photos: Retailers
Even novice outdoorsy people can recognize the value of having a good meal at camp, whether that's a solid cup of pour-over coffee in the morning or chili around a fire with family and friends after a hike. To make either, you're going to need a stove that's adjustable (so you can meter out the heat as you would in your kitchen) and reliable (if it doesn't light or you run out of fuel, there's no Uber Eats to save you). To find the best stoves to cover everything from ultralight backpacking to car-camping, we checked in with experts, including seasoned hikers, Strategist staffers, and a chef and outdoorsman.
Best overall | Best less expensive | Best for backpacking | Best less expensive for backpacking | Best two-in-one | Best for car camping | Fastest backpacking
Weight: Picking the right stove starts by determining what kind of adventure you're going on and how much you're willing to carry. Nearly all stoves fall into one of two camps: heavier, suitcase-style camp stoves (about 10 to 14 pounds), and single-burner backpacking stoves, whose weight is measured in ounces. The former type is better for situations like car-camping and RVing, while the latter works better if you're backpacking or thru-hiking and you want to handle basic tasks like boiling water, hydrating ready-to-eat meals, and making coffee.
Number of burners: Because of their relatively light weight, backpacking stoves have a single burner. Camp stoves, on the other hand, sometimes come with one, but more commonly two or three burners. Multiple cooking surfaces can help you work several pans in concert, so if you're cooking for a crowd, then you might want to consider a heavier-duty, three-burner camp stove or look for two-burners that you can daisy-chain together. We've noted the number of burners for each pick below.
Fuel type: Typically, camp stoves burn propane. You'll often see these stoves fitted with the ubiquitous 16-ounce green canisters, but these burners also work with 20-pound tanks for car-camping or tailgating. Backpacking stoves tend to run on a wider range of fuels. Some thread onto self-sealing, pressurized canisters that contain isobutane. Isobutane is reliable and lights quickly with a match, but suffers in cold weather and might be harder to find in stores. Another common option within backpacking stoves is liquid gas (often called white gas, though some stoves can also run on kerosene and unleaded gasoline). This is what experts use in freezing temperatures and high elevations because you're using a pump to prime the fuel instead of relying on a pressurized canister. While they're easy to find in camp-supply stores, the stoves can be fussy. A few backpacking-stove models burn wood twigs (or pellets), though that can be a challenge depending on the weather.
BTUs: Each stove has a different British thermal unit (BTU) measurement, which indicates the heat produced by the stove. The higher the BTU, the hotter the burner can get.
Features: With camp stoves, you'll find push-button ignition on all but the entry-level options. Like your grill at home, these light a flame easily but usually don't last forever and can increase the stove's price. Even if you opt for this feature, it's a good idea to carry a lighter or matches as backup. Cooking surface is another consideration: With two or more burners, you want to make sure the pots and pans you have will fit. Most camp stoves come with foldable windscreens, and some have folding legs to elevate the controls to a more comfortable working height when set on a picnic table.
Backpacking stoves that burn isobutane canisters can have push-button ignition, too. If boiling water is your primary task, then a twist-and-lock-style stove system usually heats water the fastest. With any backpacking stove, you might want to consider purchasing the add-on stabilizers, which can make it easier to keep the burners on sure footing. Tipping can not only cause injuries, but it will also waste food, a luxury you likely don't have while ultralight-backpacking.
Best overall camp stove
12 pounds | Two burners | Propane | 40,000 BTUs | Push-button ignition
For car-camping, RVing and van life, or when setting up a tent within a reasonable walk from your ride, the Camp Chef Everest is just about as close to the reliability you'd expect from cooking indoors as you can get while under the stars. The Everest 2X is the newer version of the original Everest, which was previously recommended in Strategist contributor Ali Slagle's story on her camper-van cooking essentials for being able to "do anything a house stove can do — and faster." (In a previous version of this story, the same older model was named a buyer favorite, with reviewers praising its "really good, strong, even burners" that stand up in any weather condition.) They're essentially the same stove, though the newer model has taller windscreens and flashier red knobs. Connected to a propane tank, the 215-square-inch top is large enough to accommodate two ten-inch pans side by side. "I like the sturdy construction, ample space for pots and pans, and good BTU output," says Steve Corso, founder of Outdoor Eats and a chef who develops recipes for hikers and campers. "It can handle a simmer and the build can hold up a heavy cast-iron skillet," he says. The 40,000 BTUs from this stove keep it near the top of the group for heat output.
Best (less expensive) camp stove
11.65 pounds | Two burners | Propane | 20,000 BTUs | Fits a 12- and 10-inch pan simultaneously
For those who are newer to camping, the Coleman Classic keeps the moving parts to a minimum. Simply thread on a green propane canister (or a 20-pound tank that requires a separate adapter) and light the burner with a match. In our beginner's guide to camping, Chyla Anderson, founder of Outdoorism, a brand geared toward Black women and other underrepresented communities in the outdoor space, says she likes the Coleman Classic because "it's compact, it's safe, and it's easy to set up." The 20,000 BTUs here aren't the most powerful, but the knobs make it as familiar as working a backyard grill. The dimensions of the body means it sets up nicely on the narrow end of a picnic table.
The Coleman Classic also appeared in a previous version of this story as the best-rated camping stove amongst buyers. "The flame is strong for fast cooking," one reviewer said, while another called it a "classic cooker for a reason," with efficient burners they used to cook breakfast for several adults simultaneously.
Best overall backpacking stove
13.2 ounces | One burner | Liquid fuel | 10,500 BTUs | Retractable legs for stability
This MSR stove connects a refillable fuel bottle (sold separately) to burn white gas, kerosene, or diesel, which makes it a rock-solid performer in the harshest conditions. "It's like a jet engine and never fails," says Eric Larsen, a polar explorer, guide, and climber who has summited Mount Everest. "You can throw it against the wall, run it over with a truck, and then boil water with it. This is the main stove I use on polar expeditions." The burner comes with a fuel pump to pressurize the canister and an adjustable valve to control the flame. When unfurled, the three supports above the burner span about four inches to support a range of pot sizes. It will boil a liter of water in as little as three minutes. The liquid fuel might take some getting used to for novices, but this is the backpacking stove to choose when reliability is paramount.
Best (less expensive) backpacking stove
2.6 ounces | One burner | Isobutane | 8,200 BTUs | Packs down small
Stoves don't get much more compact than the PocketRocket 2, which is small enough to fit inside a standard coffee mug. Thread the stove onto a sealed canister of isobutane, and it boils a liter of water in about three and a half minutes with an easy-to-use valve control that adjusts from searing hot to simmer. "It's tiny but has a lot of BTUs, and it's my go-to for backpacking," Larsen says. Strategist writer Katherine Gillespie used the tiny stove to cook every meal on a five-day trip to Patagonia's Torres Del Paine national park. "The PocketRocket 2 and my Snow Peak titanium mug were all I needed for coffee, oatmeal, and dehydrated meals for the whole five days," she says. "I feel like it's a stove I'll have for life."
Best two-in-one camp stove
2.06 pounds | One burner | Wood | 12,000 to 17,000 BTUs | Has a 3,200 mAh battery to power small devices
This unique stove burns wood to create heat that can cook food and also power small devices like a phone. At five by eight inches, it's probably too bulky for long off-grid treks, but for overnights and shorter trips, it can make sense, especially if you plan to be in an area with plenty of twigs or pine cones to burn. Strategist contributor Steven Johns considers it go-to camping gear, calling the stove "a perfect example of an upgrade to a classic, essential piece of hardware." The BioLite uses heat to power an internal fan (with four speeds) that infuses the burner with oxygen — more air means a bigger fire — so you get a complete burn without any of the smoke you might expect. That heat also generates power that you can use while the fire is raging to charge a phone about as fast as it would at home, or you can take the battery off and use it to power up a device when the fire isn't going.
Best camp stove for car camping
9.5 pounds | Two burners | Propane | 10,200 BTUs | Fold-out legs
Pound for pound, this is the mightiest stove Johns has used when car-camping. "Every time I car-camp, this stove always comes with me, because I've yet to find a smaller grill for basic cooking that's as capable as this," he says. The flames start flowing with a push of the button, and the stove has legs you can fold out if you're working on a table. With a standard-issue 16-ounce propane canister, you can expect about an hour's worth of cooking, though it will also burn isobutane. The grates look identical to your stove at home, and underneath them is a stainless-steel drip tray that makes cleanup easier. And it comes with a griddle plate to help put lines on burgers and melt cheese on sandwiches. While the stove's performance is excellent, it also doesn't hurt to have handsome oak-and-brass accents that will age well.
Fastest backpacking stove
14.6 ounces | One burner | Isobutane | 6,000 BTUs | Includes a one-liter pot that twists and locks on top of the burner
"I love my MiniMo because of its superfast boiling time — I've boiled water in less than three minutes," says Strategist writer Jeremy Rellosa. Unlike the MSR models on this list, this JetBoil has a one-liter pot wrapped in an insulating, neoprene jacket that twists and locks onto the burner for a secure connection. The burner itself is efficient at using fuel, and the built-in regulator helps ensure it works in hot or cold climates and even at higher elevations. The valve that controls the gas allows you to dial it back to a simmer for gentler cooking. And the push-button ignitor will start even when it's down to 20 degrees outside. The aluminum pot is designed to go from cooking to eating, so it's easy to hold, with low sides that make using a spoon a breeze. The JetBoil also comes with a foldout stabilizer that clips onto the bottom of the gas canister to make the potentially top-heavy cooking system more sure-footed.
Some other camp stoves we've written about
• Chyla Anderson, founder of Outdoorism
• Steve Corso, founder of Outdoor Eats
• Katherine Gillespie, Strategist writer
• Steven Johns, Strategist contributor
• Eric Larsen, polar explorer, guide, and mountain climber
• Jeremy Rellosa, Strategist writer
• Ali Slagle, Strategist contributor
The Strategist is designed to surface the most useful, expert recommendations for things to buy across the vast e-commerce landscape. Some of our latest conquests include the best acne treatments, rolling luggage, pillows for side sleepers, natural anxiety remedies, and bath towels. We update links when possible, but note that deals can expire and all prices are subject to change.