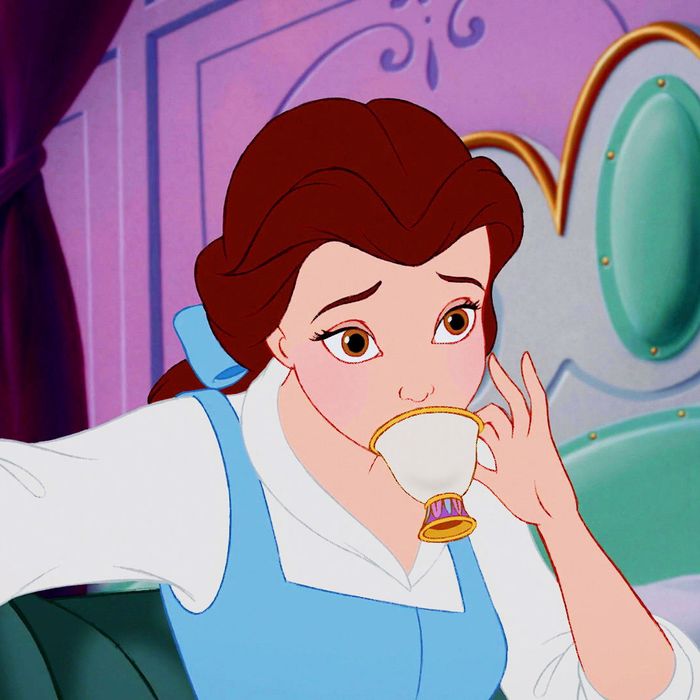 Drinking just two cups a day diminished my pimples in three months.
Photo: Disney
Editor's note: Since this story was published, Neutrogena's Light Therapy Acne Mask was recalled. Accordingly, we've removed it from the below list. If you purchased one, you may be entitled to a refund from Neutrogena.
After a course of Accutane in the mid-aughts, my acne calmed from the fiery sort that inflames entire faces, to an annoying and painful monthly reminder that my period is neigh. I got cysts, exclusively, always on my chin. And though these cysts are sometimes unassuming — pink but no whitehead, usually not too raised — they are very painful. I avoided permanent scarring by getting cortisone shots in every single one, usually three or more a month. These days, though, my derm visits for acne are sporadic. Instead of getting a couple cysts every month, I've gotten down to one every few months. Spearmint tea, I truly believe, has made the difference.
Early last year I'd read that spearmint tea had anti-androgen (a male hormone) effects, downregulating the testosterone in the blood that's thought to cause hormonal acne. That was certainly what I had — monthly breakouts in the lower part of my face. But when I read about spearmint, the claim sounded like kooky wishful thinking. So I turned to a professional, the dermatologist Dr. Carl Thornfeldt, who in addition to being the creator of the Epionce skin-care line, has a research-heavy background. "It has now been documented that spearmint is the most potent of the different mints in killing skin-disease-causing bacteria and yeasts," he said. "Spearmint also has the most anti-inflammatory activity of the mint varieties." He suggested one cup of organic spearmint tea twice a day, citing a study that compared that dose of spearmint tea with 100 mg of the antibiotic minocycline. The tl;dr is that after three months, both the tea and the minocycline diminished acne lesions by about half, but the tea produced zero side effects (not to mention it's cheaper and doesn't require a prescription).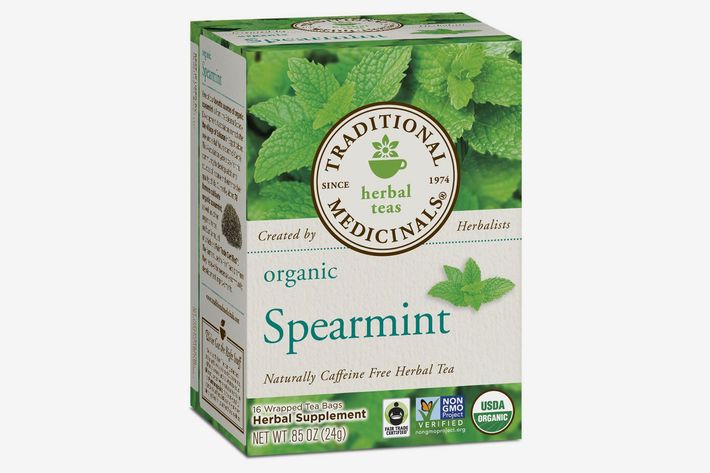 I started drinking Traditional Medicinals Organic Spearmint herbal tea last spring, brewing it in big batches and icing it so I could drink it like water. After two months of drinking, I was getting fewer cysts, down to one a month compared to two or more. Now, after almost a year on spearmint, a cyst sighting is rare. Thornfeldt explained that spearmint tea works due to the efficacy of the compounds inside it: flavonoids, menthol, limonene, and rosmarinic acids which each have either anti-inflammatory, anti-bacterial, anti-fungal or anti-viral properties (or some combination of both). Basically, "it works on all the processes that drive adult acne," he said.
Writer Leah Bhabha calls Ursa Major's Fantastic Face Wash the best acne-fighting cleanser she's ever tried: "While the aloe and rice seed soothe my skin, it's the sugarcane that's the real clincher. Sugarcane naturally contains alpha hydroxy acids, which not only fight blemishes but lighten dark spots and lessen scarring."
Writer Frankie May Wong suffered a cystic pimple for six months — trying everything from Mario Badescu drying lotion to tea tree oil — before finally finding a solution in the Medik8 Beta Gel: "I use the Beta Gel sparingly — my friend warned me that your skin can get used to it and ruin its efficacy — but even in small doses, it works wonders. It's pricey, yes, but it's continued to stop other painful cysts from fully forming, all in less than eight hours. I've put it on underground zits when I get home from work, and then by the time I go to bed a few hours later, the throbbing bump is gone."
Pimples: We all get them. The best way to diminish them is to slap on one of these buggers, which beauty writer Rio Viera-Newton calls "the Holy Grail. Drop everything and buy them. Not even going to explain, will just say if you pop or pick a zit, put this on immediately afterward, go to bed, and in the morning you'll see what I'm talking about and thank me."
Writer Kelsey Mulvey discovered the magic of the Indie Lee Blemish Stick when she interned at Indie Lee and discovered its powerful effects: "I can't tell you how many times I've used the Blemish Stick before leaving my apartment in the morning and noticed that the pimple was significantly smaller (or completely gone) by lunchtime. I don't just like the Blemish Stick; I hoard it. I have three tubes in my apartment and at least one in my purse at all times. Whenever a conversation turns to skin care, I whip it out of my bag and go off on a five-minute tangent about how it's the miracle product."
On a trip to Japan, Viera-Newton discovered this tea-tree serum for pimples, which she loved so much, she used it to the very last drop. "It's a good thing that I bought three of these last time I was in Japan because running out sends me into a spiral. This serum — which, unlike other tea-tree serums, isn't terribly concentrated and harsh — reduces redness and inflammation in ways no other has been able to accomplish for my skin. I blow through these like it's my job (which, I guess, it is?)."
Writer Hannah Morrill found herself plagued by back acne after becoming pregnant, but her dermatologist recommended a spray that stopped it in its tracks: "My bacne cleared up nearly overnight. After about four days, crimson welts had subsided entirely, faded to a barely there blush, or had started healing. Within a week, I felt comfortable wearing a low-backed tank. I've since evangelically recommended the product to my trainer, my boyfriend's brother, and a 22-year-old I work with. Plenty of us (pregnant or not) could use a surefire cure for body acne."
Writer Or Gotham's pimple went away, but the scarring had not. He got it under control with Murad's Rapid Age Spot and Pigment Lightening Serum: "I rub the serum onto clean skin, when it is most receptive. My skin is left with an activated tingle that tells me it's working. I repeat this process every night before bed for only as long as I need to. Usually, by the third night, I can see a visible reduction in dark spots. By the fifth day, they become imperceptible. After a week, I've forgotten about them entirely."
Photo: Sebastian Kopp/EyeEm/Getty Images
Writer Gaby Dunn introduced us to the clay mask she discovered as a pimply teenager: "By now, I've used this product on and off for about 15 years. Sure, it clears up a zit, but no expensive face mask has ever worked as well at refreshing my skin either. There's a tightening sensation you feel as the clay mask dries that I swear tightens my face even after I've rinsed it off. I hesitate to even tell you about it, because Queen Helene could triple its price and I'd still buy it."
The Cut's beauty director Kathleen Hou — in her guide to cult French pharmacy products you can buy on Amazon — calls this a cousin of prescription acne fighter Retin-A: "The amount of vitamin A is low enough so that it doesn't cause the flakiness of typical Retin-A creams, but strong enough that you'll notice a difference. I've used it successfully as a blemish treatment, dotting it on oncoming zits to find them completely gone the next morning."
The Strategist is designed to surface the most useful, expert recommendations for things to buy across the vast e-commerce landscape. Some of our latest conquests include the best women's jeans, rolling luggage, pillows for side sleepers, ultra-flattering pants, and bath towels. We update links when possible, but note that deals can expire and all prices are subject to change.
Every editorial product is independently selected. If you buy something through our links, New York may earn an affiliate commission.