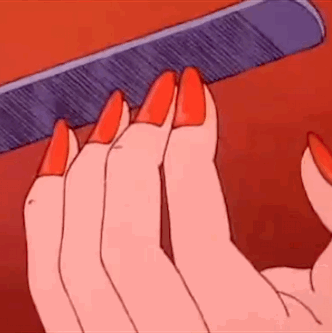 Keep 'em short to heal them.
Photo: ABC
I used to be the kind of person who regularly and exclusively got gel manicures. I'll admit, there was something about getting them that always felt wrong — the plasticky thickness of the polish, the rough removal process, the way my nails looked during the ten seconds I'd actually see them naked during the manicure (thin and terrifying) — but I couldn't stop. I simply could not resist the price-for-longevity promise, lack of chipping, and permanent shine.
Here's the problem: The process of having the gel polish applied causes nail ridges, and the acetone used during the process causes dehydration, making nails weak and fragile. My year-and-a-half relationship with gel manicures caused my nails to become paper-thin and brittle, but an addiction is an addiction and I've gone through the cycles of starting and stopping the gel-manicure habit about five times. During my most recent off phase, when my nails were their weakest, I tried as many nail-repairing products as I could to bring them back from the brink — and finally, eventually, quit for good. These products are not one-and-done saviors — the best thing you can do is incorporate as many of these products as you can into your daily regime. After months of experimentation and dedication, I've finally managed to secure a routine — here for you to try yourself — that has saved my formerly limp, brittle nails from gel PTSD.
This is the first and most essential step of recovering from gel manicures. I know, it can feel like a real tragedy to have to cut down your nails — the gels make them look so long and elegant! But your nails are too weak now and they will, I repeat will, break. So cut them down as short as possible, and let them heal. These nail clippers happen to be my favorite because of how sturdy-feeling and durable they are. They also have a built-in nail file which I don't necessarily recommend using that often, but it's good for emergencies.
Much like clippers, nail files are nail files, but these are my favorite. They're really small and thin, allowing you to get into the tiny corners of your nails when they're short. Also, they're great for gentle filing, meaning that it doesn't take much pressure to make them start filing away. This is important when your nails are weak.
Much like standard sheet masks, these nail masks are essence soaked cloths you slip on each finger and leave for up to 20 minutes. Note: The juice collected from the mask shouldn't be washed off afterward.
This is something else to use when you want to give your nails that extra love. Instead of individual caps for your nails, this hand mask (really just gloves) makes the process of using them much less physically restricting. This should be used after properly washing your hands with soap and water.