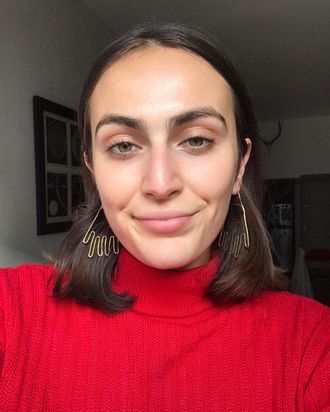 The author, feeling autumnal.
Photo: Rio Viera-Newton
When summer shifts to fall, my skin and I quite frankly stop seeing eye to eye. Between the frigid New York City wind, extreme office heating, and intensely dry air, I've actually thought: Should I just move back to L.A.? So I don't have to upend my life for my skin, I dedicate the early fall months to taking every preventive measure possible. If you've read any of my other pieces, you probably know that my life revolves around avoiding eczema flare-ups — and things get extra testy during this transitional weather period. I've learned the key to happy, autumnal skin is finding a routine that gives your skin balance — "dewy" skin tends to look just straight-up greasy during colder months and dry skin is just simply never an option. I've found a collection of products that help me get the the right texture and radiance — as well as pre-winter protection — as we move toward some of the trickiest skin-care months of the year.
When it comes to fall weather, it's important to find a cleanser that keeps my skin looking plump and fresh. So I don't use Cosrx's Low pH Good Morning Cleanser every morning in the fall. It's frankly too drying when my crusty-ass skin is adjusting to weather changes. Instead I use what is an incredibly financially inconvenient daily product: the Biologique's Lait U Cleansing Milk. As someone who's always trying new products, I know something is special to me when I consistently repurchase it—and I find myself looking to buy this again about every six months. Not only is it gentle and hydrating, I actually believe it brightens my skin. It's also really helpful with any kind of inflammation or irritation.
An excellent dupe for the Biologique when I feel like not hating myself for overspending. This product is foamy where the Biologique is lightweight and milky, but they're equally hydrating and the pearl extract in this one is great for brightening.
When I first became obsessed with SK-II's Facial Treatment Essence all my trusted beauty peers were like, "Have you tried the cheaper essence from Missha?" For some reason, this upset me — I thought nothing could compare to my beloved million-dollar Facial Treatment Essence. But then I got down to under $200 in my bank account so I decided to give it a go. YOU GUYS! She's the same thing, only actually half the price. I apply her the same way, pour a few drops into my palm and pat it into my skin. I use this in the mornings and evenings — at night I use it right after I exfoliate and in the morning right after cleansing. There is also a mist version if you need to be quick in the mornings.
Sulwhasoo is a Korean brand that I have recently become obsessed with. Packed with nutrients, this serum promises to revitalize and moisturize the skin with Korean medicinal herbs. This leaves my skin looking incredible, especially if I'm experiencing any serious dryness or eczema. I really recommend this product.
You guys know Cosrx is one of my favorite brands of all time and that vitamin C serums are one of my favorite brightening products, so you can only imagine my delight when I found out about their Triple C Lightning Liquid. Keeping your skin radiant and bright is essential for glowy, fall skin, so if you're not already using a vitamin C serum, give this one a try. This is also an incredible dupe for my beloved Drunk Elephant vitamin C serum.
I don't use this too often, but I like having it around for when my skin is acting extra parched. I pat one or two drops of this Glossier Super Bounce serum into my skin right before you get into moisturizer. I often layer serums, so I'll use a vitamin C serum, wait a few minutes, then use this one. This ensures that I have the perfect balance of radiance and plumpness — providing the ideal canvas for makeup.
When my skin is so dry it's screaming, this Paula's Choice moisturizer saves me. It's super rich and thick and unlike a lot of moisturizers, I can feel it lasting all day. Even though it says you're only supposed to use it at night, when things are bad I use it in the a.m and p.m.